SOCIAL VOICES

5 Common Irritants to Children's Sensitive Skin

Was this helpful?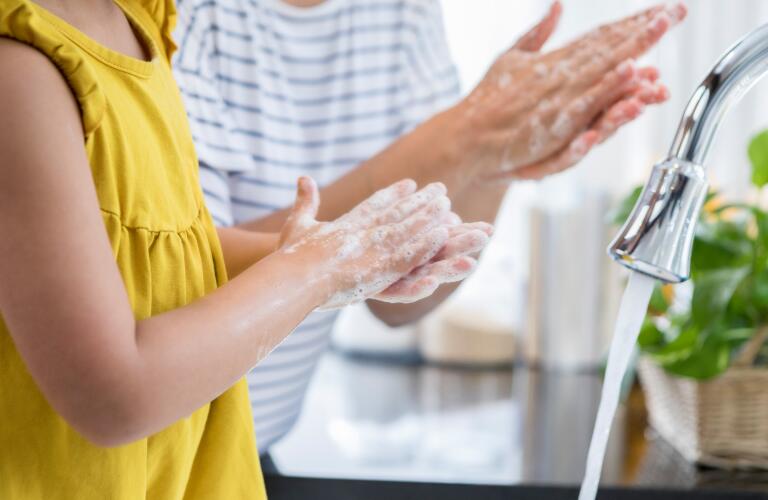 Every day in my dermatology clinic, I see children with sensitive skin. And at home, I do my best to care for my one-year-old daughter's sensitive skin, too. Most children I see with sensitive skin will often have eczema-prone, itchy, and dry skin. Nothing is worse than a little one covered in red, itchy rashes and too uncomfortable to sleep. In fact, because sleep disturbances can impact how a child's brain develops, studies show poor sleep from itching can lead to mental health problems or learning issues down the road. But there's a lot you can do to keep your child healthy and comfortable, and an important part of treating sensitive skin is educating parents on what to avoid.
Fragrances, dyes, and preservatives are ingredients you always want to stay away from. Fragrance is a common irritant for most people with sensitive skin, including kids. Be careful to read the label; if something claims to be "unscented," that doesn't mean it's fragrance-free. Often, products that are unscented contain a masking fragrance to cover the true scent. Therefore, try to buy fragrance-free baby wipes, moisturizers, shampoos, soaps, and laundry detergent.
Additionally, children can sometimes have allergic reactions to dyes in cleaning products, clothes, and some foods. Talk to your child's dermatologist if you suspect a possible dye allergy; if necessary, testing can be done to identify the specific allergen. And avoid purchasing products that contain preservatives like methylisothiazolinone and formaldehyde, which can also irritate skin. Baby wipes can contain preservatives, and rubbing them on young skin can trigger eczema. Instead, clean the area with warm water and soft cotton cloths.
2. Wool and synthetic fabrics.
Caring for your child's sensitive skin also includes choosing the right clothes for him or her to wear. Wool and synthetic fabrics like acrylic, polyester, rayon, acetate, and nylon can irritate sensitive skin, so stick to 100% cotton and loose-fitting clothes. Stay away from clothes that claim to be "wrinkle-resistant," since they get that feature from formaldehyde. And always wash your child's clothing before they wear it the first time to get rid of any dyes or preservatives left over from production.
Instead of harsh bar soaps that can irritate your child's skin, choose mild cleansers specifically made for sensitive skin. Although they're fun, stay away from giving your child bubble baths, since the soapy bubbles can aggravate and dry out skin. And as much as possible, on rare days when your child's body isn't completely sticky or covered in mud, use soap only in the armpits and groin. This way, you won't strip the skin in other areas of its natural moisture. Avoid any soaps with microbeads, sugars, salts or exfoliant agents. And be sure you don't scrub too vigorously.
Moisturizers come in a variety of types. The heaviest moisturizers are ointments, which are greasy and your best bet for hydration. Ointments won't irritate sensitive skin, whereas creams and lotions can. Creams are usually white and thick, absorbing into the skin well; however, they, along with lotions, often contain alcohol, which can be a problem for children with sensitive skin. Lotions are the lightest type of moisturizer and they tend to contain many ingredients, like alcohol and fragrances, that can be irritating to skin.
It's important to moisturize your child's skin at least twice per day, and I recommend moisturizing immediately after bathtime while the skin is still damp, in order to lock in hydration.
Sweat will often irritate inflamed skin, and heat often exacerbates itch. Prevent overheating by dressing your child in loose-fitting, breathable cotton clothes. Keep the bedroom temperature cool and avoid tucking them in with too many covers at bedtime. Cold can also cause problems with skin, and children with eczema tend to see outbreaks increase in colder winter months. Keep skin hydrated and limit exposure to extreme temperatures whenever possible.
Figuring out exactly what irritates your little one's skin can be a long and challenging process, but it can help to know where to start. Although everyone's skin is different, avoiding these common irritants can be an effective step towards soothing your child's sensitive skin.
Was this helpful?