3 Big Beauty Benefits of Sunblock
Was this helpful?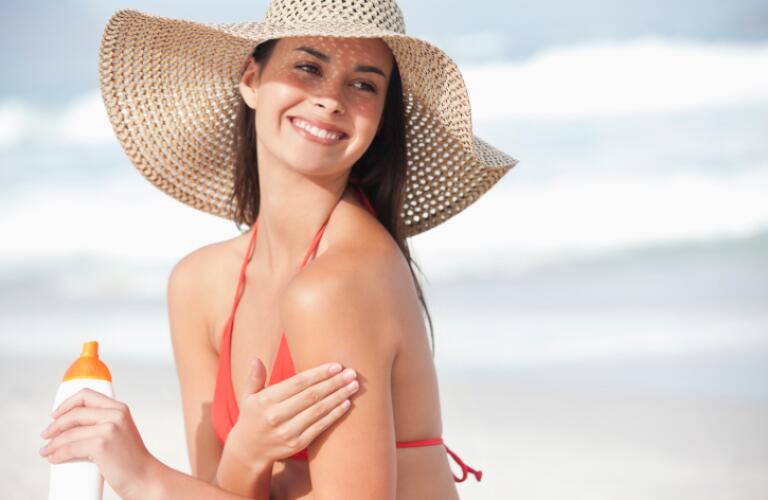 By now, you know sunscreen helps protect your skin from cancer-causing UV rays. But though they're critical to protecting your health, those bottles and cans of sunscreen do double duty as part of your beauty regimen, too.
Choose a sunscreen with a sun protection factor (SPF) of at least 30 and that has the words "broad-spectrum" on the label. Wear it on all exposed skin every day to prevent cancer and reap the following beauty benefits:
If you've looked into the face of a child and an older adult, you've seen the effects of sun damage on the skin. The same harmful UV rays that cause cancer decrease skin's elasticity, damage the skin's top layer, and cause a buildup of pigment. Over time, your skin wrinkles, sags, and develops brown age spots.
Sunscreen, however, hits pause on the clock. In fact, dermatologists agree that sunscreen—along with moisturizer—ranks as one of the most important anti-aging products you can buy.
One recent study in the Annals of Internal Medicine found people who put on sunscreen daily showed no detectable age-related changes after four and a half years. And other recent research showed people could stay in the sun for an average of two hours and seven minutes per summer day and still maintain healthy skin until age 80, provided they first applied an SPF of at least 50. Meanwhile, those with unprotected skin could tolerate only two and a half minutes daily of summer rays before sustaining damage.
Age, living in a desert climate, or having a job or hobby—like nursing or swimming—that involves immersing body parts in water can strip the skin of hydrating oils. Eventually, skin can turn rough, scaly, cracked, raw, or gray and ashy, depending on your skin tone.
Choosing a moisturizing sunscreen can help repair the damage. Hydrating ingredients include lanolin, oils and dimethicone, a type of silicon. Look for these ingredients or for terms such as cream, lotion or ointment.
You might think a tan makes you look healthy. But each time you bronze, you're actually causing damage. UV rays cause red, scaly, raised bumps called actinic keratoses. Not only do these growths affect your appearance, they can also turn into a type of cancer called squamous cell carcinoma.
Protecting yourself with a broad-spectrum sunscreen prevents these growths as well as the cancer that sometimes follows. Less sun damage also means a more even distribution of pigment, along with fewer bright-red dilated blood vessels. The result? Skin that's much smoother and more evenly colored, with or without makeup.
Was this helpful?