Recovery After Shoulder Replacement: What to Expect
Was this helpful?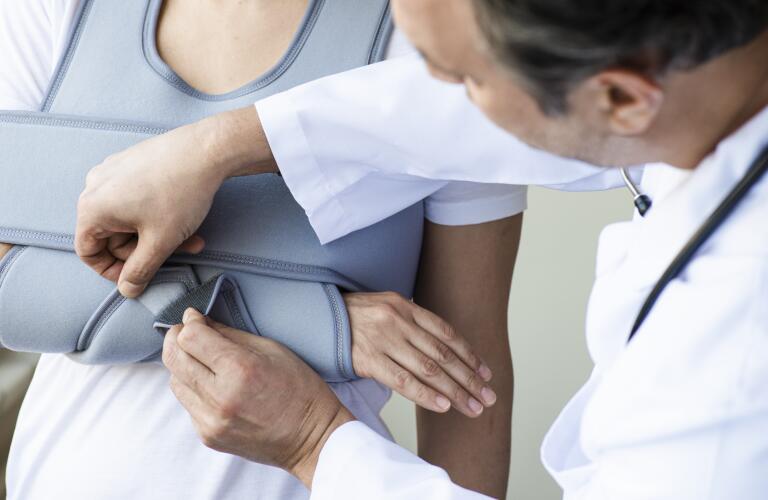 Shoulder replacement surgery can be life-changing. After a shoulder replacement, most people experience significant pain relief and improvement in shoulder motion. However, results are not instantaneous. Full recovery from shoulder replacement can take 4 to 6 months or longer.
Knowing what to expect after shoulder replacement can help you prepare physically and mentally. Understanding shoulder replacement recovery time allows you to establish realistic expectations and may alleviate some impatience.
Most patients stay in the hospital 1 to 3 days after shoulder replacement surgery. During this time, nurses will administer pain medication as needed to keep you comfortable, and doctors and nurses will assess your incision site to check for infection and monitor healing. You may also start physical therapy while in the hospital.
Before you go home, a nurse or physical therapist will show you how to wear a shoulder sling to support your arm. You will need to wear the sling for 2 to 4 weeks after surgery. (You'll be able to remove the sling to bathe.) A physical therapist will also teach you simple exercises you should do at home to promote shoulder healing, strength and flexibility.
When you return home, take it easy. Plan for plenty of rest. You should not lift anything heavier than 5 pounds during the first month after surgery, and you shouldn't drive for 2 to 4 weeks after surgery. Do not use your arm to lift, reach, push or pull above waist level for at least six weeks.
Do your shoulder exercises daily, as directed by your surgeon or physical therapist. You may find it helpful to take pain medication 30 to 60 minutes before a planned exercise session. Rest after exercising.
According to the American Academy of Orthopaedic Surgeons, most people can independently eat, dress and groom themselves within two weeks after surgery. Your surgeon will check your wound and healing (and remove surgical staples from your wound, if necessary) at a follow up appointment.
Approximately six weeks after surgery, you'll likely begin a physical strengthening program with a physical therapist. Your arm will gradually gain strength, stamina and mobility.
If you do not have a physically demanding job, you may be able to return to work as soon as 2 to 3 weeks after surgery. If your job requires lifting or reaching overhead, you will be out of work longer and may need to make some changes to your work environment. Most patients return to work approximately two months after shoulder replacement.
Your actions influence your recovery. To facilitate healing, you should:
Wear your sling. A sling can feel a bit unnatural, but consistently wearing your sling as ordered keeps your arm in place so your tendons and muscles can heal without undue stress. You may also find that it's more comfortable to wear the sling.

Take your pain medication if needed. Your doctor will send you home with a prescription for pain medication. Don't try to "tough it out." Take your pain medication when you begin to feel uncomfortable, instead of waiting for the pain to escalate. Appropriate pain management will make it easier for you to rest and perform your shoulder exercises. A few days after surgery, you may be able to transition from prescription pain medication to an over-the-counter pain reliever, such as ibuprofen. Follow the directions on the bottle, and do not hesitate to call your healthcare provider if your pain increases or does not respond to pain medication.

Do your physical therapy exercises. Your exercises are a crucial part of your recovery. Skipping your exercises could result in decreased mobility. Do your exercises every day, as directed.

Avoid overdoing it. If you've had arthritis for a while, your shoulder may feel significantly better after surgery. It's still a good idea to gradually ramp up activity. Don't try to lift anything heavy in the weeks after surgery, no matter how good you feel. If you try to do too much too soon, you may injure yourself, and an injury will almost certainly prolong your recovery.

Accept help. Let friends and family drive you around and help you with household tasks. Your arm needs time to heal and gain strength. It's also good to get outside. Meet a friend at a nearby park or ask them to pick you up.

Call your doctor if you notice a problem. It's normal to have "good days" and "bad days." However, if something feels wrong—if your pain has significantly increased; if you notice signs of infection, such as redness or swelling, at the surgical site; or if you feel any unusual sensations—call your doctor.
Six months after surgery, most people have fully recovered from shoulder replacement.
Was this helpful?