Sex During and After Pregnancy
Was this helpful?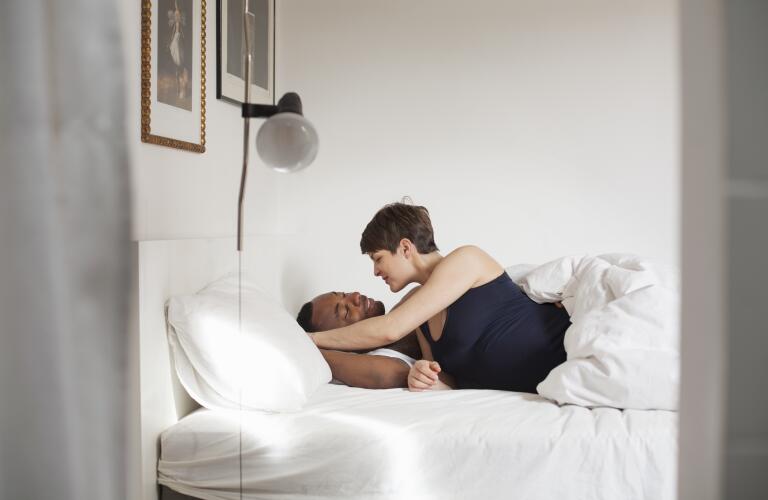 You've been basking in the glow of pregnancy, singing lullabies to the baby in your womb, and then one day you feel a surge of hormones that fuels your passion for sex. But before you embrace your partner, you start to wonder if it's OK. Will sex during pregnancy harm the baby? Are there any benefits of sex during pregnancy? And what about after the baby is born? Should you wait some period of time to have sex after pregnancy?
In most cases, you and your partner can safely have sex throughout pregnancy and as soon after birth as you feel comfortable. But, you should always consult your obstetrician about these questions because he or she can provide personalized information specific to your health and situation. Find out what you need to know about sex during and after a healthy pregnancy.
The hormonal fluctuations that occur during pregnancy may make pregnant woman's sex drives soar, or it may dampen your enthusiasm for sex. For most women, the sex drive during pregnancy waxes and wanes throughout the gestational period.
If you do feel like having sex, it's usually OK to cuddle up with your partner and enjoy it. The act of vaginal intercourse itself won't harm your baby, which is protected inside the uterus by the amniotic sac and fluid. One of the benefits of sex during pregnancy might be strengthening the emotional bond with your partner that will help you both get through the exhausting postnatal period, as you care for your baby.
Most women can safely have vaginal and oral sex throughout their pregnancy, but some experts recommend avoiding anal sex during pregnancy, and you should never allow your partner to blow into your vagina during oral sex, as this can cause an air embolism that threatens your health along with your baby's. In general, as long as vaginal sex is comfortable and your doctor hasn't advised you otherwise, you can enjoy this intimacy with your partner until the baby arrives.
Women who have previously experienced complicated pregnancies should avoid sex during pregnancy unless their doctor approves it. Other times to avoid sex during pregnancy include when:
You notice amniotic fluid leaking from your vagina.
You previously experienced preterm labor.
You're experiencing cramps.
You're pregnant with multiples (twins, triplets).
You've been diagnosed with an incompetent cervix (a cervix that has opened prematurely).
You've been diagnosed with placenta previa (a condition in which the placenta droops over the cervix).
Sex feels painful or uncomfortable.
Some experts say sex during pregnancy does not affect miscarriage risk, while others advise against having sex while pregnant if you've previously miscarried. Ask your doctor what's the safest option for you in this situation.
Bleeding after sex during pregnancy is not normal. You should contact your doctor right away if this occurs.
If your partner has a sexually transmitted infection of any kind, ask your doctor whether sex is safe for you and if you should use a condom.
Once the baby is born, you should take your time getting back to having sex. If you required sutures (stitches) for a perineal tear or episiotomy, you may feel sore for a while. Some women also experience vaginal dryness and a feeling that their vagina is stretched out. These sensations can make intercourse physically uncomfortable and can affect your desire to have sex.
While most women can safely have sex immediately after a vaginal birth, you shouldn't feel obligated to make love right away. Caring for a newborn is exhausting, and the continuing hormonal fluctuations of the postnatal period may dampen your desire for sex. It's important to candidly discuss this situation with your spouse or partner to prevent any misunderstanding or additional stress in those first weeks after childbirth. Remember you can achieve intimacy with your partner in many ways besides vaginal intercourse.
If you experienced any pregnancy or birth complications, ask your doctor when it's OK to resume sex. Otherwise, when the mood strikes you should be fine to enjoy that connection with your partner again.

Was this helpful?