Safe Sex Practices for All Types of Sex
Was this helpful?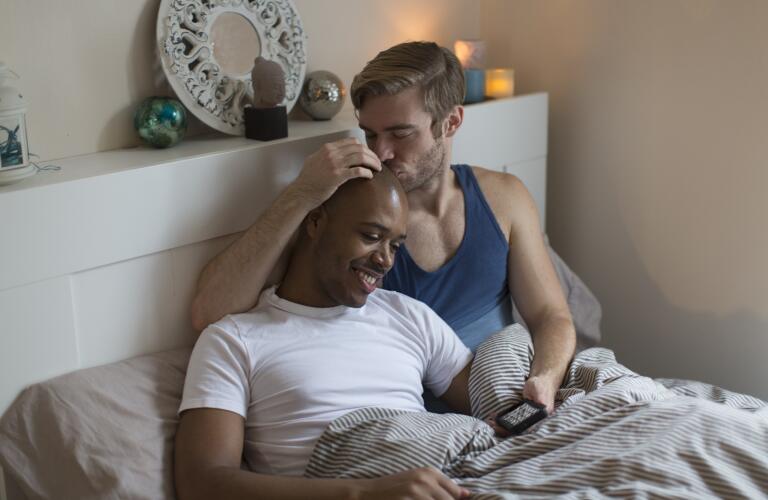 Safer sex is smart sex.
According to the Centers for Disease Control and Prevention (CDC), approximately 20 million new sexually transmitted infections occur each year in the United States. Many of these infections, including chlamydia and human papillomavirus (HPV), don't cause any symptoms, but can cause long-term complications like infertility and cancer.
Practicing safe sex is a way to protect your health and your partners' health.
You can't get pregnant from oral sex, but you can transmit or catch a sexually transmitted infection. Use barrier protection every time you have oral sex, whether it's mouth-to-penis sex, mouth-to-vagina sex, or mouth-to-anus sex.
People with penises should wear a latex condom when a partner performs oral sex on them; the condom should remain in place through orgasm. (After orgasm, it should be carefully removed and disposed of properly.)
During mouth-to-vagina or mouth-to-anus sex, the vagina or anus should be completely covered with a dental dam—a thin latex or polyurethane sheet. If you don't have a dental dam available, you can use a condom: Cut off the tip and cut up the side, to create a rectangular shape to cover the vagina or anus. (Be careful not to puncture the part of the condom you'll be using for protection.)
Use a new condom or dental dam for every sex act.
Birth control pills can prevent pregnancy, but they will not prevent sexually transmitted infections. Barrier protection is recommended during vaginal sex. You have two options: the male condom or the female condom.
The male condom is worn over the penis. It should be put on before the penis gets close to the vagina and should remain in place until the penis is removed from the vagina. (It's a good idea to hold the condom in place with one hand while withdrawing the penis, to prevent accidental leakage of semen.)
The female condom looks something like a sleeve with rings at both ends. One ring is inserted into the vagina; it secures the end of the condom over the cervix. The other ring will encircle the vulva, on the outside of the body.
Never use a female condom and a male condom together. Using both at the same time increases the risk of one or both tearing, which increases the risk of STD transmission.
Anal sex is the riskiest form of sexual activity, in terms of sexually transmitted infections. That's because the lining of the anus is thin and prone to tearing, and germs can more easily enter the body via tears.
Using barrier protection can decrease risk. Couples can opt for male or female condoms. A male condom can be placed on a penis, sex toy or hand before it enters the anus. Be sure to use plenty of lube as well, as lubrication decreases the risk of tearing. Alternately, couples can opt for a female condom if desired. According to information from the University of California at San Francisco, "removing the inner ring, lubricating the inside, placing the condom over the erect penis, lubricating the outside, and then entering the receptive partner eliminates some discomfort and trauma."
Note: Scientists have not studied the efficacy of the female condom in preventing infection transmission during anal sex, and female condoms are not FDA-approved for anal sex.
HPV vaccination can prevent HPV infection. If you or your partner are not yet vaccinated, talk with your doctor. Catch-up HPV vaccination is now recommended for all persons through age 26; people between ages 27 to 45 may benefit in some situations.
People at high risk of HIV infection can consider pre-exposure prophylaxis, or PreP, a daily pill that can prevent HIV infection from taking hold in case of exposure. PreP is only available by prescription and requires a negative HIV test.
Post-exposure prophylaxis, or PEP, is a short course of anti-HIV medications that can be prescribed to someone after possible HIV exposure. (For instance, after a condom break.)
People living with HIV can take medicine to decrease the amount of virus in their bloodstream to undetectable levels—which means they'd be unlikely to transmit the virus during sex. HIV medicine is only available by prescription.
Your healthcare provider can advise you on safer sex practices and help you choose strategies to protect yourself and others.
Was this helpful?