Depression and Low Sex Drive: New Treatments for Women
More than four in 10 women with depression report decreased sexual interest.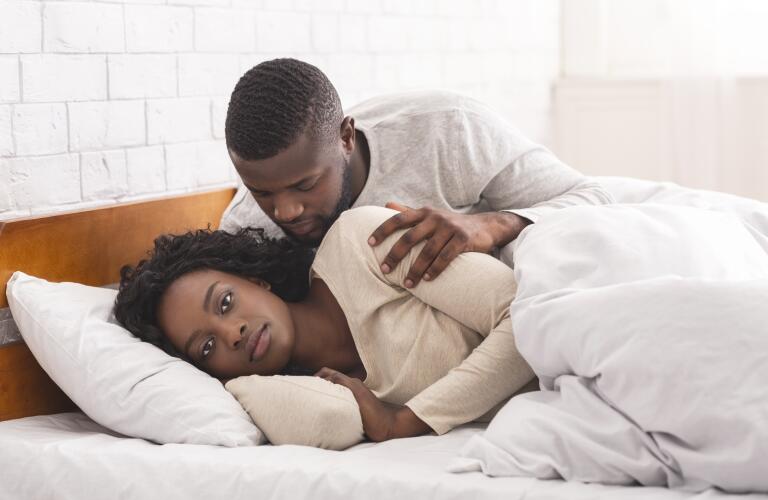 Depression can affect your sex drive. This isn't new information, but it has gained more importance. According to an article published in the international medical journal Women's Health, "impairment of mental health is the most important risk factor for female sexual dysfunction." Approximately 42% of women diagnosed with major depressive disorder report decreased sexual interest.
Unfortunately, many antidepressants also cause low libido. So, what's a depressed woman to do?
It makes sense that depression would decrease libido. After all, depression is a state of low or reduced activity and motivation, which may originate in the brain but affects your overall well-being. People don't typically want sexual intimacy when they feel sad, overwhelmed or hopeless.
For many women, persistent low libido compounds depression. A healthy sex life can boost mood; lack of sex can negatively affect mood. And women who are already prone to depression-induced feelings of guilt and worthlessness can easily spiral down into self-loathing.
Treatment of depression can alleviate its symptoms, including reduced sex drive.
Depression treatment usually involves a combination of psychotherapy and medication. One common class of antidepressants—selective serotonin reuptake inhibitors, or SSRIs—boost mood by increasing the amount of serotonin, a feel-good chemical, in the brain. These medications are highly effective, but they can affect sexual desire and function. Of women taking antidepressants, 72% experience decreased sexual desire and 83% report problems with sexual arousal, according to a 2016 review article in Mayo Clinic Proceedings. About 42% of women taking a SSRI antidepressant have trouble achieving an orgasm.
Sexual side effects may subside as the body gets used to the antidepressant, but many women don't wait to see if side effects improve. Frustrated by sexual difficulties, a lot of women quit taking their medication—many without ever discussing their sexual problems with a physician. That's a mistake because effective treatments are available.
It is possible to manage depression and maintain a healthy sex life. If you experience sexual difficulties while taking an antidepressant, talk with your primary care doctor or psychiatrist. In some cases, decreasing the dosage of the medicine will improve sexual function while keeping depression under control. One study found that 73% of patients reported improved sexual function when their SSRI antidepressant dosage was decreased, without experiencing worsening mood.
Ironically, adding another type of psychiatric medication may improve sex drive: Patients who take bupropion (Wellbutrin, Forfivo) in addition to their SSRI antidepressant often experience a return of sexual desire. Adding the drug buspirone, aripiprazole (Abilify), or vortioxetine (Trintellix) to SSRI antidepressant treatment may also relieve sexual side effects.
Bupropion and aripiprazole are available by prescription only.
At least one small study suggests that wearing a transdermal testosterone patch (like a nicotine patch) can relieve SSRI-induced loss of sexual desire. However, no testosterone products are FDA-approved for use in women.
Vaginal dehydroepiandrosterone (DHEA) may also improve sexual function in postmenopausal women who are experiencing antidepressant-associated decreased sex drive. Vaginal DHEA is FDA-approved to treat vaginal dryness in postmenopausal women; it should not be used by women who have not passed menopause.
Some evidence suggests that two nutritional supplements, maca root and saffron, may relieve antidepressant-related sexual dysfunction. In one small placebo-controlled trial, postmenopausal women who took maca root for 12 weeks (while continuing antidepressant therapy) reported significant improvement in sexual function; the women who took a placebo did not. Another placebo-controlled study found that taking saffron daily (in addition to antidepressant medication) for one month improved sexual arousal and lubrication but did not impact women's sexual desire or ability to orgasm.
Cognitive Behavioral Therapy
Cognitive behavioral therapy (CBT), or "talk therapy" is a proven treatment strategy for depression, but therapists also use it to treat decreased sexual desire and arousal. For women with both depression and low sex drive, CBT and mindfulness-based cognitive therapy (MBCT) can have a powerful impact. Although they are not new treatments for female sexual dysfunction, CBT and MBCT may be overlooked for various reasons. CBT and MBCT address factors that can cause low libido, such as distracting thoughts, poor self-image, and fear of rejection. To increase the likelihood of success, work with a therapist who has experience treating women with depression and low sex drive.
Researchers continue to look for new treatments for both depression and low sex drive. Talk with your healthcare provider if you are experiencing sexual dysfunction or symptoms of depression.
Was this helpful?