8 Health Benefits of Sex
Was this helpful?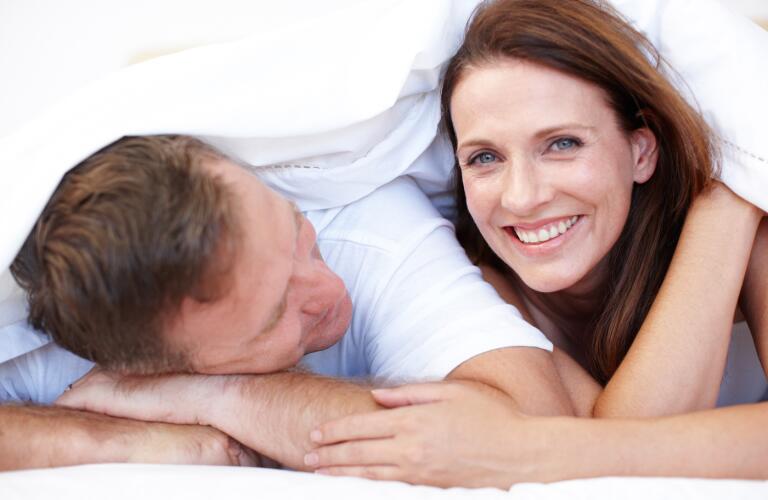 Sexual activity is more than just a fun way to physically connect with your partner and yourself. Sex provides serious health benefits for both men and women. If you need an excuse to get it on, here are eight reasons you should be "getting healthy" several times a week.
A study of older adults by The New England Journal of Medicine found that people who are in a loving relationship and have sex regularly tend to rate their health as "very good" or "excellent." Sex simply makes you feel healthier and in turn, healthier people seem to have sex more often.
Researchers at Rutgers saw a 40% increase in pain tolerance for women during vaginal self-stimulation. Because your body releases the natural painkilling hormone oxytocin during orgasm, you might try opting for pleasure instead of pain medication to relieve headaches, back pain and menstrual cramps.
The health benefits of sex are nothing to sneeze at. A regular romp leads to a robust immune system, which is a big turn-off for viruses and other bugs. One study of students at Wilkes-Barre University in Pennsylvania discovered that students who had sex a few times a week had 30% higher levels of salivary immunoglobulin A (IgA), an antibody that fights disease and protects you from colds and flu.
Timing is another key factor in improving your health with sexual activity. Yale University researchers report that getting intimate while you are menstruating lessens risk for endometriosis, a disorder in which endometrial tissue grows in areas outside of the uterus. The study revealed that uterine contractions resulting from orgasm might help clear the uterus of menstrual fluid and reduce chances of developing this condition.
A unique study on how psychological stress affects wound healing demonstrates how sex can help patch up more than your relationship. Couples were given blisters and then monitored while they were doing supportive activities versus having stressful marital discussions. The positive interaction helped their blisters heal twice as fast as when they were arguing. Apparently, a loving, sexual encounter may actually heal all wounds. (At least it can't hurt to try.)
A report in the American Journal of Cardiology proposes that good loving keeps your ticker ticking longer. Results from a 16-year study, the Massachusetts Male Aging Study, showed that men who engaged in sex twice a week reduced their risk of cardiovascular disease by 50%.
Prostate cancer research at Harvard has great news for men. Scientists have found solid evidence frequent ejaculation leads to a lower risk of prostate cancer. Men who ejaculated 21 or more times a month reduced their risk by 33%, in comparison to guys who only experienced 4-7 ejaculations a month.
Feeling great and healing faster are big bonuses, but one of the most exciting health benefits of sex is it can help you live a happy life for a lot longer. This is especially true for the guys. In fact, a study reported by the British Medical Journal found that men who had frequent orgasms had a death rate 50% lower than men who didn't ejaculate often.
The biggest lesson learned from all of this research? Staying sexually active (with a partner or alone) is essential to a well-balanced life of good health and happiness. So put it on your calendar, right next to exercising and taking your vitamins, and create a wellness plan you can get excited about. If you have any sex-related symptoms or issues, don't be shy about addressing them with your doctor. Both men and women have treatment options to help achieve healthy sex lives that last a lifetime.
Was this helpful?