What to Expect After a Diagnosis of Tardive Dyskinesia
Was this helpful?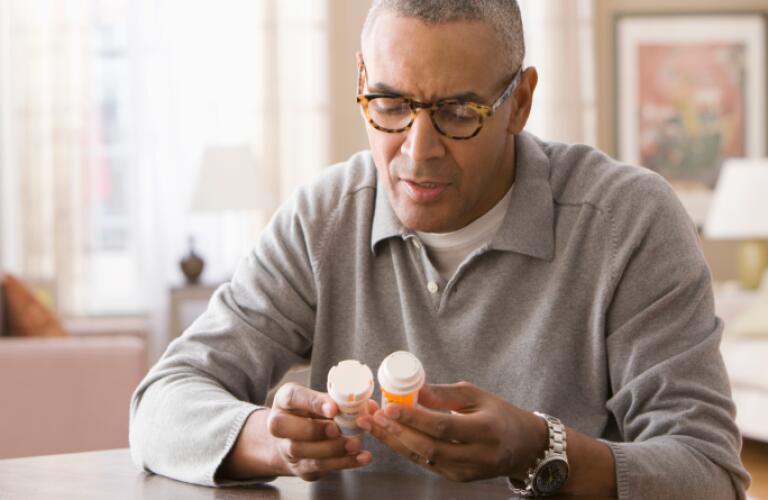 Tardive dyskinesia (TD) is a condition that often develops after long-term use of certain medications that block dopamine receptors in the brain. These meds, which are known as neuroleptics, are used to treat some psychiatric disorders, as well as some gastrointestinal conditions. Unfortunately, these antipsychotic meds can cause people to develop involuntary muscle movements, often in the face and head. And while the movements are often concentrated in the face, they aren't always. Some people start to exhibit rapid movements of their arms, fingers, legs and even their torsos. Some might only experience mild tremors, but others can develop severe, uncontrollable movements.
If you notice you or a loved one is starting to develop some unusual involuntary movements like grimacing, rapid eye blinking, tongue thrusting, lip smacking or puckering, consult a doctor right away. The sooner you can get a tardive dyskinesia diagnosis, the more effectively it can be managed.
Once you've received a diagnosis, it's time to move on toward treatment. Your doctor will want to start you on treatment right away, and there are several paths forward.
1. Discontinue the neuroleptic drug that seems to be causing the symptoms
Discontinuing or switching to another type of drug may help, but it also comes with some risks. If you stop taking the neuroleptic medication altogether, the involuntary movements might lessen. But they might not. Your physician will have to closely monitor you, because it's possible that your symptoms of TD will become much worse after you stop taking your medication. At that point, your doctor might decide it's imperative to reinstitute it.
The most important thing you can do is monitor and track your tardive dyskinesia symptoms. If they seem to get worse, notify your doctor. But don't stop taking your medications on your own. Suddenly discontinuing a medication might cause a host of problems, and your doctor will want to assess your symptoms first before making a change. Stick to your treatment plan and monitor your symptoms with the understanding that you may need to switch it up in the future under your doctor's care.
2. Try a newer antipsychotic medication.
Older "first-generation" antipsychotic drugs (also called "typical" antipsychotics) are more likely to cause TD, so your doctor may switch you to a newer "second-generation" or "atypical" neuroleptic drug. Most doctors are prescribing second-generation antipsychotics these days. But if you're taking a first-generation neuroleptic drug, switching to a second-generation drug (sometimes called "atypical") might seem like a good choice. And it might indeed be a better choice, as first-generation antipsychotics are known for causing potentially serious side effects. However, these atypical neuroleptics can still cause symptoms of TD, too.
3. Take a medication specifically for TD symptoms.
Your doctor may prescribe a medication like valbenazine (Ingrezza) or deutetrabenazine (Austedo), both of which have been approved by the U.S. Food and Drug Administration (FDA) to treat tardive dyskinesia in adults. They are promising treatments for tardive dyskinesia, but they, too, can cause side effects, so it's important to know what to expect. Valbenazine and deutetrabenazine belong to a category of drugs known as vesicular monoamine transporter 2 (VMAT2) inhibitors. Valbenazine can cause side effects include fatigue, dizziness, restlessness, vomiting and joint pain, as well as more potentially serious side effects like hives, swelling of the mouth and lips, itching, fainting, rapid or irregular heartbeat and shortness of breath. Side effects associated with deutetrabenazine include fatigue, diarrhea, constipation, pain while urinating, bruising and upper respiratory infection, while more serious potential side effects can include fainting, irregular heartbeat, shaking, muscle stiffness, falling, fever, sweating and confusion.
Understanding the Long-Term Prognosis
After you receive a tardive dyskinesia diagnosis, you may have other questions. Will the treatment work? Will your symptoms ever disappear? Will they get worse?
The reality is that no one can predict with certainty how you will respond to treatment. Fortunately, many people with TD successfully manage their condition and your doctor will be able to guide you through the process. The new VMAT2 inhibitors have shown to be effective at controlling symptoms, and there are other options available if necessary.
It's important to know that even if you discontinue treatment with a neuroleptic medication, your tardive dyskinesia symptoms may continue. They may remain with you permanently, in fact, and there's no real way to know if they'll ever subside and disappear. With the knowledge that this is a possibility, you can discuss how to approach that situation with your doctor and with your support network, and you can make plans.
Was this helpful?