What People With Schizophrenia Should Know About Antipsychotic Side Effects
Was this helpful?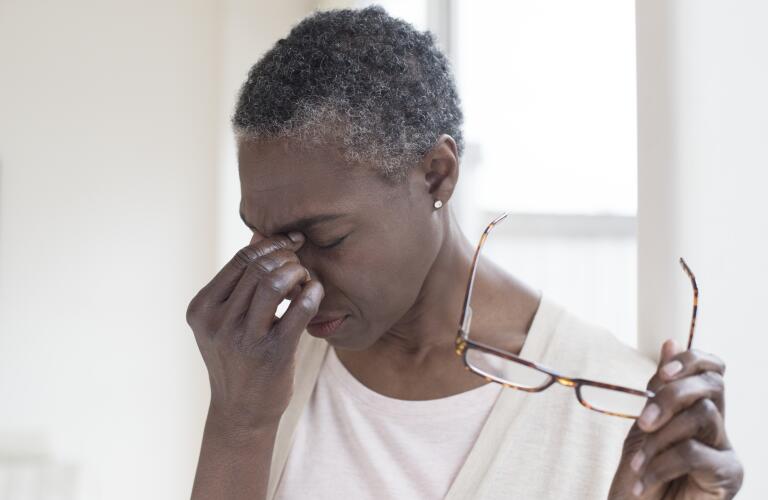 Schizophrenia is a serious mental health disorder that affects a person's ability to think, process, and behave. People with schizophrenia may suffer from delusions, hallucinations, and disorganized thinking. Schizophrenia typically requires lifelong treatment, which involves medication and possibly also psychotherapy. Antipsychotic medications can help control the signs and symptoms significantly, but they can also cause some pretty serious side effects. One notable antipsychotic side effect to be aware of is a condition called tardive dyskinesia. Learn more about the benefits and side effects of antipsychotic treatment for schizophrenia.
When a psychiatrist prescribes an antipsychotic medication to a person with schizophrenia, the goal is to improve their symptoms and help them live their lives as normally as possible.
Because an imbalance of a chemical in the brain called dopamine often causes many of the symptoms of schizophrenia, the treatments often target this chemical, which is a neurotransmitter, and its pathways in the brain. These antipsychotic meds are also called neuroleptic drugs.
In the past, a psychiatrist might have chosen a first-generation (older) antipsychotic because that's what was available. Those drugs may have helped address some schizophrenia symptoms, but they also caused some severe side effects of their own. These neurological side effects often include the uncontrolled random movements associated with tardive dyskinesia.
These days, experts usually prescribe a newer or second-generation antipsychotic instead. You may be familiar with some of them, like aripiprazole (Abilify), quetiapine (Seroquel) and risperidone (Risperdal). And while they may be less likely to cause neurological side effects than the first-generation versions, they aren't free from risk.
As you might expect, different people will have different reactions to antipsychotic medications. But tardive dyskinesia is not an uncommon side effect of long-term use of neuroleptic medication. And unfortunately, for some people, the symptoms may not be reversible once they develop.
That's why it's important to understand the symptoms. Tardive dyskinesia is known for uncontrolled, repetitive movements–that is, someone with these symptoms will do these movements over and over for no discernable reason. If you begin to notice any of these symptoms, let your doctor know:
Grimacing
Sticking your tongue out
Lip pursing or smacking
Rapid eye blinking
Some people also move their fingers, arms, legs, and even their torsos in random, purposeless ways as a result of tardive dyskinesia. It might be a series of jerking movements, or it might be slower movements, according to the National Organization for Rare Disorders.
The sooner your doctor knows about symptoms developing, the sooner you can discuss how to approach the situation.
You might ask your doctor if any other treatments or interventions might be warranted to help your symptoms. Stopping your medication, switching to a new one, or trying a new dose may help. And new medications like valbenazine (Ingrezza) and deutetrabenazine (Austedo) can treat the symptoms of tardive dyskinesia effectively. Extract of ginkgo biloba may also help, but always talk to your doctor before trying any alternative treatments.
The bottom line is treating your schizophrenia with an antipsychotic medication comes with some risks. But so does not treating your schizophrenia. Your doctor will try to find a balance that works to achieve the best possible results for you, but you have to do your part, too. Don't discontinue taking any medication without telling your doctor first. Compliance is often an issue for people needing to take medicine for psychiatric disorders like schizophrenia, but you may be doing yourself more harm than good if you don't stick to your treatment plan.
Was this helpful?