The Emotional Toll of Tardive Dyskinesia
Was this helpful?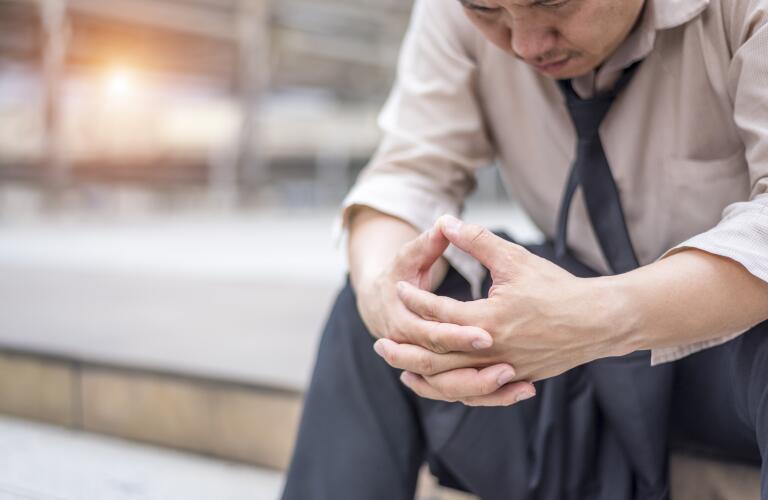 Tardive dyskinesia (TD) causes involuntary movements of the face and body. It can make you grimace, twitch, or stick out your tongue without meaning to do it. TD is a possible side effect of the long-term use of medications that treat schizophrenia, bipolar disorder, and sometimes depression–although it can develop with short-term use of these medications, called antipsychotics, as well. TD may also occur in people who are taking antiemetic drugs to treat nausea and other gastrointestinal conditions.
Living with a condition that makes you lose control over your body can be very upsetting. TD can take an emotional toll on you and the people who help care for you.
Some people with tardive dyskinesia puff out their cheeks. Others stick out their tongue, chew, or smack their lips. In one survey of people with TD, more than half said they felt self-conscious or embarrassed by the movements. The shame involved in having tardive dyskinesia can have long-term effects on your self-esteem.
When you can't control your movements, taking part in normal social situations such as school or work becomes much more difficult. You might avoid being around other people for fear that your body will suddenly jerk or twitch. The movements can elicit laughter and other unwelcome responses from people who witness them. Anyone who sees you might get the wrong impression. Tardive dyskinesia is often mistaken for mental illness, when it is just a medication side effect.
The fear and embarrassment of having symptoms in public could make you withdraw from family and friends. The resulting isolation can leave you feeling even more upset and depressed. That's why it's important to address your tardive dyskinesia with your doctor, but also consider talking about your experiences with a mental health provider. A TD patient support group, whether in-person or online, can also offer insights and advice for navigating others' perceptions of your symptoms.
TD is more than just uncomfortable and embarrassing. Tardive dyskinesia can reduce your chance of successfully managing your psychiatric condition, and impact the quality and length of your life. Studies have linked tardive dyskinesia to poor treatment response, a higher risk for relapse, reduced quality of life, and an increased risk for premature death. Fortunately, there are effective ways to treat TD, including changing medication, lowering dosages, or adding on drugs that specifically treat TD symptoms. A neurologist specializing in movement disorders should work with your psychiatrist to find the best way forward for you. It is possible to reduce TD symptoms while also managing your schizophrenia, bipolar disorder, depression, or other condition.
Sometimes people need help from a caregiver because of their psychiatric conditions. They may also need help with tardive dyskinesia. The movements can be severe enough to make dressing, bathing, eating, and other daily tasks difficult.
Caregivers can also feel the emotional effects of TD. Watching someone they love suddenly jerk and twitch can be difficult. Tardive dyskinesia can also isolate them. Caregivers face the additional worries that the person they care for is uncomfortable, unhappy, and not progressing in their treatment as well as they should. Support groups for caregivers of TD can offer guidance, encouragement, and advice.
If you've been experiencing these movements, whether or not they impact your life, talk to your doctor about them. There are ways to manage tardive dyskinesia. First, your doctor will weigh the impacts of this condition on your life against your need for continued treatment with antipsychotic medications.
People with mild tardive dyskinesia who need antipsychotic medication to control their schizophrenia or bipolar disorder symptoms may be able to stay on it. But if your movement symptoms are upsetting, your doctor may want to adjust your dose or taper you off your antipsychotic medication entirely with the intention of replacing it with another option. You may also try adding a newer medication to your daily regimen that can reduce TD symptoms and allow you to stay on your antipsychotic medication. The first step is talking to your doctor and finding a movement disorder specialist who can work together and determine the treatment plan that's best for you.
Talking to a mental health provider is also important when living with tardive dyskinesia. Because it can take an emotional toll, make sure you're getting the emotional support you need to keep moving forward with treatment and living a fulfilling life.
Was this helpful?