How to Explain Tardive Dyskinesia to Others
Was this helpful?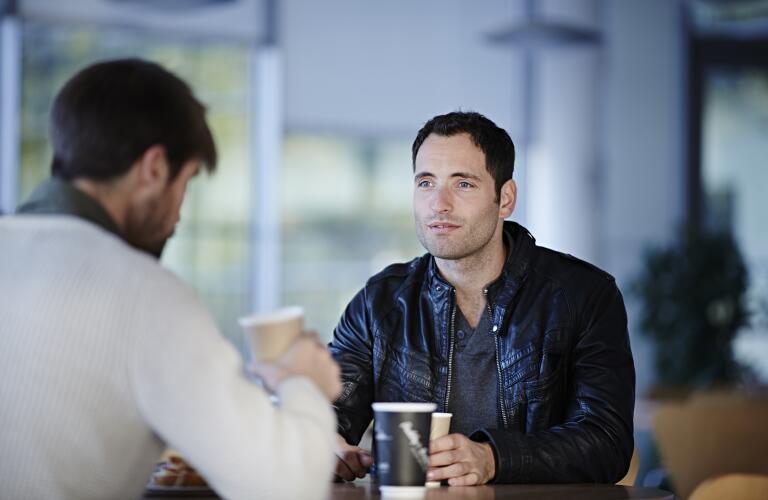 How do you talk about a medical condition that's probably unfamiliar to most people? If you or a loved one are living with tardive dyskinesia, you may have this exact question. Tardive dyskinesia can be challenging to talk about, whether due to the distracting symptoms themselves or the awkwardness of discussing a complicated condition. But it's important for your loved ones to understand what you're experiencing so they can better support you and help you find the right care. You might want to schedule a one-on-one coffee date, or call a family meeting to go over the details with everyone. Either way, it may be helpful to write out a list of bullet points to cover before your chat. That way, you won't forget anything and can even mark down questions or thoughts your conversation brings up. Having a good understanding about your tardive dyskinesia will help you educate your loved ones, but make sure you're not just focusing on the clinical side of things. Sharing your personal experiences and struggles with the condition may resonate the most with your relatives and friends, even though it can be hard to show vulnerability sometimes. Hopefully, with better understanding all around, you'll reap the benefits of more support. Here, we'll break down this condition in a way you can easily relay to others.
Talking About Tardive Dyskinesia: The Basics
The word "tardive" means "appearing late," and "dyskinesia" refers to "abnormal movements." Put together, tardive dyskinesia is a movement disorder that develops after taking certain medications for a long time—at least a month, but usually much longer. Tardive dyskinesia causes uncontrolled, repetitive movements mostly of your face and mouth but can include other parts of your body.
Medications that affect dopamine, a chemical in your brain that plays a role in muscle movement, can cause tardive dyskinesia. Older antipsychotic medications to treat psychiatric disorders like schizophrenia and bipolar disorder are the most common cause. Though less likely, tardive dyskinesia can also develop after ongoing use of newer antipsychotic drugs or the anti-nausea drug metoclopramide. Some medications to treat depression, seizures, and Parkinson's disease may also play a role in either causing tardive dyskinesia or making it worse.
Recognizing the Symptoms of Tardive Dyskinesia
Getting a diagnosis of tardive dyskinesia can take some time because the symptoms can be similar to other conditions. There isn't one simple test to officially diagnose it. Instead, your doctor needs to look at the medications you are taking, as well as how long you've taken them or when you stopped. Various tests may need to be performed to rule out other conditions.
Symptoms can vary in intensity, and in the early stages, you may not even realize they are occurring. Examples include:
Tongue thrusting
Lip smacking
Frowning
Blinking
Chewing
Finger wiggling
Foot tapping
Rocking
Hip thrusting
Neck twisting
Understanding Treatment Options for Tardive Dyskinesia
Sometimes tardive dyskinesia can be reversed, especially if it's diagnosed early. Stopping the medication that's causing it or changing to a newer antipsychotic may help. More recently, a few medications have been approved specifically treat tardive dyskinesia symptoms, including valbenazine (Ingrezza) and deutetrabenazine (Austedo).
If your uncontrolled movements just affect a small area, injections of the muscle relaxer botulinum toxin (Botox) may reduce them. Surgical options, such as deep brain stimulation, are reserved for severe tardive dyskinesia.
In some cases, tardive dyskinesia becomes a chronic condition that persists despite treatment.
Managing Tardive Dyskinesia in Daily Life
Just as symptoms of tardive dyskinesia can vary, so can its effect on your day to day activities. When symptoms are mild, you may not experience much of a difference in your normal routine. But when they're severe, you may have difficulty swallowing or talking. It can be hard to perform chores around the house or function as you need to at work. Sometimes, it may make you feel embarrassed, hesitant to go in public, or interact with family and friends.
Tardive dyskinesia seems to get worse with stress, so it's a good idea to incorporate activities that you find relaxing. Meditating, taking a walk, reading a book, or enjoying a hobby are examples of ways you can decompress.
It's also important to seek out help when you need it. Family and friends can help support you emotionally but may also be able to assist you when everyday activities are a struggle. Sometimes, people close to you may even help identify new symptoms or changes in symptoms that you didn't notice, which is important information for your doctor when it comes to evaluating your treatment plan. You should always let your doctor know if you have any questions or concerns along the way.
It can seem intimidating to discuss your tardive dyskinesia symptoms with friends and family, but with a solid understanding of the condition and even some bullet points prepped ahead of time, you can feel confident in your ability to explain what it's really like to your loved ones.
Was this helpful?