How Telehealth Can Help People With Tardive Dyskinesia
Was this helpful?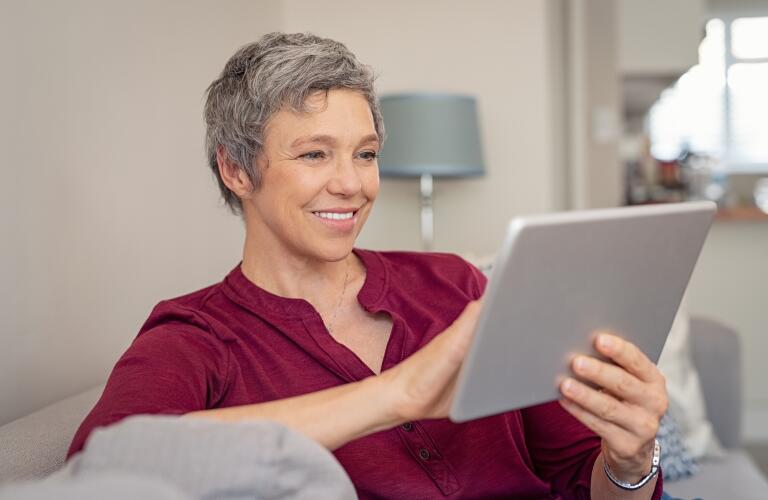 By now, you've likely heard of telehealth, also called telemedicine. Since the onset of the COVID-19 pandemic, many physicians have switched to using telehealth to stay connected with their patients. The term telehealth describes the process of using modern technology, such as your computer, to remotely visit with your doctor. Now, many psychiatric services are offered using this process.
If you live with tardive dyskinesia, telehealth can be a great option for staying in touch with your doctor between in-office visits. This treatment method can make it easier for you to get the mental health care you need while also protecting you from infectious diseases such as COVID-19. If you're interested in using telehealth, ask your doctor whether you could include this option in your treatment plan.
Treating Tardive Dyskinesia With Telehealth
Telehealth uses electronic telecommunication technology; many people use their smartphones, personal computers, or tablets to conduct virtual visits with their doctors. Your doctor may offer telehealth appointments as a convenient way to check in with you between your regular appointments. Or, your doctor may use a virtual visit to refill prescriptions, discuss any new concerns you have, and answer your questions about tardive dyskinesia.
If you have tardive dyskinesia symptoms that are especially troubling, or your symptoms get worse over time, your doctor may suggest telehealth as a way to monitor your response to your treatment plan. This type of appointment also gives your doctor the opportunity to screen you for any other health problems that may cause similar symptoms, helping narrow down which treatment is best for you.
Recent research shows telehealth appointments with mental health specialists are often just as effective as in-person appointments, with diagnostic accuracy, treatment effectiveness, and quality of care the same or better as in-person care. And many people report greater satisfaction with telehealth, since it saves them time, effort, and even money.
Providers in all types of mental healthcare settings use telehealth, including private practice, outpatient clinics, hospitals, nursing homes, military treatment facilities, schools, and correctional facilities. There's a high chance your doctor can help you take advantage of these services.
Tardive Dyskinesia Telehealth Benefits
Treating tardive dyskinesia remotely offers many benefits compared to in-office visits with your doctor:
It's more convenient. For many, seeing a tardive dyskinesia doctor online is simply more convenient. All you need for an effective appointment is a good internet connection and your smartphone or computer. In some cases, your doctor may even be able to check in with you using a simple phone call.
It's totally private. There are usually many people around when you go into your doctor's office, but that's not necessarily the case at home. Since virtual visits can be conducted anywhere, you may find you have much greater privacy while you're at home discussing your concerns with your doctor.
There's no need to travel. You don't have to get in your car or use public transportation for your telehealth appointment, which can save you time and effort.
You save money. In many cases, telehealth is cheaper compared to traditional appointments. Also, many insurance companies pay for at least a portion of telehealth services, saving you even more cash.
You're socially distanced. Because you're not going into an office, you aren't exposed to other people who may be sick with an infectious disease like COVID-19 or the common cold. Telehealth visits can help you stay healthier.
It's a great way to connect. Many people agree that telehealth actually helps them feel better connected with their doctors, since they have their undivided attention during the visit. Also, many doctors spend more time with their patients using telehealth compared to in-person visits. If you want to develop a better relationship with your doctor, telehealth may help.
While your doctor may not offer all their services using telehealth, they may recommend virtual visits as a way to check in with you between your regular appointments. Your doctor can help determine whether telehealth visits for tardive dyskinesia may benefit you and, if so, how frequently you should plan on seeing your doctor this way.
Was this helpful?