Smart Skin Care Products for Rosacea
Was this helpful?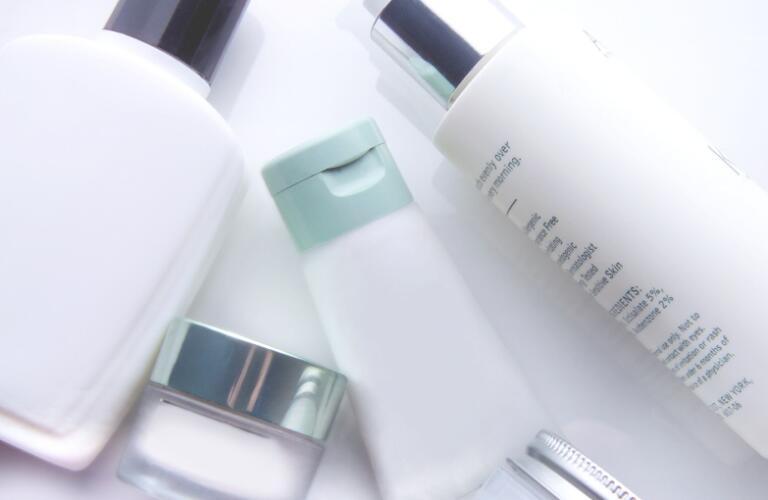 If you have rosacea, shopping the skin-care aisle can be a daunting task. The soap, sunscreen, and other products you put on your face can make your skin look much better—or much worse. When the National Rosacea Society (NRS) surveyed more than 1,000 people with rosacea, 41 percent said that skin care products triggered their symptoms.
Having rosacea means you need to be extra choosy about what goes on your face. The first rule of thumb: "Avoid anything that causes stinging or burning," says Lynn Drake, M.D., a lecturer in dermatology at Harvard Medical School and medical advisor to the NRS. Dr. Drake notes that some prescription medicines may sting a bit initially. But unless your doctor has told you to use a specific product, stinging is a sign to discontinue it and try something else.
Rosacea triggers vary from person to person, so finding the best regimen for your skin may take some trial and error. You can cut down on the error by being a savvy label reader. Watch out for these ingredients, which often aggravate rosacea:
Alcohol

Witch hazel

Fragrance

Menthol

Peppermint

Eucalyptus oil
Consider products made for sensitive skin that are fragrance-free and allergy-tested. "Start one new product at a time," says Mitch Chasin, M.D., a laser and aesthetic medicine physician in Livingston, N.J. "That way, if you have a problem, it's easier to pinpoint the cause."
Test the product on a small patch of hidden skin before applying it to your whole face. Dr. Chasin suggests dabbing a bit on the underside of your chin.
The right skin care products can help calm your skin, tone down redness, and keep you looking your best. Here's what to look for in cleansers, moisturizers, sunscreens, and shaving products.
To wash away the day's dirt, grime, and skin oil, a mild soap or cleanser is essential. For normal, dry, or combination skin, many doctors recommend a non-soap cleanser. "Those that have a 'neutral pH' or are 'pH balanced' are a good choice," says Dr. Chasin. Some non-soap cleansers are specifically formulated for sensitive or redness-prone skin.
For very dry skin, consider a creamy, low-foaming non-soap cleanser. Such cleansers often leave a thin film on the skin that helps hold in moisture. For oily skin, mild soap may do a better job of cleaning your face.
Whatever product you choose, apply it gently with your fingertips. "A washcloth or sponge is often too abrasive," Dr. Chasin says.
Many doctors also recommend regular use of a moisturizer, which helps build a strong moisture barrier to protect the skin. "Choose a moisturizer that's made for the face," says Dr. Chasin. "It should be light, oil-free, and noncomedogenic [which means it doesn't clog pores]."
Moisturizers developed for sensitive or redness-prone skin are available. Some contain sheer green color neutralizers to counteract the appearance of redness.
If you need more help than a traditional moisturizer can provide, your doctor might recommend a barrier-repair product. Regular moisturizers work by trapping moisture in the skin. Barrier-repair products not only do that, they also help rebuild the skin. Some are available by prescription only, while others are sold over the counter.
In the NRS survey, sun exposure ranked as the number one rosacea trigger, so sun protection is a must. "Choose a sunscreen that contains titanium dioxide or zinc," says Dr. Chasin. These inorganic UV filters work by reflecting the sun's UV rays. They're less likely to aggravate rosacea than sunscreen chemicals—such as para-amino benzoic acid (PABA), cinnamates, salicylates, and benzophenones—that work by absorbing UV radiation.
Your sunscreen should have an SPF of 30 or above. And it should be broad-spectrum, offering both UVA and UVB protection. An ingredient called silicone—also known as dimethicone or cyclomethicone—may help keep stinging and redness at bay. Some sunscreens made for redness-prone skin not only offer sun protection, but also contain green tint to counter any visible redness.
For men with rosacea, shaving can be a challenge. "Avoid shaving lathers and lotions that contain lanolin or wax, which can irritate the skin," says Dr. Drake. Check the ingredient list when buying pre-shave and aftershave products as well; many contain ingredients such as alcohol, menthol, and fragrances. Remember: If it stings, it's irritating, not bracing. To reduce problems, consider products designed for sensitive skin.
"An electric razor is generally less irritating than a razor blade," says Dr. Chasin. Applying a moisturizer or gentle balm after shaving also helps soothe your skin.
Sometimes Less Really Is More
You might want to skip some skin care products altogether. These include anti-aging skin creams containing exfoliants (such as salicylic acid) and toners containing astringents (such as alcohol). Both exfoliants and astringents are common rosacea triggers.
As a general rule, simpler is better when it comes to daily skin care. The fewer products you use, the less chance one will cause a problem.

Was this helpful?