Why It's Important to See Your Rheumatologist for Rheumatoid Arthritis During the Pandemic
Was this helpful?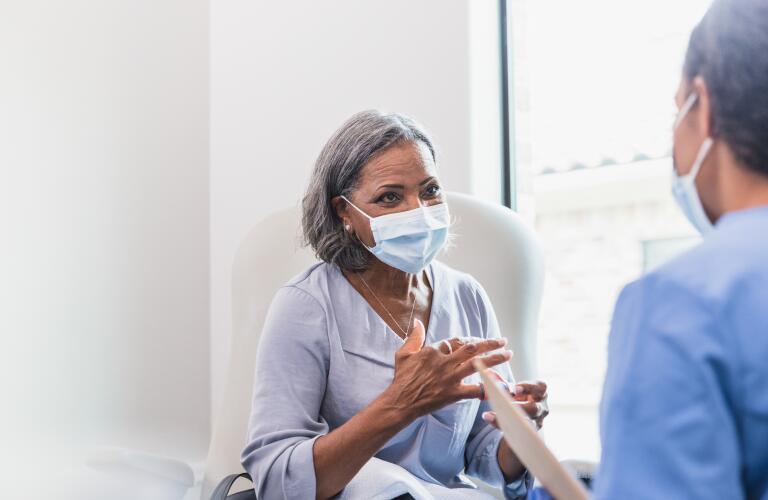 When the COVID-19 pandemic began, many people either cancelled or delayed important healthcare visits and procedures. In some cases, they had to miss appointments because the medical offices closed temporarily.
You might be one of those people who delayed care. And if you have rheumatoid arthritis (RA), it's certainly understandable you'd have some reservations about going to a doctor's office during the pandemic. You might be nervous about the potential for exposure to COVID-19. But many experts would urge you to reconsider. Delaying those appointments could mean setbacks for your rheumatoid arthritis treatment. It's important to find a way to continue seeing your rheumatologist during the rest of the pandemic. But when is it the right call to see your doctor in person, and when is a telehealth visit enough? It's a difficult decision. Fortunately, the American College of Rheumatology published guiding principles to help providers and patients make an informed choice. While telehealth can be enormously helpful in some situations, an in-person appointment is crucial in many cases. Keep in mind, though, your doctor and their medical colleagues are well-versed in pandemic safety protocols at this point, and are doing everything they can to protect patients. If you're struggling to decide if it's time for an in-person appointment, consider the following–and don't hesitate to discuss it with your rheumatologist. And remember: if you're fully vaccinated, your risk of COVID-19 is considerably decreased, and you should feel more comfortable visiting your doctor in person.
Here's the unfortunate truth about rheumatoid arthritis: there is no cure. And since it's a progressive disease, it does tend to get worse over time. Managing RA must be a priority, even during a pandemic. Your rheumatologist will want to continue monitoring your condition and tracking the effect of the disease on your joints. If they notice your RA is getting worse, they'll want to make changes to find the best strategy for slowing down progression. And the sooner you take action, the better. If you're newly diagnosed with RA, in-person appointments with your rheumatologist are important. As you start on the path to finding the right treatment, your doctor will need to examine your joints in the office with you, and may order scans or tests to get a better idea of how far your RA has progressed. The same applies to people who are in the middle of a flare-up. If your RA worsens, a physical exam can be key to understanding the cause. And if your RA flare-up is severe, your doctor may need to provide you with a quick-acting injectable medication to bring down inflammation, which can only be provided in person.
When it comes to managing rheumatoid arthritis, the earlier you begin treatment, the more likely you are to achieve remission. Remission is your goal, since you'll experience less arthritic activity and less inflammation in your joints. According to some estimates, remission rates can reach or even exceed 60% with early and aggressive treatment with disease-modifying anti-rheumatic drugs, or DMARDs. However, some DMARDs are delivered via infusion, which requires you to travel to your doctor's office. Biologic medications, which are a type of DMARD derived from living organisms to target the root cause of inflammation, can significantly improve RA symptoms. But certain biologics are given by infusion on a regular schedule, depending on the medication. Some infusions are every two weeks, once a month, or once every two months. If you're taking one of these drugs, it's critical for many patients to stay on schedule.
Talk with your rheumatologist about your specific case; patients whose disease is well controlled may be okay taking a "drug holiday" for a limited amount of time. But for many patients with RA, missed doses can lead to a worsening of your symptoms, which can cause permanent joint damage and more severe disease progression. To treat more severe RA, you might have to go on stronger medications like steroids that can have less tolerable side effects, and it may be harder to reverse any damage done to your joints.
Fortunately, doctor's offices are following established protocols to safely administer infusions so patients get the treatment they need and are protected from exposure to COVID-19. Before your appointment, call your rheumatologist's office to ask about the steps they've taken to keep patients safe. It's likely at this point in the pandemic that the medical professionals and staff at the office have been vaccinated, which may bring some relief to you as well.
Other RA medications are given via injection. Sometimes, the patient can self-inject these drugs, but in other cases, a medical professional has that responsibility. Since injections are more quickly given than infusions, some rheumatology clinics have begun offering curbside treatment, where a member of the medical staff will give a patient an injection from their car to keep patients as safe and socially distanced as possible. Ask your doctor if this is an option for you.
People who take medication that suppresses their immune system have to be extra careful about infections. That includes many people with RA who take DMARDs, which are considered immunosuppressive drugs. As a consequence, during this time of COVID-19, your doctor may want to keep close tabs on you. If you develop any warning signs of infection, like hot, swollen joints, be sure to let your doctor know right away. In this case, a telehealth appointment over video chat or phone call is possible, but it's likely your doctor will want to examine a hot, swollen joint in person, since they need to feel it in order to diagnose an infection; plus, after they've made a diagnosis, they can inject the area with medication immediately to treat it. Yes, you're risking exposure to a virus in order to diagnose and treat an infection, but it's crucial to prioritize your immediate health needs over any potential problems.
If you're willing to see your rheumatologist in person, but still have some hesitations, don't be afraid to ask what safety precautions they're taking for COVID-19. Chances are, they'll want you to feel as safe as possible so you can get the care you need. For example, you may be able to stay in your car, instead of the waiting room, while you wait for your turn with the rheumatologist.
If your disease is well controlled and you feel you're not ready to venture out to your doctor's office in person, ask about the possibility of a telehealth visit. While there are some limitations to rheumatoid arthritis telehealth appointments, there are some significant advantages, too. Your doctor can't examine your joints quite as closely via camera or do any bloodwork, but you can still talk to them and describe what you're experiencing. And they can adjust your medications if need be. It also gives you access to your doctor if you're sick and can't venture out. Eventually, your rheumatologist will want to see you in person–and there are situations that require a trip to the doctor's office–but for standard check-ins when RA is stable, telehealth appointments may be just what the doctor ordered.
The pandemic will end eventually, and hopefully, you'll be able to return to the regular rhythm of your life, including your appointments with your rheumatologist. But until then, don't let COVID-19 concerns hold you back from getting the RA care you need. Talk to your doctor and work out a plan together that will best meet your needs during this challenging time.
Was this helpful?