Kitchen Tips for People With Rheumatoid Arthritis
Was this helpful?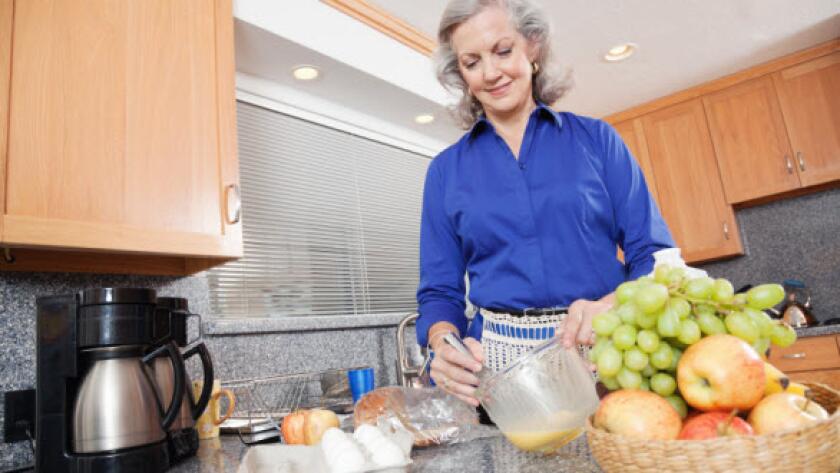 When your rheumatoid arthritis turns a simple task like cooking meals into a huge challenge, these clever and inexpensive ideas for tools and techniques will make navigating the kitchen and cooking healthy meals much easier.
With the right blades, a food processor will do the chopping and slicing for you.

Use an electric mixer or blender for preparing sauces and drinks.

Use an apple corer to cut vegetables.

Use a bagel slicer. Instead of having to grip a knife in one hand and a bagel, roll, or English muffin in the other, with this gadget you just place the bread in a slot and push down on the slicing tool.
Look for ergonomically designed utensils. These utensils feel more natural to grasp and are easy to hold and use. A good knife is one with a big handle. The handle will give you the stability and leverage you need to use your body weight, not just hand strength.

Bowls that have rubber bottoms offer more stability and make mixing easier.

Buy storage containers for flour, sugar, coffee, and tea with lids that are lightweight and easy to lift off.

Choose pots with two handles; they're easier to lift.
Buy smaller boxes and containers of items because they're easier to lift.

Take a friend or family member with you on shopping trips to help reach and carry items. Or, ask the store staff for assistance.
Store tools and foods you use most often within easy reach. Keep them in the front of cabinets and in drawers that you can easily reach.

Hang the pots and pans you use most often from wall hooks or from a rack that hangs down from the ceiling. This way, you won't have to bend to reach them.

Use Lazy Susans inside cabinets for spices and canned goods so they're easier to reach.

Extend your reach with mobility aids called grabbers or reachers. They make it easier to pull down items you have to keep on a higher shelf. You can use these tools to put away groceries, too. They're available online and at stores that carry daily living aids and devices.

Install lever-style handles on doors. When your hands hurt, turning doorknobs can be painful. A simple solution: Have a carpenter replace your doorknobs with easy-to-use levers that can even open with an elbow or forearm. Attach ribbons as pulls to bifold (café) doors to make them easier to open, too.
On days when you're feeling well, cook up several meals. Package and freeze extra meals in single servings that you can defrost in the microwave with little effort on days when you're not feeling your best.

Buy precut ingredients. You may pay a little more, but it may be worth it to avoid a lot of prep work. You can find chopped veggies and fruit chunks in the produce aisle and in the freezer case.
Create a Comfort Station in Your Kitchen
Take a seat while you cook. Keep a stool next to your work counter so you can sit while mixing ingredients or rinsing vegetables. The less you have to stand, the more energy you will have. Also, consider doing your prep work sitting at the kitchen table.

Stand on a mat. Look in the kitchen section of your favorite store for a padded rubber mat. Place it in front of your stove so that when you're cooking, you have padding to prevent back and leg pain. You might want one in front of the kitchen sink as well.
When it's clean-up time, wash some items by hand. Soaking your hands in warm water can provide joint pain relief and increase your mobility.

Use a drying rack rather than a dishtowel to dry utensils or dishes. It will save you the effort of having to maneuver your hands to dry things.
Make cooking healthy meals for yourself and your family easier by making simple changes in your kitchen.

Use gadgets, from small appliances to grabbing devices, to limit prep time, reaching, and bending while in the kitchen.

Consider convenience when food shopping, such as buying precut fruits and vegetables, to limit the amount of hand movements you need to make.

Rethink your prep area. Sit at a counter stool or use the kitchen table as a work surface so you're not standing for long stretches.
Was this helpful?