How Rheumatoid Arthritis Affects the Hips
Was this helpful?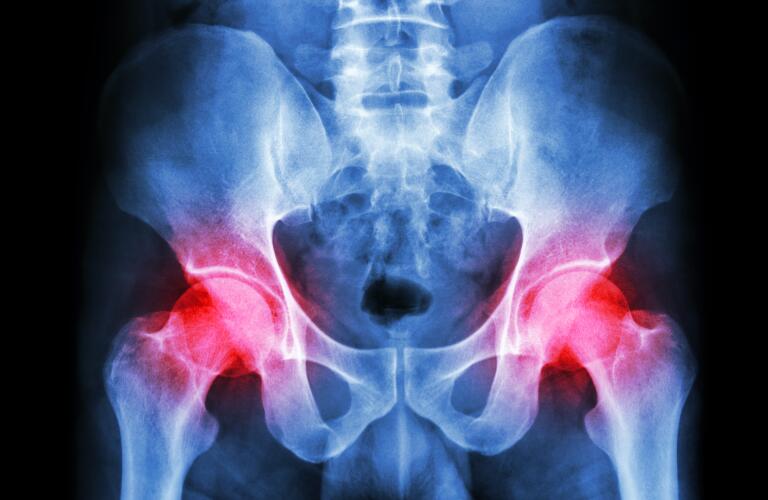 Rheumatoid arthritis (RA) usually affects hands, feet, and knee joints on both sides of your body. But RA can affect any joint, including the hip joint. About 15 to 28% of people with RA develop hip RA. Most people with hip RA experience it later on as their RA progresses.
If you have hip RA, you may have symptoms in one or both hips. It may be the only joint affected by your RA. As with your other joints, you will probably notice morning pain and stiffness. Over time, you may also develop:
Dull aching pain

Pain that spreads to your groin, thigh, or buttock

Pain that gets worse with walking or standing

Walking with a limp

Pain even when resting
Your doctor may suspect hip involvement if you start to have hip pain and stiffness later on in the course of your RA. Your doctor may ask questions about your pain and move your hip in different directions during a physical exam to find out how much pain and stiffness you have.
The most important part of your diagnosis is X-rays. Your doctor will look for these signs on an X-ray of your hips:
Thinning of hip bones and bone erosion

Loss of joint space

Fluid inside the joint
In the early stages of hip RA, your treatment may include these RA medications:
Drugs that fight symptoms of inflammation, called symptom-modifying anti-rheumatic drugs, or SMARDs

Drugs that block inflammation, called disease-modifying anti-rheumatic drugs, or DMARDs

A new type of DMARD called biologics, which may be used if SMARDs and DMARDs are not helping
Biologic drugs change parts of your body's defense system, called the immune system, to block inflammation. If hip RA progresses, other treatments may include:
Physical therapy to increase range of motion and muscle strength

A cane, walker, or other assistive device

Surgery
For severe hip RA, a total hip joint replacement may be the best treatment. This surgery provides pain relief and restores motion. If RA has started to destroy your hip joint, physical therapy will not be able to prevent further pain and disability.
Total hip replacement is recommended for people with continuing pain and signs of joint destruction on X-rays. More than 80% of people who have joint replacement surgery have good results that will last for up to 15 years.
RA of the hip joint is less common, but it may occur as a later symptom in up to 28% of people with RA.

Symptoms often include increasing pain and stiffness that spread to the thigh, groin, and buttocks.

X-rays of the hip joint may show bone changes, loss of joint space, fluid in the joint, and gradual destruction of the joint.

If pain and disability continue to worsen despite treatment, total hip replacement may be the best option.

Total hip replacement relieves pain and restores motion about 80% of the time.
Was this helpful?