Quitting Smoking Without Gaining Weight
Was this helpful?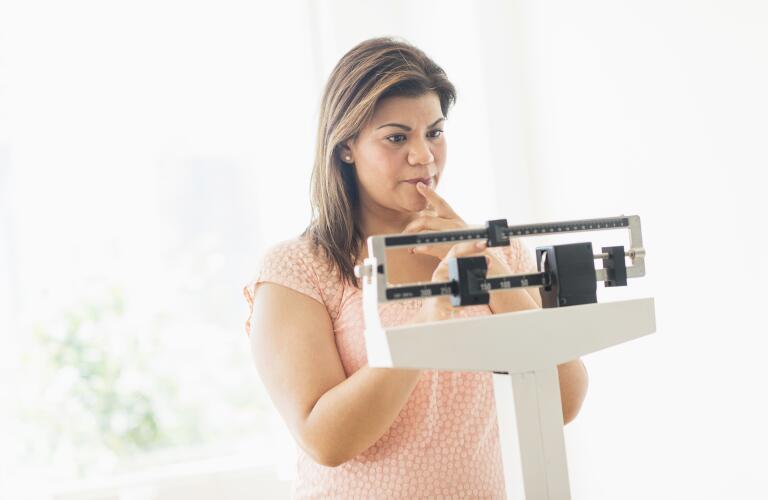 Quick quiz: Which is worse for your overall health, smoking or gaining 10 pounds? If you guessed smoking, you win a prize.
Many people hesitate to quit smoking because they fear the weight gain that often accompanies smoking cessation. However, a 2012 study showed people who quit cigarettes gain, on average, just 10 pounds over the first 12 months. While weight gain certainly can affect your health, the consequences are relatively insubstantial compared to the severe negative health effects of smoking.
If you're ready to quit smoking but find yourself hesitating over concerns about weight gain, try a few simple strategies to reduce your risk of packing on pounds after you stop puffing.
The nicotine in cigarettes is a stimulant. It revs up your metabolism and keeps it humming at a high rate all day long, as you continually light up and replenish the amount of the chemical circulating in your system.
A high metabolism burns a lot of calories, which is why many people lose weight when they start smoking. Conversely, when you withdraw this excess nicotine from your system, your metabolism slows down to a normal rate. This means your body requires fewer calories to maintain its weight. In theory, if you ate fewer calories after you quit smoking, you would not gain an ounce.
However, many people not only don't eat fewer calories when they put down cigarettes, they actually consume more calories. Why is that?
Well, it's probably because smoking is a behavioral ritual that involves the brain, hands and mouth. Smoking cessation involves eliminating this ritual. When you do that, you may experience cravings related to your hands or mouth. And if you're like most people you will soothe those cravings by snacking because the act of eating involves your hands and mouth in a similar fashion to smoking. It all adds up, and then one day you wake up 10 pounds heavier.
Successful former smokers will tell you it's essential to plan ahead for how to cope with cravings. A little forethought can go a long way towards helping you succeed without weight gain. Try these strategies:
Plan for success. Don't try to quit smoking without a strategy for avoiding uncontrolled snacking as a coping method. Write down your smoking triggers and a corresponding strategy for dealing with them.

Prepare your pantry. Purchase a stock of healthy snacks. Go for low-fat, low-sugar, salty and sweet snacks to help satisfy your cravings after you quit cigarettes. And don't forget to stock up on plenty of fresh fruit and veggies, too.

Incorporate healthy activities into your life before you quit smoking. Several weeks before your quit date, set up a routine that includes exercise and scheduled healthy snack breaks. That way, these habits won't feel so alien after you stop smoking.
What types of things can you substitute for smoking to satisfy your brain, hands and mouth? When the urge to smoke hits, instead of reaching for a cigarette, try these activities instead. Then you can keep yourself healthy at the same time you're conquering your cravings.
Snacking on fresh vegetables like baby carrots or "finger fruits" like grapes, strawberries or apple slices

Walking

Vacuuming or other housecleaning activities

Dancing

Knitting or other hand crafts

Gardening or yard work

Meditation

Yoga or other exercise

Chewing on a pencil (instead of a pizza)
With a little advance planning, you can quit smoking without adding inches to your waistline. But even if you do put on a few pounds, remember the extra weight is not nearly as damaging as a daily nicotine habit. If you become concerned about your weight gain, talk with your doctor about the best ways to stay healthy while remaining smoke-free.
Was this helpful?