SOCIAL VOICES

Why It's So Important to Get Moving With Psoriatic Arthritis—and How to Start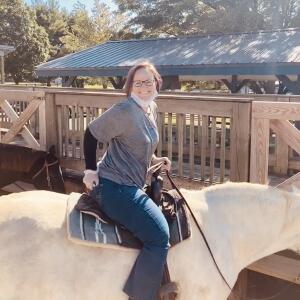 Psoriatic arthritis is a painful and often debilitating disease, and it may seem a little counterintuitive to think that getting your body moving can actually help. But the truth is, even light activity can bring big benefits, and although it might be a little difficult to know how to start, it's worth the learning curve. When you live with psoriatic arthritis, doing everything you can to promote and maintain joint health is critical to managing your disease and improving your quality of life.
Most mornings, my body feels akin to the Tin Man from the Wizard of Oz. I've dreamed of a reality in which all I have to do in the morning is squirt some oil on my rusty joints to be able to go on with my day. Sadly, it isn't necessarily that simple. But in many ways, getting your body moving does work similarly.
One of the best things I have ever done for myself is incorporate simple, gentle stretches and restorative yoga into my day. When our bodies get moving, we increase oxygen and blood flow to our muscles and joints, effectively "lubing" them up, similar to the Tin Man and his can of oil. When we move, a whole series of amazing things happens within our bodies. With continued movement and exercise, it is possible to decrease fatigue, stiffness, and sometimes even pain.
First, speak with your doctor. Your doctor is familiar with your particular symptoms, challenges, and comorbidities that may affect how you get started. They might suggest particular movements to try (or stay away from) or even prescribe physical therapy to help you add movement to your life safely with the most benefit.
Once you get the go-ahead from your doctor, try and remember to start small. It is easy to feel overwhelmed at the thought of exercise, especially if you struggle with fatigue. When I decided to incorporate more movement into my treatment plan, I didn't even call it "exercise" because it was too easy to come up with reasons not to do it and give up before I even got started. I simply decided to spend 5 to 10 minutes just doing light stretches–nothing strenuous. Heck, for the first week, I even did it in bed.
Gradually, step by step, I upped my game with restorative yoga. And little bit by little bit, I began to see some changes for the better. If you set small, attainable goals, you are much more likely to find success and continue the habit. After all, it is important to remember Newton's First Law: an object in motion will stay in motion.
We are much more prone to inflammation because of our psoriatic arthritis. In any particular moment, it is sometimes difficult to know if movement will help with our pain and fatigue, or make it worse. For me, it was mostly about trial and error at the beginning. And it took time to learn how to listen to my body. Sometimes, when I'm in pain or feeling super stiff, it is best to give my body time to rest and recuperate. Other times, getting moving a little can grease up my joints and make managing pain and fatigue much easier for the rest of the day. Everyone's body is different, and with practice, you'll learn to interpret the signals your body is sending so you can make the right choice.
There are a million and one ways to get moving. The best way to get started is to think about what you might actually be interested in doing. For example, I wouldn't be caught dead running a marathon, so I would never even consider running as a means of exercise. Torture, maybe. But not my idea of exercise.
Rather, I started with simple stretches because I really like the calming effects of slowly breathing in and out. The thought of working up a sweat and using up all that precious energy on the additional shower just sounds like such a waste. So I choose to go with what I know I'm more likely to actually do. And now it's a habit I look forward to.
No matter how you get your body moving, the important thing is to start. Every single step you take in this direction helps fight back against fatigue and pain. So, what are you waiting for? Get moving!
Was this helpful?