What Psoriatic Arthritis Does to the Fingers and Toes
Was this helpful?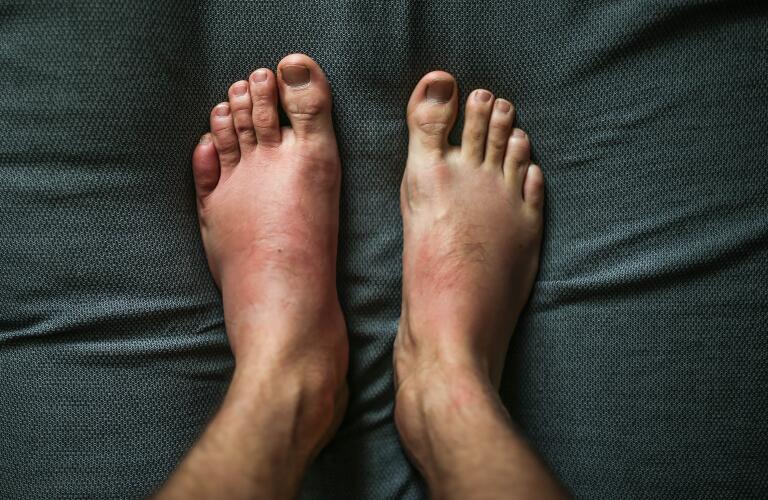 Up to 30% of people with psoriasis, a skin condition causing scaly plaques to form, will also develop psoriatic arthritis, a disease that causes swelling, stiffness, and pain in your joints. Psoriatic arthritis can affect different joints throughout your body, but its impact on your daily life can be particularly troubling when it causes problems with your hands and feet. With proper diagnosis and treatment, however, you can manage your symptoms and help avoid permanent joint damage. Here's what to watch for.
5 Tips For People With Psoriatic Arthritis From People With Psoriatic Arthritis
How does psoriatic arthritis affect your hands?
Psoriatic arthritis is an autoimmune disease, meaning your immune system wrongfully attacks its own healthy tissues. This results in inflammation within your joints, tendons, and ligaments. It's usually asymmetrical, not affecting the same joints on both sides of your body. Psoriatic arthritis symptoms can range in severity, but they typically flare up at times and get better during others.
You may notice the joints in your fingers hurt and are hard to move. They may even be warm to the touch. Simple tasks like turning a doorknob or buttoning a shirt can feel difficult.
Psoriatic arthritis can alter the appearance of your hands. Changes in your nails, such as pitting, discoloration, or crumbling, may be an early sign of psoriatic arthritis. The entire length of your fingers can also become swollen, taking on a sausage-like appearance. This condition, called dactylitis, may be an indication that the disease is progressing.
In rare cases, a complication known as arthritis mutilans can develop. This leads to permanent deformity and an inability to move certain joints, making it hard to use your hands.
How does psoriatic arthritis affect your feet?
Psoriatic arthritis can also cause painful inflammation in the feet. You may feel it in the joints of your toes or ankles. Similar to your fingers, psoriatic arthritis can cause swelling of your entire toe and changes in your toenails.
Enthesitis, which is inflammation where your tendons and ligaments attach to bone, can develop with psoriatic arthritis. This may occur in the bottom of your foot as the result of plantar fasciitis or in your heel due to Achilles tendonitis. Pain is often worst when you first wake up in the morning or after periods of inactivity.
Other symptoms of psoriatic arthritis in your feet include:
Shortening and bending of your toes
Flattening of the arch in your foot
It's possible for the joints in your feet to become permanently fused if psoriatic arthritis goes untreated.
How is psoriatic arthritis treated?
Though there isn't a cure for psoriatic arthritis, treatments are available to help you feel better and slow its progression. Options include:
Over-the-counter pain relievers: Nonsteroidal anti-inflammatory drugs (NSAIDs) like ibuprofen can improve pain and reduce the inflammation in your hands and feet.
Corticosteroids: Steroid injections directly into the painful area may provide longer-lasting inflammation relief. Oral steroids may be used as well.
Disease-modifying antirheumatic drugs (DMARDs): This class of medication suppresses your overactive immune system and can lessen your psoriatic arthritis symptoms. Common DMARDs are methotrexate (Trexall) and sulfasalazine (Azulfidine).
Biologic drugs: Several medications are available in this category, including abatacept (Orencia), adalimumab (Humira), etanercept (Enbrel), secukinumab (Cosentyx), and ustekinumab (Stelara). They're derived from living organisms and work by targeting specific points in your body's inflammatory response to cut down on inflammation.
Oral small molecule drugs: Apremilast (Otezla) comes in pill form and blocks an enzyme that controls inflammation within cells.
Other measures, such as physical therapy, massage, or the use of hand splints or orthotics, can help relieve psoriatic arthritis symptoms, too.
If you suspect you have psoriatic arthritis or are experiencing worsening symptoms, talk to your doctor. Joint damage can develop within a short time frame, so prompt treatment is always recommended.
Was this helpful?