The Benefits of Telehealth for Psoriatic Arthritis
Was this helpful?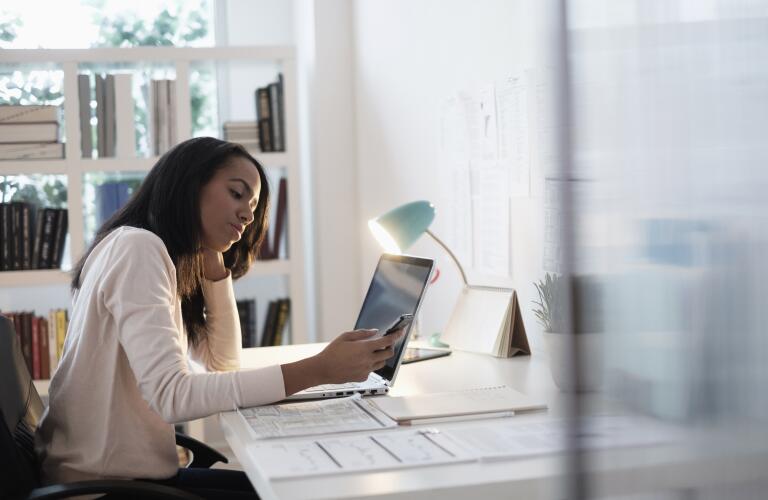 Psoriatic arthritis (PsA) is a chronic condition involving inflammation of the joints that requires lifelong care. It's important to have regular appointments with your doctor to check your symptoms, assess whether the condition is getting better or worse, and adjust your treatment as needed. Psoriatic arthritis telehealth has become a popular way of staying on course because it's much more convenient than traditional in-person visits. Although you'll need to go to your doctor's office periodically, telehealth offers many benefits that can make managing PsA easier.
Your online rheumatologist will likely conduct your appointment over video chat. Just like with an in-person appointment, you'll answer questions and have a chance to ask your own. Your doctor will examine you virtually and can prescribe medicines electronically. Psoriatic arthritis telehealth saves you all the time of fighting traffic, sitting in the waiting room, getting in line at the pharmacy, and waiting for prescriptions to be filled. Plus, if you're in pain due to PsA inflammation, you can participate in the call while in the comfort of your home. If you do end up needing an in-person appointment for a test or procedure, much of it can be coordinated online in advance.
In addition to video chats, many online rheumatologists also offer secure emailing, text messaging, or document sharing through an online patient portal. You'll probably have the opportunity to provide photos, too. In this way, telehealth makes it faster and easier to stay in touch. You won't have to call the doctor's office and wait for a call back every time you have a question. Behind the scenes, telehealth also helps your healthcare team coordinate better among themselves.
It's not your imagination ̶ there is a rheumatologist shortage ̶ and the gap is expected to grow. Without telehealth, your access to a rheumatologist and how quickly you can get an appointment is further limited by where you live. You may not have a rheumatologist nearby or the specialists in your area may stay booked months in advance. Psoriatic arthritis telehealth removes the geographic barriers to getting the regular care you need. Some practices are adding even more advanced technology like apps to help you track symptoms and lifestyle goals and remote health monitoring using smart sensors and wireless networks.
All signs point to the success of psoriatic arthritis telehealth. One study showed that 84% of those who tried it felt they received the same quality of care as they did in person. Could you be next? There are so many good reasons to give psoriatic arthritis telehealth a try.
Was this helpful?