SOCIAL VOICES

Psoriatic Arthritis: Is Your Biologic Working?

Was this helpful?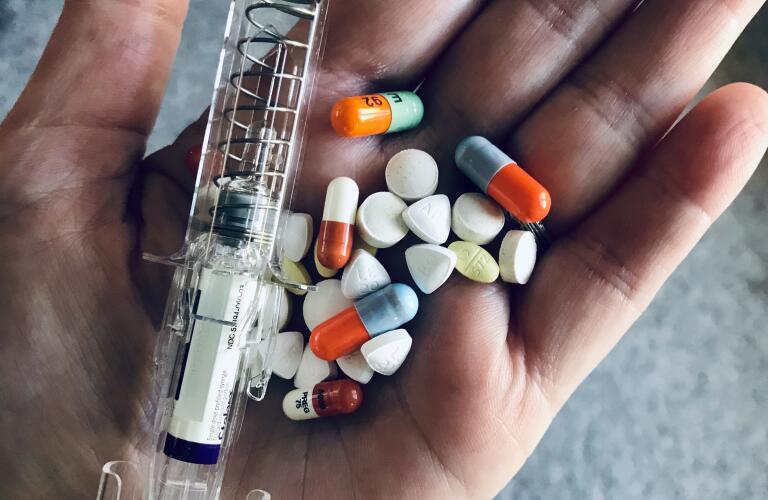 So, you're looking for a new psoriatic arthritis treatment, and you and your doctor have decided to give biologic medication a shot. Biologics are newer medicines, derived from living organisms, that target the root of inflammation in your body. They can be a game-changer for many people, allowing patients with all kinds of chronic conditions to overcome debilitating symptoms, but it's not always easy to tell right away if they're working. After your first dose, you might feel optimistic that you're on the path to feeling better. After a few weeks, you might not be so sure. If you find yourself wondering if your biologic medication is working, you aren't alone.
After my first few rounds of a biologic, I sat (rather painfully, I might add) wondering if my medicine was doing anything at all. You'd think it's a pretty black and white question: it's either working, or it isn't, right? But the reality is there are many, many shades of gray to take into consideration.
Waiting, wondering, will it work?
Some basics about biologics: they're all different, but usually, you'll take them via injection or infusion, although there are some oral options. You might get a new dose once a week, once a month, or on a different schedule; it varies per medication and per patient. It can take several rounds of the medication to see a change in symptoms, depending on your particular biologic. And in some cases, at least several months can pass before the medication starts to help manage your symptoms. Sometimes, it isn't a good fit for your specific situation–although the good news is there are many options available to try. But because there isn't a one-size-fits-all biologic for treating psoriatic arthritis, it is possible you will find yourself several months in, wondering, "Is my biologic working?"
Create your own criteria.
In my experience, the best way to handle this question is to take a scientific approach and determine what it really means when my medication is working. There are certain sets of criteria that doctors use to evaluate the efficacy of medication, but the symptoms of psoriatic arthritis don't always fit within the confines of those predetermined scales. The symptoms we experience are unique to each of us. I make a list of symptoms I typically struggle with so I know the criteria that can help me measure progress. For example, one of the symptoms I work really hard to manage is psoriatic arthritis-related fluctuating hearing loss. Because of that, my doctor uses how well I am able to hear as an indicator of how well my medicine is (or isn't) working.
Decide on the symptoms you can most easily identify and track. Then, have an honest conversation with your doctor about those symptoms and what you can expect in terms of the efficacy of treatment from your biologic medication. Once you've done this, it becomes a little easier to see whether they are trending better or worse. You may want to keep a journal where you describe your symptoms as time passes to help you notice any patterns or improvements. Hopefully, you'll start to see decreases in symptoms after a few rounds of treatment and it'll be clear the biologic is working for you.
Is my biologic still working?
So you've answered the difficult question, "Is my biologic working?" Unfortunately, over time, you may be faced with the similar, yet more challenging question, "Is my biologic still working?" If you've been lucky enough to find a biologic that helps, then you probably know the medicine probably won't work for you until the end of time. Eventually, your body will create antibodies against it, making it less effective. This can take months or years, and it's different for everyone. And it can be extremely difficult to identify if you're just suffering from a bad spell, or if it's time to look into other treatment options.
It can feel like being stuck between the perpetual rock and hard place. On one hand, it may seem like your medicine is less effective than it once was, so it makes sense to try something new. But on the other hand, it can be frustrating to start the process again with a new biologic. The good news? New biologics are becoming available all the time, and your next one might last longer or treat your psoriatic arthritis symptoms even more effectively.
Talk to your doctor and stay positive.
It's important to remember to keep an open, honest dialogue going with your rheumatologist. Once you've created your unique symptom criteria to better understand if–and how well–your medication is working, then your doctor will be able to guide you through the process. You don't have to figure it all out on your own. And when you see your symptoms getting better and better, the worrying and wondering will have been worth it.
Was this helpful?