SOCIAL VOICES

Managing Isolation With Psoriatic Arthritis

Was this helpful?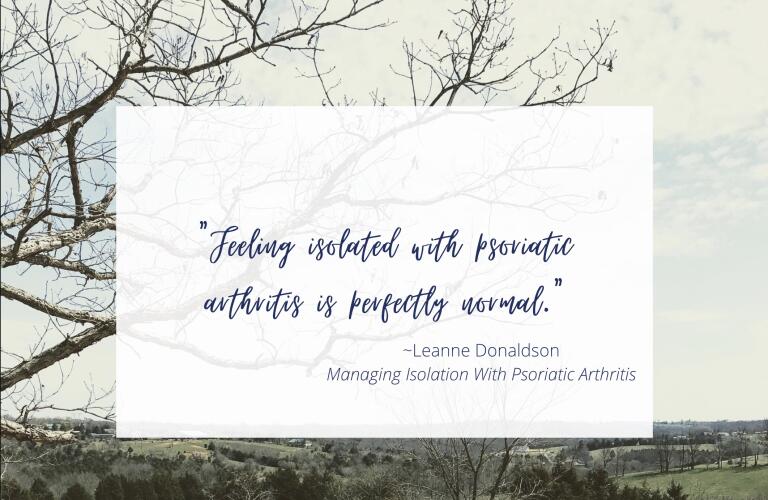 If you've been experiencing feelings of isolation as a result of living with psoriatic arthritis (PsA), then you aren't alone. Even before we entered the new world of Covid-19, feeling isolated and lonely while attempting to manage psoriatic arthritis was very common. If you add in everything going on in recent months, the number of PsA patients who struggle with feelings of isolation has, understandably, exploded. And these feelings are, at least in my case, the trumpeters that usher in two horsemen of the mental health apocalypse: anxiety and depression. That's why it's crucial to be proactive and intentional about how we ride this storm.
Feeling Isolated: An Added Burden of Psoriatic Arthritis
Psoriatic arthritis is isolating because dealing with a chronic illness brings many challenges. Pain is constant and unpredictable in severity, and this affects our overall wellbeing. We're often exhausted and trying to conserve energy. We frequently have to turn down invitations to see friends or attend events due to our health. In these situations, we don't have much of a choice but to isolate ourselves. And when we're struggling, it's easy for those of us with PsA to crawl into our shells and hide away from the world. It is even understandable for someone without psoriatic arthritis to turn inward in times of stress. Rarely do people want to surround themselves with others when they don't feel well, no matter the reason.
Heck, there are many days when I know I wouldn't hang out with myself if I was given a choice. Days of feeling bad turn into weeks and months. The energy and willingness to go out, to see people and even exist in the world, slowly dwindle away. The friends we had no longer call and invite us out because we've had to cancel so often. And before you know it, psoriatic arthritis has painted us into a corner of isolation and loneliness. I've had psoriatic arthritis for many years, and these feelings are nothing new to me. But over time, I've learned ways to fight back and take care of my mental health.
When it comes to figuring out how to manage feelings of isolation, putting a name to the feeling is a critical first step. Feelings of isolation can be very vague; you might not describe yourself as "depressed" but you're not necessarily "okay," either. It often starts as a nagging sense that something is missing. That missing something can't be filled with food, Facebook, or even Netflix. At its root, it is a need, a longing, for actual human interaction. And putting a name on it can help you better understand the situation and take steps to improve it.
Writing out your feelings, even if you are the only person reading them, can help sort the tangled web of feelings and thoughts going on inside. Keeping a journal allows us to be more aware when we struggle with these feelings of isolation and loneliness. It allows us easier access to identify the first signs and take a step back to see things more clearly.
3. Recognize your basic human need for interaction.
When you're feeling rotten, your instinct may be to stay in your shell. And you might not feel as close to your loved ones as you have in the past. But it's helpful to recognize you can't do it all on your own–not because you're weak, but because you're human, and all humans need social connections. To improve your wellbeing, it's worth the risk to reach out to others.
4. Find others who understand.
You can start with a local support group for people in similar situations. Despite all the wonderful advantages of online support groups and social media, they can't replace the inherent need of every human for true, real-life interaction. Find a socially distanced support group that meets in your area, or inquire about group video chats you can join to build relationships virtually until in-person interactions are safer. If you are outside a major metropolitan area, you might need to broaden your search a little more. Try looking into general chronic health support groups or arthritis support groups if PsA-specific ones are hard to find.
5. Reach out to loved ones.
It can be scary to get in touch with people you feel distanced from. PsA can add lots of layers to relationships, and you might feel guilt or shame for not seeing them as much as you would like. But by reconnecting with them, you can benefit from those irreplaceable aspects of being human–such as hearing the voice of a friend on the phone or experiencing a socially distanced smile. You might even just send someone an old-fashioned letter. They might not fully understand life with PsA, but that doesn't mean they can't be there for you in real life. Your family and friends will likely be glad to hear from you, even if it's been a while. Typically, it's never as bad as the stories we make up in our heads.
6. Speak with your doctor.
If you struggle to manage these feelings of isolation, it is very important that you speak with your doctor about them. Don't be embarrassed. Feeling isolated with psoriatic arthritis is perfectly normal. Your doctor is a great resource and can give you excellent guidance about available options to help manage these feelings.
You can be proactive and intentional about identifying feelings of isolation and loneliness. Direct, human interaction is fundamental to our physical and emotional wellbeing. If you find yourself often feeling lonely or isolated, please speak with your doctor and reach out to a friend so you can find yourself on the path to better mental health with psoriatic arthritis.
Was this helpful?