SOCIAL VOICES

Learning When to Say No With Psoriatic Arthritis

Was this helpful?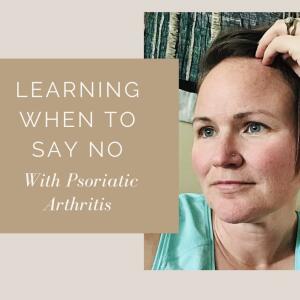 Any person with psoriatic arthritis (PsA) will tell you there is much more to managing life with this condition than painful, swollen joints and psoriasis-related skin rashes. Psoriatic arthritis impacts not only our bodies, but also our mental health, relationships, work life, and even our wallets. I will sadly admit there isn't a corner of my life that psoriatic arthritis hasn't touched. And yet despite living with PsA, those in this community still have many responsibilities in everyday life. We are parents, spouses, friends, and employees. Psoriatic arthritis forces me to say no to the people in my life much more often than I'd like. And even though I've had lots of practice, learning when to say no isn't as easy as it would seem. But having to make constant decisions–and often deciding not to do something–is the reality of living with psoriatic arthritis. Everyone takes on this battle on their own, but there are resources and support available so you don't feel so alone.
Saying No Is a Double-Edged Sword
If those of us with PsA decline a social invitation or even skip doing something as simple as another load of laundry, we're saying no in an effort to protect ourselves from further pain and fatigue. Like fortune tellers, we can see the swollen joints and fatigue of a future flare brought on by overdoing it. But at the same time, if we choose to say no to that future, we are often left with feelings of guilt and defeat that we have let down those who need us. Inevitably, we find ourselves perpetually stuck between a rock and a hard place. I'm always weighing my decisions: should I protect my body and conserve my energy? Or should I push myself to show up for those in my life the way I want to? Would it be worth the pain later?
When I choose to say no, I sometimes wonder if I'm accepting defeat. Am I giving in to PsA? Am I admitting that I've lost the daily battle? Have I been defeated? For those of us with PsA, this kind of thinking can quickly spiral out of control, leading us to question whether our medication is working or if it is time to make another doctor's appointment–or, in our darkest moments, we may wonder if we should just give up altogether. Some days, I'm confident that I'm making the right choice. Other days, I sink down into stress and guilt.
I am no stranger to guilt. I always try to do my best and often feel incredibly guilty if I think my best just isn't good enough or if I let someone down. For people with PsA, saying no means bearing a burden of guilt on our painful shoulders if we can't "do it all." As much as I want to be all things to all the people in my life, PsA simply won't allow it.
We live in a world that screams, "Live your best life!" and "YOLO!" Since I have to constantly choose between my pain and my family's needs, I can only live my best life by learning how to manage the constant cycle of pain and guilt. To be honest, I'm still figuring it out.
While I often encourage people with PsA to listen to their bodies and turn down offers and requests when they need to, it is equally important to remember these relationships and responsibilities are also a priority. Finding that delicate balance between enough and too much is very difficult. It is all too easy to become complacent in our illness and pain. Saying no to too much can isolate us. It is easy to shut ourselves away and wallow in the weight of our disease. That's why it's important to say yes sometimes, even when your body isn't cooperating. I try to push myself every so often so I don't get lost in my PsA bubble. Everyone with psoriatic arthritis has a different balance to figure out on their own. But finding support from others with the disease can help you remember you're not alone in this struggle.
We have resources that can guide us, help us, and support us. Online support communities can be found throughout social media networks like Facebook and Instagram. In addition, the Arthritis Foundation can help you find local resources, support, and education. It takes time to find the right balance, but if we surround ourselves with people who try to understand, then we can find hope. Life isn't easy for anyone, whether you have psoriatic arthritis or not. During the difficult times, I try and remind myself of this quote from Christoper Reeve: "Once you choose hope, anything's possible."
Was this helpful?