How to Survive the Holidays With Psoriatic Arthritis
Was this helpful?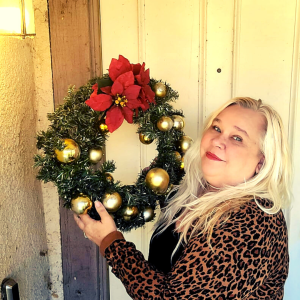 The holiday season used to be my favorite time of the year. I loved every minute of it, from spending hours every night driving through neighborhoods to see twinkling lights and fun displays, to watching friends and family open the gifts I carefully selected for them. Since I lived in the desert for most of my life, I had to work extra hard to create that magical winter feeling. For me, that entailed decorating every room in my home with its very own tree!
But everything changed after chronic pain from psoriatic arthritis (PsA) and fibromyalgia took over my body.
I suddenly found myself unable to keep up with my annual traditions. It took every ounce of strength I had to decorate during my first pain-filled holiday season. Doing so left me without any energy to enjoy other family traditions. Year after year, I continued trying to do Christmas my way. And each year, I failed.
Although treatment and various tools helped improve my symptoms, I eventually realized I couldn't go back to that version of the holidays. I had to find a way to keep the magic of the season alive without triggering a severe flare. As the most wonderful time of the year approaches, give these strategies a try.
5 Tips For People With Psoriatic Arthritis From People With Psoriatic Arthritis
The first step in surviving the holidays with psoriatic arthritis is to take inventory. I start by assessing my current health status. Before moving any decorations out of storage, I determine how much strength I have for decking the halls. I also consider how tired I will be after the holidays and think about how long it will take to put everything away. I learned from experience that doing too much just isn't worth the recovery. Sometimes, keeping it simple lets me preserve the holiday cheer without dreading the clean-up in the New Year.
Realistically acknowledging my pain and symptoms also helps me decide which traditions and events I should aim for. Some years, my hands are able to bake; other years, I need to purchase cookies from the corner bakery. Some years, I experience more fatigue than others. When this occurs, I significantly limit commitments to holiday parties and family gatherings. There are times when I'm disappointed and wish I could do more–but I've learned to focus on the events I can enjoy, and I appreciate every minute.
For example, attending church with my family on Christmas Eve is very important to me. If I am struggling at the beginning of December, it is pretty safe to assume I won't feel much better at the end. To increase the odds of attending the service with my family, I pad my calendar with several days to rest beforehand. This preventative measure means not leaving my shopping until the last minute–talk about a hard habit to break!
I also take inventory of the people I can depend on for assistance. Who can I turn to for help putting up decorations, driving me to and from celebrations, or providing dishes for the holiday meal? Talk to your family. Ask them which traditions are the most important to them. Then, have an open and honest conversation about your health and how they can assist. For example, you may not feel well enough to bake cookies, but maybe you could sit nearby and instruct your children. This can turn out to be more fun and memorable–even if it results in some very burnt gingerbread men. If having the house lit up with millions of lights is vital to your family, ask them to design a display that they can set up. And if someone agrees to come decorate your home, a little holiday delegation tip: ask them to commit to a date when they'll come back to take it all down.
While it may be the season of giving, it is essential to be careful not to give too much of ourselves! Manage your time and energy wisely. Something you used to do in one day may require two or more to get the job done. After you and your family decide which traditions and events are most important, keep them in mind when accepting invites. While an evening of socializing may be relaxing for some people, it can be an exhausting experience for people with psoriatic arthritis. I politely decline any invitation that could interfere with my family's most meaningful events.
Accept and embrace what you can do. This can be difficult, and takes practice–or lessons learned the hard way. There have been years when I was so worn out from pre-holiday festivities that I couldn't do anything on Christmas Day outside of opening presents. December can be a long, busy month, so make sure to prioritize your time and energy in advance.
And of course, when it comes to presents, give only what you can afford. Living with psoriatic arthritis can be pretty expensive, and your health needs are more critical than purchasing expensive gifts for family and friends. It is not uncommon to feel the need to compensate others for the times your illness inconvenienced them–but not if it is going to take away from your medical needs.
The holidays are an emotional time, and many people, whether they have a chronic illness or not, suffer from seasonal depression. The limitations of psoriatic arthritis can magnify these feelings. Focusing on what you can do may help boost your mental health. Maybe there were three activities you wanted to accomplish during the season but you only did one. Instead of focusing on what you couldn't do, redirect your attention to the joyous memories of what you were able to accomplish.
With careful planning, the right mindset, and some teamwork, you will do more than survive the holidays–you will enjoy them, too!
Was this helpful?