How Psoriatic Arthritis Affects Men and Women Differently
Was this helpful?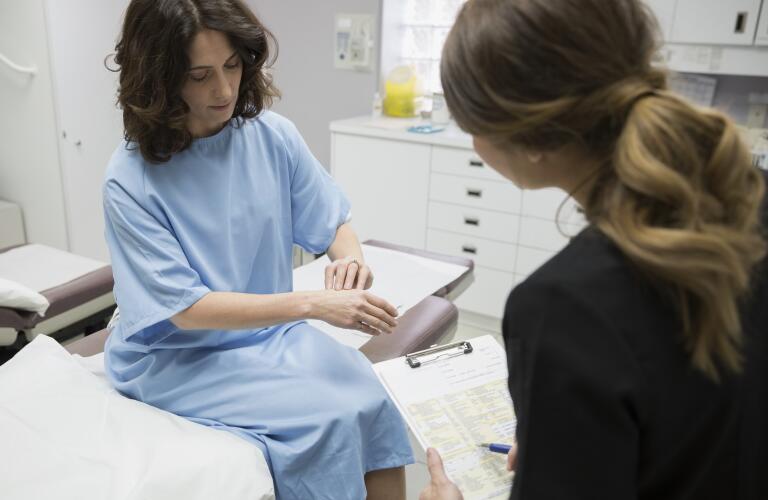 Approximately 1 in 4 people with the skin condition psoriasis will also develop psoriatic arthritis. Like other forms of arthritis, psoriatic arthritis can cause pain and swelling in your joints, leading to difficulties with movement and daily functioning.
Interestingly, several studies have shown gender differences in the experience of psoriatic arthritis. Here's what we know about how this disease can vary between men and women.
Psoriatic arthritis is a chronic disease that may get worse over time. It can cycle between periods of more intense symptoms (flare-ups) and periods of remission or improvement.
Women are more likely than men to develop psoriatic arthritis symptoms in their peripheral joints: areas such as elbows, wrists, fingers, and toes. These joints are often affected symmetrically, on both sides of the body. Women also more commonly experience polyarthritis, a term used to describe arthritis that affects at least five joints.
Men, however, are three times more likely than women to develop axial psoriatic arthritis, which affects joints of the spine. This can manifest as pain and stiffness in the shoulders, neck, back, and hips.
In addition to joint pain, psoriatic arthritis can cause pain where your tendons and ligaments attach to bones, such as the back of your heel. It can lead to uncomfortable eye inflammation and changes in your nails. Psoriatic arthritis is also associated with an increased risk for certain medical conditions, such as high blood pressure, diabetes, and heart disease.
A number of studies have looked at the impact of psoriatic arthritis on individuals' quality of life. Compared to men, women have reported:
Increased fatigue
More pain
Greater work disability or limitations
More difficulties performing activities of daily living
Psoriatic arthritis is often treated with medications. Nonsteroidal anti-inflammatory drugs (NSAIDs) may be used to relieve pain and decrease inflammation in mild cases. Steroid injections can be given into an affected joint. Disease-modifying antirheumatic drugs (DMARDs), can help by suppressing your body's immune system response and slowing the progression of psoriatic arthritis.
One particular type of DMARD called a tumor necrosis factor-alpha (TNF-alpha) inhibitor is frequently prescribed to treat psoriatic arthritis. It works by blocking a protein in your body that causes inflammation. Examples include adalimumab (Humira), infliximab (Remicade), and etanercept (Enbrel).
One study examined the gender differences in treating psoriatic arthritis with TNF-alpha inhibitors. It was reported that these drugs were more effective in males. Men showed a better response to treatment at three and six months after it was initiated. Women also had a greater likelihood of discontinuing treatment due to side effects or lack of improvement.
Research continues to deepen our understanding of psoriatic arthritis. Recognizing how this disease impacts men and women differently can help your doctor:
Identify and diagnose psoriatic arthritis more efficiently
Understand the impact of psoriatic arthritis on quality of life
Select which treatments will be most effective
We still don't know exactly why these differences occur. Future studies will likely focus on the biological differences between men and women, looking at things like genes and hormones, to provide more answers and help develop new therapies for psoriatic arthritis.
Was this helpful?