4 Things to Know About NSAIDs for Psoriatic Arthritis
Was this helpful?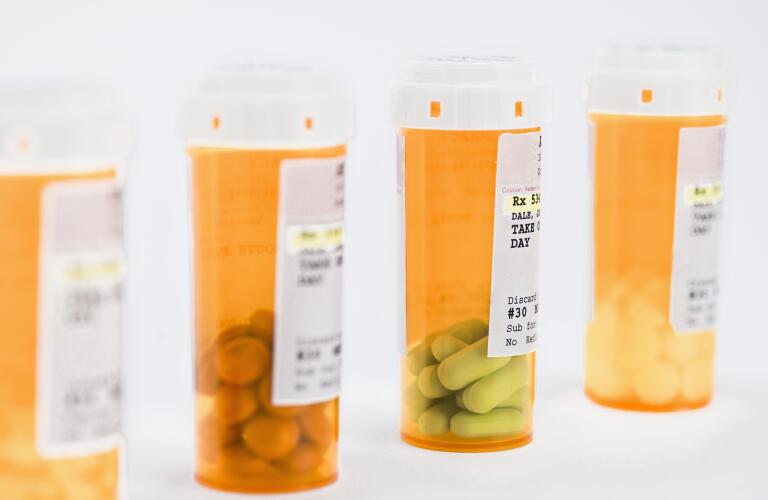 If you've been diagnosed with psoriatic arthritis, most likely your doctor has prescribed a nonsteroidal anti-inflammatory drug (NSAID). NSAIDs come in both over-the-counter and prescription strength and are typically the first line of treatment for the disease.
Here are four things to keep in mind when taking these medications.
1. NSAIDs shouldn't be underestimated.
NSAIDs, which include over-the-counter medications such as ibuprofen (Motrin or Advil) and naproxen (Aleve), as well as prescription medications, are widely used for a host of health problems. In fact, it's likely that NSAIDs are already in your medicine cabinet. But don't underestimate these drugs just because they're common. NSAIDs effectively decrease inflammation, swelling, and joint pain for many people with psoriatic arthritis.
5 Tips For People With Psoriatic Arthritis From People With Psoriatic Arthritis

NSAIDs work by stopping cyclooxygenase enzymes (or COX enzymes) in your body from doing their job. COX enzymes speed up the body's production of prostaglandins, substances that cause the feeling of pain. Taking NSAIDs reduces these pain-related substances, easing the symptoms of arthritis. Your doctor may prescribe a NSAID dosage that you ordinarily take for daily aches and pains. It's important to take NSAIDs exactly as prescribed in order to achieve optimum drug benefits.
2. There are several types of NSAIDs.
In addition to over-the-counter medications such as ibuprofen and naproxen, traditional NSAIDs include prescription-strength forms of these medications. They also include a host of other prescription medications, such as sulindac (Clinoril), diclofenac (Voltaren and Arthrotec), and etodolac (Lodine).
Newer NSAIDs called COX-2 inhibitors, which include celecoxib (Celebrex), are also available. COX-2 inhibitors work in the same way as traditional NSAIDs to reduce pain and inflammation, although carry a much lower risk of stomach-related side effects such as ulcers and stomach bleeding. However, COX-2 inhibitors may increase the risk of heart disease, so you should use them only if you have a history of ulcers, stomach bleeding, or stomach intolerance to traditional NSAIDs.
3. It's key to understand the benefits and risks.
There are two types of COX enzymes in the body: COX 1 and COX 2. Both are related to feelings of pain, but COX-1 enzymes also help protect the lining of the stomach. Traditional NSAIDs block both COX-1 and COX-2 enzymes. As a result, they reduce pain but also increase the risk of stomach problems for some people. This is especially true when they're taken at high doses or for long periods of time.
COX-2 inhibitors block only COX-2 enzymes. This provides pain relief without hurting the stomach. Unfortunately, these newer drugs are much more expensive than traditional NSAIDs. They also carry risks of their own, such as water retention and difficulty sleeping. Many NSAIDs (especially COX-2 inhibitors) can increase the risk of heart-related problems, such as heart attack, with long-term use.
4. Partnering with your doctor makes the difference.
Despite potential side effects, NSAIDs are generally considered safe for most people with psoriatic arthritis. And they help people with the disease live with less pain and stiffness and greater quality of life. But it's important to talk with your doctor before taking any medication. Your doctor will work with you to find the safest NSAID that's best for your specific condition and health needs.
NSAIDs are an effective choice for treating inflammation, swelling, and joint pain caused by psoriatic arthritis.
Many types of NSAIDs are available over the counter and by prescription.
Some NSAIDs, such as COX-2 inhibitors, provide relief without causing stomach problems. But they can increase the risk for heart-related problems.
Before taking an NSAID, talk with your doctor about the one that's right for you.
Was this helpful?