What to Expect with a Telehealth Appointment for Psoriasis
Was this helpful?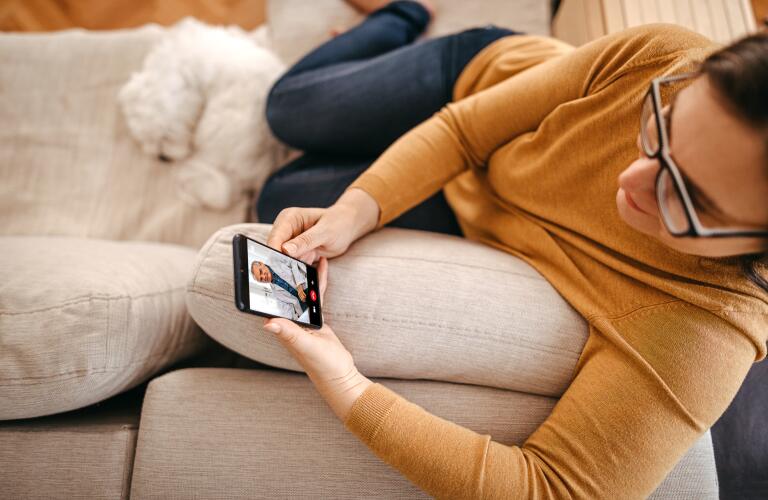 Sometimes, it's just not possible to see your dermatologist in person. When that's the case, telehealth appointments can be a great alternative. Of course, the experience is a little different, seeing your doctor online, rather than in person. But if you prepare in advance and approach it with the right attitude, you'll be able to have a good experience. And knowing what to expect can help improve the visit for both you and your doctor.
5 Tips For People With Psoriasis From People With Psoriasis
You may need some time to learn how to use the software.
It's important to find out what kind of telehealth tool your dermatologist is using. Many doctors today are moving to platforms that allow for real-time conferencing, which may include applications like Doxy.me, AMC Health, or Google DUO. Some may even use Zoom, which you might already be using for your own work. The biggest advantage of this type of application is that you and your doctor can see and talk to each other in real time. You'll probably need to take a few minutes in advance to get set up, whether it's downloading an app or registering for a visit online. Each platform is slightly different, but with some time and experience, you'll get the hang of it. Don't be afraid to ask for help, either, as many practices are anticipating some questions about using the platform.
Your doctor can see you… and your house.
When you and your doctor do connect, you'll be able to see them on the screen of your tablet or computer. And assuming your device has a webcam, they'll be able to see you, too. That means they can also see anything in the background behind you. If that bothers you, it might be worth straightening up the area where you'll be teleconferencing from. Many experts suggest finding a quiet place in your house, where you can shut the door and minimize any potential distractions, including family members or pets who might stumble into the background. Another piece of advice: make sure the room is well lit, so your doctor can see you (and your skin) clearly.
Some people get very distracted by the sight of themselves on the screen. Try not to let it bother you. If you fixate on your own appearance, you might accidentally miss something your doctor is telling you.
You can show your doctor your psoriasis symptoms.
One of the key advantages of a live telehealth consultation is your doctor's ability to see you and your skin. If you're concerned about a plaque on your elbow, you can simply show your elbow to the camera, and your doctor can see it. If you're worried about a swollen joint and the possibility that you may be developing psoriatic arthritis, you can show the joint to your doctor and let them make an assessment.
Before your appointment, it can be helpful to avoid altering your normal appearance, like applying makeup or skin care products that might cover up any skin concerns.
Preparing in advance benefits you and your dermatologist.
Your doctor will expect you to bring along the same information that you'd bring to a regular visit, including information about any medications you're taking or treatments you're using. If you have that information readily available when your telehealth appointment starts, you won't have to waste valuable time scrambling for it while the clock is ticking. Also, keep pen and paper handy for taking notes regarding medications and doctor's instructions.
There are many ways telehealth can benefit people with psoriasis, so don't let any fears of new technology get in the way of a positive experience. Do your best to prepare in advance, and be honest with your doctor about your concerns. Together, you can find solutions to keep your psoriasis under control.
Was this helpful?