What to Do for Psoriasis Around the Eyes
Medically Reviewed By William C. Lloyd III, MD, FACS
Was this helpful?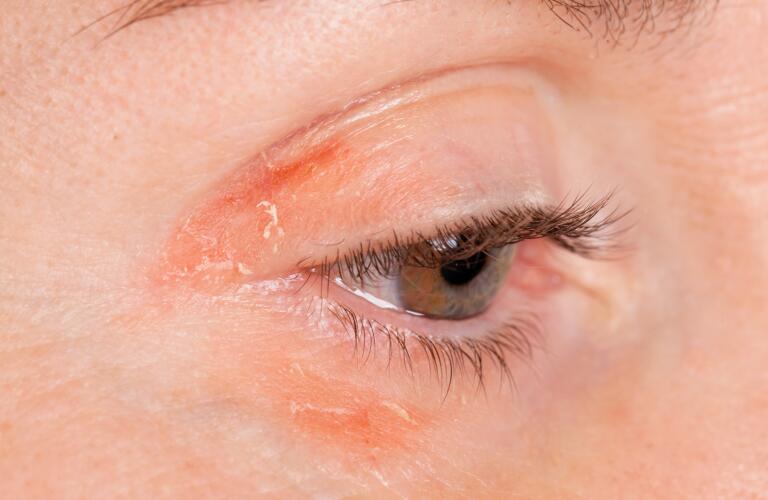 It's natural to be concerned if psoriasis appears near your eyes. Take a deep breath and know effective treatments are available. Face psoriasis usually appears at the hairline, on the upper forehead, around the eyebrows, or between the nose and lip. Psoriasis around the eyes is rare, but it deserves special attention because left untreated, it can affect your vision and lead to eye disorders.
5 Tips For People With Psoriasis From People With Psoriasis
Remember, psoriasis is caused by a disconnect in the immune system that makes skin grow faster than it should and build up in patches. You can't help having psoriasis or where it appears on your body, but you can do something about it.
Flaky, scaly psoriasis patches or plaques can form on your eyelids and cover your eye lashes, affecting your ability to see. The edges of your eyelids may become red and crusty, making them turn inward or outward. Your eyes may feel irritated, dry, or swollen. Try to resist the urge to rub or scratch your eyes, which could make them feel worse or lead to infection. Instead, talk with your doctor as soon as you can.
The skin around the eyes is sensitive and needs to be handled with more care than other parts of your body such as your feet. Topical medication must be applied delicately to this area to avoid irritating parts of the eye. Your doctor may apply a topical corticosteroid near your eyes to help reduce scaling. Don't use a topical corticosteroid for psoriasis near eyes without your doctor's supervision. Using too much or using even a little for too long can lead to glaucoma, which damages the optic nerve, or cataract, which clouds the lens of your eye.
If the skin near your eyes has become infected, your doctor may prescribe a topical antibiotic. He or she may also recommend a moisturizer appropriate for the eye area. Before you use make-up or cover-up, ask your doctor if it will cause further irritation or infection. It's understandable if you feel self-conscious about your skin's appearance, but your eye health should come first.
If you have psoriasis, be sure to include regular appointments with an ophthalmologist in your healthcare routine. This can help you stay ahead of the following eye disorders that are more common in people with psoriasis, whether or not psoriasis appears near eyes:
Uveitis is swelling in the front, middle, or back of your eye. At its most severe, uveitis can involve all three layers.
Conjunctivitis (often called "pink eye") is an inflammation of the moist tissue covering the white of the eye and the inside of eyelids.
Blepharitis is redness or swelling of the eyelids caused by bacteria and flaking at the eyelid base.
Having psoriasis doesn't automatically mean it will appear near your eyes, that it will persist in the area, or that it will cause complications. But knowing the possibilities can help you get the right help right away in managing the condition.
Was this helpful?