SOCIAL VOICES

What My Dermatologist Taught Me About Comorbidities in Psoriasis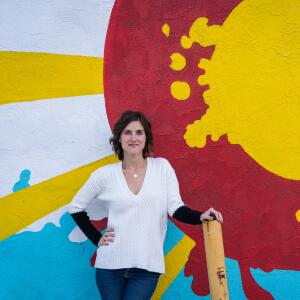 When I first saw red, flaky patches appear on my elbow as a kid, I knew almost immediately that it was psoriasis. My mother had psoriasis, and if one of your parents has psoriasis, you have about a 10% chance of developing it. I am part of that 10%. My mother got a referral from our primary care physician for a dermatologist – she knew how important it was to see a specialist – and we were seen within the month. As an adult, I've always known I needed to see medical dermatologists as opposed to cosmetic dermatologists, because my first experience was such a positive one.
A medical dermatologist is a doctor who specializes in treating conditions involving the skin, hair, and nails. They are trained to identify and treat thousands of conditions, like eczema, psoriasis, and skin cancer, among many others. A cosmetic dermatologist, on the other hand, is a subspecialist who focuses on aesthetics like fine lines, wrinkles, dark spots, and more.
It was crucial to have a dermatologist diagnose me with psoriasis because about a week later, I began treatment for my psoriasis. I have heard from my community that a psoriasis diagnosis has sometimes taken months and months to get, thereby delaying treatment and delaying relief from psoriasis symptoms. The right dermatologist can help get you a psoriasis diagnosis sooner and you can start managing your psoriasis sooner, as well.
5 Tips For People With Psoriasis From People With Psoriasis
Psoriasis is so much more than dark spots and hair removal, obviously. Psoriasis is an autoimmune disease, which makes it complicated to treat. It is about way more than just the surface of your skin. You want a dermatologist who understands the ins and outs of the disease – especially your risk for comorbidities.
Wait, what? What the heck are comorbidities and what does that have to do with psoriasis? I'm so glad you asked.
I remember this like it was yesterday. I was sitting in the office with my dermatologist and she asked me if anyone in my family had heart disease, diabetes, or high cholesterol. I looked at her, extremely confused. She mentioned that people with psoriasis are at risk of "comorbidities." I had no idea what she was talking about.
She told me that comorbidities are diseases or conditions that develop because of, or in relation to, a health condition. People with psoriasis have a higher risk than people without psoriasis of developing comorbidities like high blood pressure, cardiovascular disease, and type 2 diabetes.
If my dermatologist didn't ask me about my family history and how that relates to psoriasis and my risk for comorbidities, I wouldn't have ever known it was something I should be concerned about – another reason why you need a dermatologist in your back pocket if you're living with psoriasis. They can monitor your health for any signs and symptoms of these comorbidities should they arise, and if needed, they can direct you to a specialist to manage those comorbidities and keep you healthy. That, my friends, is a very good thing.
An additional fact she mentioned was that about 30% of people living with psoriasis are at an increased risk of developing psoriatic arthritis, a condition involving inflammation of the joints. A dermatologist can monitor you for any symptoms of psoriatic arthritis, like joint pain or stiffness. Should any symptoms arise, they can refer you to a rheumatologist where you can start treatment.
I walked out of appointments with my dermatologist feeling so much more confident. Not only did I have a treatment plan for my psoriasis, but I also understood more about:
my risk of developing any comorbidities
my potential triggers for psoriasis flare-ups
foods that could help strengthen my immune system
how to find psoriasis-friendly skin care products by looking for the National Psoriasis Foundation Seal of Recognition
the signs of psoriatic arthritis that would indicate if I should see a rheumatologist
If you notice red, flaky patches or plaques, like I did, they might be psoriasis. Search for dermatologists in your area. This is as simple as using Healthgrades.com or Googling "dermatologists near me." You can also ask your primary care physician for a referral to a dermatologist in your area. Or, ask your community! Just a simple post on Facebook or your hyper-local neighborhood group asking for recommendations for a dermatologist will help narrow down your search.
Once you connect with a specialist and receive a psoriasis diagnosis, you'll learn about triggers for psoriasis flare-ups, diet tips, and how to manage your risk of psoriatic arthritis and comorbidities. Your doctor will recommend a treatment plan based on your specific situation and lifestyle. There may be some trial and error at first, but by partnering with a dermatologist you trust, you can find what works best for you.
Was this helpful?