SOCIAL VOICES

To Cover Up or Go Bare: The Big Debate Behind Psoriasis and Body Makeup

Was this helpful?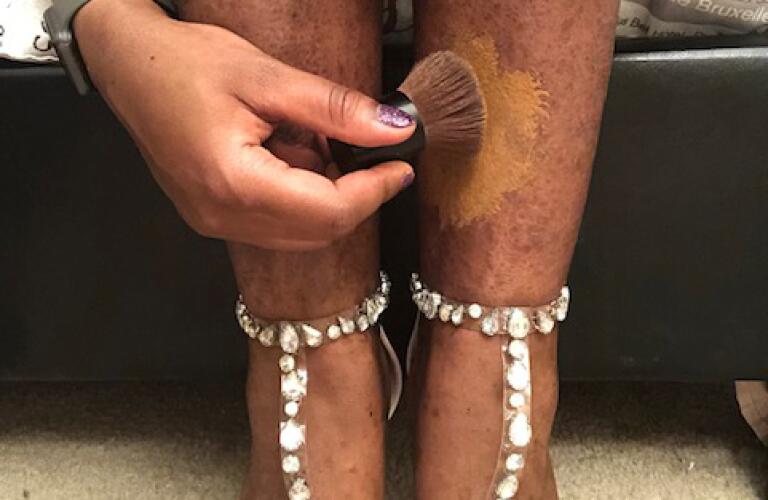 In 2004, I entered a beauty pageant and almost quit because of my psoriasis. I remember arriving at the dress rehearsal full of anxiety. This would be the first time I revealed my condition to my pageant sisters. I was terrified what they would think when they saw the flaky, inflamed patches of dry skin that invaded my body. During the dress rehearsal, my heart was beating fast, my palms were sweating, and I spent the entire time pacing back and forth. After practice, I told my grandmother I was going to quit–showing my psoriasis to people I didn't know well was too much to bear. My grandmother encouraged me to stick with it and suggested I wear body makeup. The next weekend, we went to the store and tested different types of body makeup, and I found my match. On pageant day, I graced the stage wearing my body makeup, and I ended up winning! Without the body makeup, I don't think I would have completed the show.
5 Tips For People With Psoriasis From People With Psoriasis
There is always a lot of chatter in the psoriasis community about the pros and cons of body makeup. Some share views of displeasure, stating body makeup encourages people to cover up flaws instead of embracing imperfections. Others, such as myself, are grateful for options to conceal their condition due to the stigma of having a visible disease.
Let's explore the pros and cons of applying body makeup when you have psoriasis.
The upside:
Makeup covers discoloration so the skin can appear to have an even complexion

Concealing your condition may boost your confidence and lessen insecurities about your skin's appearance

Using body makeup on your legs means you don't have to cover them up with pants

Using body makeup on your arms means you can bring on the tank tops!

Body makeup with built-in sunscreen can protect your skin from the sun

The downside:
Makeup could irritate skin, exacerbating symptoms

Makeup does not get rid of the raised inflamed plaques often associated with psoriasis

Makeup may rub off on clothes

Makeup could come off due to sweat

Makeup is very time-consuming to apply

I am pro-body makeup, but I am also a proponent of people doing what makes them feel the most comfortable. If someone doesn't agree with wearing it, that is their right. In addition to the pageant, I remember several moments in my life when body makeup was pivotal for me like modeling and participating in weddings. Without it, I wouldn't have participated in these events because of the overpowering shame I felt due to my disease. Body makeup gave me the power to gain the confidence I needed to feel comfortable in those special moments.
Ultimately, it's up to you to decide where you stand on body makeup. With psoriasis, it can be hard to love the skin you're in–so sometimes it might be nice to cover it up. However, it's still important to learn how to accept your body for what it is, flaws and all.

Was this helpful?