Psoriasis: Why It's Important to Watch for Joint Pain
Was this helpful?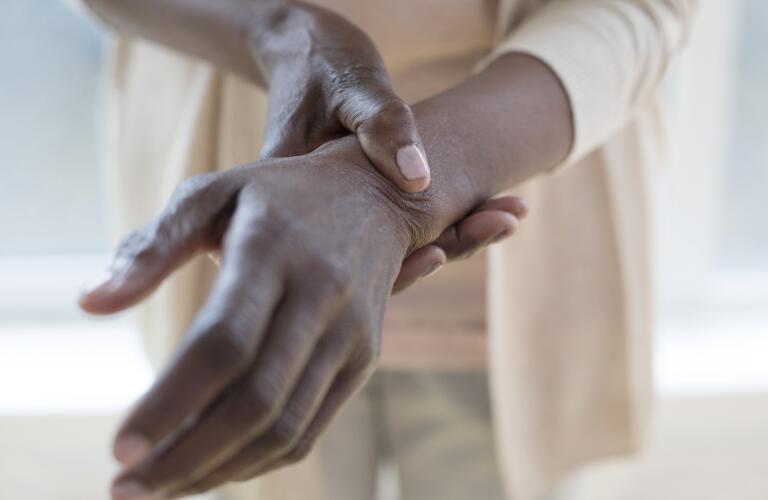 Psoriasis is a chronic autoimmune condition characterized by scaly, itchy patches on the skin. It occurs when your immune system mistakenly attacks your skin cells, causing them to multiply rapidly. It affects more than 7.5 million adults over 20 in the United States–that's about 3% of American adults. And according to the National Psoriasis Foundation, as many as 30% of people with psoriasis develop psoriatic arthritis, too–a condition in which the immune system attacks the joints, leading to inflammation that causes pain, swelling, stiffness, and joint damage.
If you've had psoriasis for a few years, you may have figured out how to live with it, including how to deal with flare-ups when they occur. But just when you think you've gotten it all figured out, you may start to notice some new symptoms, including some joint pain. That's not unusual. Psoriatic arthritis is known to develop about 10 years after psoriasis appears. Some people actually develop psoriatic arthritis first, so that's something to keep in mind. Not everyone with psoriasis will develop psoriatic arthritis, and not everyone with psoriatic arthritis has psoriasis. However, since the two conditions are strongly linked, it's important for everyone with psoriasis to keep an eye out for joint pain. Talk to your doctor as soon as you notice pain, stiffness, or swelling; when psoriatic arthritis is treated early, you can avoid or lessen its impact on your quality of life and your joints.
What if you don't even notice the joint pain at first? That's pretty common, actually. According to the American Academy of Dermatology, the signs of psoriatic arthritis can be very subtle at first. You might not think too much about a mildly swollen joint, especially if you believe you might have just strained or injured it. But if you know what to look for, you can be aware if you develop any of the following:
Heel pain
Swollen or tender toe or finger joint
Other tender or painful joints
Swelling just above your heel
Morning stiffness that improves throughout the day
Once you notice some joint pain, the next step is to let your doctor know. With psoriatic arthritis, the earlier you intervene and start treatment, the better. Psoriatic arthritis is a progressive disease without a cure, and left untreated, it can cause enough permanent damage to your joints that it becomes disabling.
But prompt treatment can slow the damage to your joints and alleviate pain. Fortunately, your doctor can recommend a number of potential treatments to try, including some that address the pain and swelling and some that will actually slow the progression of the disease. For example, disease-modifying antirheumatic drugs (DMARDs) can slow the immune system response that's causing psoriatic arthritis. By lessening inflammation and damage to your joints, these medications can improve your pain and mobility—and your quality of life. And for people with psoriasis and psoriatic arthritis, a number of drugs can treat both conditions simultaneously.
Lifestyle choices can make a big difference with psoriatic arthritis, too. If you do begin to develop some joint pain or stiffness, don't abandon your efforts to move. Regular exercise can keep your joints moving smoothly and functioning normally. Walking, biking, swimming, and other activities may help with pain and stiffness. Plus, they can build up the muscles that surround your joints, which can also help you stay mobile.
You can't control whether or not you develop psoriatic arthritis. But you can monitor yourself for possible signs that might warrant a check-in with your doctor. If you do notice some new swelling or some pain in a joint, even if it's relatively minor, let your doctor know.
Was this helpful?