Psoriasis, Eczema, Dermatitis: What's the Difference?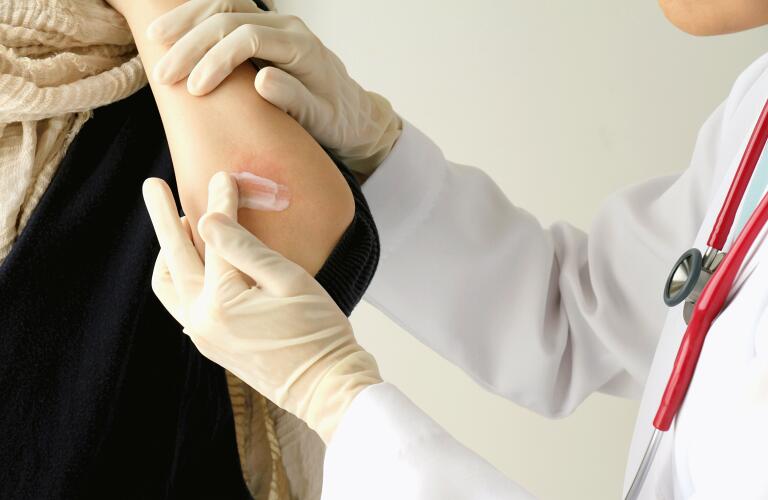 Trying to get rid of a skin rash can be almost as troublesome as coping with one. Three common causes—psoriasis, eczema, and dermatitis—are tricky to diagnose. No single test can identify them. Plus, they're easily confused because they look so similar.
To make an accurate diagnosis, your doctor may talk with you about your medical history and symptoms. He or she may want to conduct skin examinations or multiple tests. If you're currently bothered by red, itchy, or inflamed skin, it's all worth your time and effort. Once the cause is found, treatment can start and bring welcome relief.
To help your doctor make the right call, here's what you need to know about the differences among psoriasis, eczema, and dermatitis.
Dermatitis is a very broad term that generally means "inflammation of the skin." If your skin comes in contact with a specific irritating substance, you can develop contact dermatitis. There are two main types of contact dermatitis: irritant and allergic. Both types are common causes of a red, itchy rash.
Irritant contact dermatitis is the most widespread. It develops when your skin becomes inflamed from exposure to things like chemicals, acids, soaps, and detergents. Irritant contact dermatitis can show up whether you've come in contact with the substance before or not. Often you'll develop a rash on your hands along with burning, itching, and pain. You'll continue to endure this uncomfortable reaction until the cause is discovered and you can avoid it.

Allergic contact dermatitis can occur if you develop a sensitivity or allergy to a substance. Examples include nickel or other metals and certain fragrances. With allergic contact dermatitis, a skin rash can appear on the area that touched the substance within 24 to 48 hours. Itching is the main symptom. People with frequent allergic contact dermatitis flare-ups may want to explore allergy testing.
Eczema usually shows up as very itchy patches that become red, swollen, and cracked from scratching. Rashes usually occur on the face, inside the elbows, behind the knees, and on the hands and feet.
The exact cause of eczema is unknown, but it's been linked to genetics and environmental factors. The most common type of eczema is atopic dermatitis, an allergic condition that often appears in babies and children. The condition may go away by age 2 or last through adulthood.
Certain substances may trigger an eczema breakout, so it's important to identify and avoid them. Common irritants include household cleansers, detergents, soaps, chlorine, and wool. Stress and abrupt temperature changes can also cause eczema to appear.
To confirm whether you have eczema, your doctor may ask about your family history of allergies and want you to have an allergy or blood test.
Psoriasis is a lifelong condition that causes thickened, red patches of skin and silvery-white scales. Psoriatic patches can be itchy, sore, and even burn. They often are located on the outside of the elbows and knees, but psoriasis commonly affects the scalp and nails, too.
Many things can trigger psoriasis, including stress, cold weather, skin damage, and certain medications. Unlike atopic dermatitis, psoriasis doesn't usually appear before age 10. It's more commonly found in adults.
Psoriasis can mimic other skin diseases. Doctors diagnose it by closely examining your skin, nails, and scalp. Your doctor may also perform a skin biopsy. This involves removing a small skin sample and viewing it under a microscope.

Was this helpful?