Medications That Treat Both Psoriasis and Psoriatic Arthritis
Was this helpful?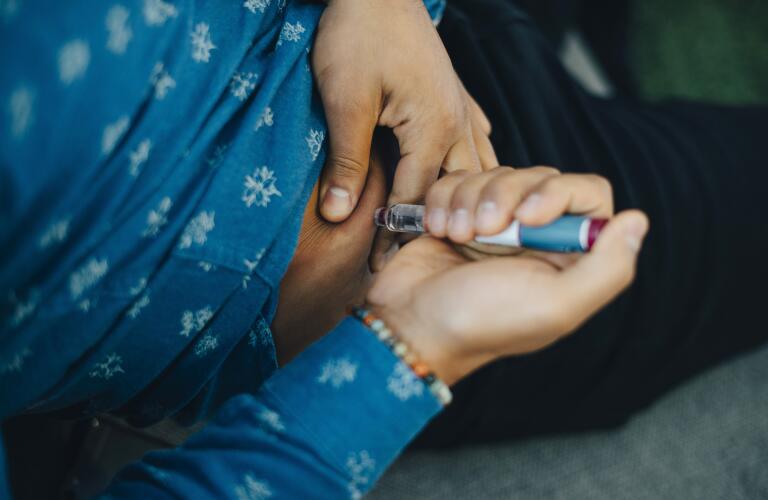 If you have psoriasis and psoriatic arthritis, you're not alone—nearly a third of people with psoriasis will also develop psoriatic arthritis. An overactive immune system response appears to play a role in the development of both the itchy, scaly skin associated with psoriasis and the sore, swollen joints of psoriatic arthritis.
Thankfully, medications have been developed to tame this heightened immune response, and some can treat both conditions. Controlling both psoriasis and psoriatic arthritis will not only improve your quality of life but can help you avoid permanent joint damage down the line. Here are some options to discuss with your doctor.
Typically, your doctor will start with milder medications, such as topical treatments for your skin or nonsteroidal anti-inflammatory drugs (NSAIDs) for joint pain. But if your psoriasis is severe or your arthritis isn't responding to NSAIDS, you may be prescribed a disease-modifying antirheumatic drug (DMARD). These medications work by suppressing the immune system, thereby reducing the symptoms of psoriasis and psoriatic arthritis.
Methotrexate (Trexall, Otrexup, Rasuvo) is the most commonly used DMARD. It's usually taken once a week and comes in both pill and injection form. Other DMARDs to treat psoriasis and psoriatic arthritis include:
Cyclosporine (Restasis)
Leflunomide (Arava)
Sulfasalazine (Azulfidine)
Because of their action on your immune system, DMARDs can make you more susceptible to infections. Some DMARDs like methotrexate can be hard on your liver, so you may need regular blood work to monitor your liver enzymes. DMARDs can also take a few months to achieve their full effect, and in some cases, your doctor may need to prescribe more than one for best results.
Compared to conventional DMARDs that act on the entire immune system, biologic medications (sometimes referred to as biologic DMARDs) target specific immune system cells or proteins. They are used to treat moderate to severe psoriasis and psoriatic arthritis that hasn't improved with conventional DMARDs.
Biologics approved by the U.S. Food and Drug Administration (FDA) to treat psoriasis and psoriatic arthritis include:
Tumor necrosis factor (TNF) inhibitors: These drugs block tumor necrosis factor, a protein that can cause inflammation in your body and make your symptoms flare. Adalimumab (Humira), infliximab (Remicade), etanercept (Enbrel), and certolizumab pegol (Cimzia) are examples.
Interleukin (IL) inhibitors: Interleukins are proteins that stimulate your body's immune response. Medications that block certain interleukins can improve psoriasis and psoriatic arthritis. Some drugs in this class are ustekinumab (Stelara), ixekizumab (Cosentyx), guselkumab (Tremfya), and ixekizumab (Taltz).
Some biologics, including risankizumab (Skyrizi) and tildrakizumab (Ilumya), are currently only approved to treat psoriasis, although experts are reviewing how well they treat psoriatic arthritis. They may be approved to join the others on the market in the near future.
Biologics are given via an injection or an infusion into a vein, anywhere from once a day or once every several weeks. You may notice a reduction in your symptoms in the first several weeks, with a continued improvement over several months. However, the effectiveness of a particular biologic can eventually taper off, and your doctor may need to switch you to a new biologic down the line. Because biologics act on your immune system, they can increase your risk of infection. Most side effects are mild, like minor irritation at the injection site.
Apremilast (Otezla) is from a newer class of drugs called phosphodiesterase 4 (PDE4) inhibitors. It stops the production of PDE4, an enzyme in your body that causes inflammation. It's usually taken as a pill twice a day and can be prescribed for moderate to severe cases of psoriasis and psoriatic arthritis.
Apremilast is particularly effective at reducing the itch associated with psoriasis. Side effects are usually mild, such as nausea or diarrhea. There is a risk of depression and unintended weight loss, so it's important to let your doctor know if you experience either of these things.
With so many options to treat your psoriasis and psoriatic arthritis, how do you know which one is right for you? You'll need to talk to your doctor to answer that question. A number of factors will be considered, including the severity of your disease, other medical conditions, and which treatments you've tried before. It may take some time to find which medications work best to clear your skin and manage the discomfort of arthritis, but stay optimistic as you work with your doctor along the way.
Was this helpful?