Medications That Can Trigger Psoriasis
Was this helpful?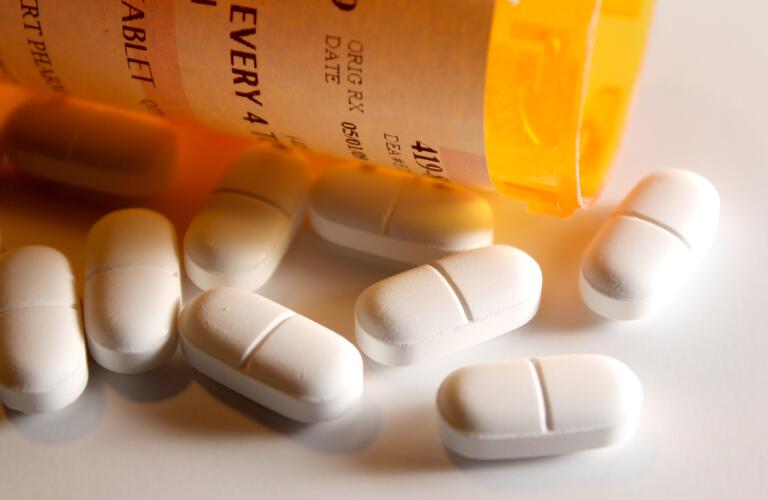 If you have psoriasis, you're likely used to its cyclical nature. Sometimes you'll experience flares, resulting in patches of reddened, itchy, or scaly skin, followed by periods of improved symptoms. You may have identified your psoriasis triggers, such as extreme weather conditions or stress. But did you know some medications can also cause psoriasis to develop or worsen? It can be challenging to pinpoint at times but determining if a particular drug is triggering your psoriasis can help manage your condition.
There are several medications that can make your psoriasis flare, though the reason why is not fully understood. Some of the most common include:
Beta blockers: These medications are often used to treat high blood pressure and heart problems, such as heart failure and abnormal heart rhythms. They may also be prescribed for other conditions, such as glaucoma, migraines, and anxiety. Metoprolol (Lopressor), atenolol (Tenormin), and propranolol (Inderal) are examples.
Lithium: Lithium is a treatment for manic-depressive disorder.
Antimalarial drugs: The oral medications chloroquine (Aralen) and hydroxychloroquine (Plaquenil) are used to prevent and treat malaria. They are also prescribed to treat autoimmune inflammatory diseases.
Nonsteroidal anti-inflammatory drugs (NSAIDs): These drugs treat pain and inflammation and are frequently used to manage psoriatic arthritis. Naproxen sodium (Aleve) is most likely to trigger psoriasis, but ibuprofen (Advil, Motrin) and indomethacin (Indocin) may cause a flare-up of symptoms.
Interferons: Hepatitis B and C, Kaposi sarcoma, multiple sclerosis, and some types of cancer may be treated with interferons.
Terbinafine: This medication is used to treat fungal infections, like athlete's foot and ringworm.
Corticosteroids: Both oral and systemic steroids may be used to reduce inflammation and decrease the symptoms of psoriasis. However, if they are stopped too quickly, it can trigger a psoriasis flare.
Anti-TNF-alpha receptor antagonists: These medications, such as adalimumab (Humira) and etanercept (Enbrel), are often highly effective for treating psoriasis, as well as other autoimmune diseases, like Crohn's disease and rheumatoid arthritis. Yet, a small percentage of people will develop "paradoxical psoriasis" and experience a worsening of symptoms while taking these drugs.
It's hard to distinguish drug-induced psoriasis from psoriasis caused by other factors based on its appearance. Additionally, sometimes psoriasis caused by medication doesn't appear until weeks or months after the medication was initiated, making it difficult to recognize as the trigger. This is why it's important to let your doctor know all medications you're taking to help discern if it's exacerbating your psoriasis.
5 Tips For People With Psoriasis From People With Psoriasis
If a certain drug is causing your psoriasis, your doctor may be able to switch you to a new medication or adjust your dose. For example, if you are taking naproxen sodium for pain, your doctor may suggest switching to a different pain reliever, such as acetaminophen (Tylenol).
Don't ever stop taking a medication without talking to your doctor first. Some medications, like lithium to treat manic-depressive disorder, may not be safe to discontinue.
If you are unable to switch your medication or if your psoriasis still persists after the drug is removed, you may be able to control your symptoms with conventional psoriasis treatments including:
Topical steroids
Ultraviolet light therapy
Retinoids, such as tazarotene (Tazorac)
Synthetic vitamin D such as calcitriol (Vectical)
It's also advised to avoid other known psoriasis triggers, like alcohol, smoking, and exposure to the sun.
Keep in mind, some cases of medication-related psoriasis can become resistant to treatment. Early detection may help avoid this, so it's always in your best interest to see your doctor with any concerns.
Was this helpful?