Makeup Tips for People With Psoriasis
Was this helpful?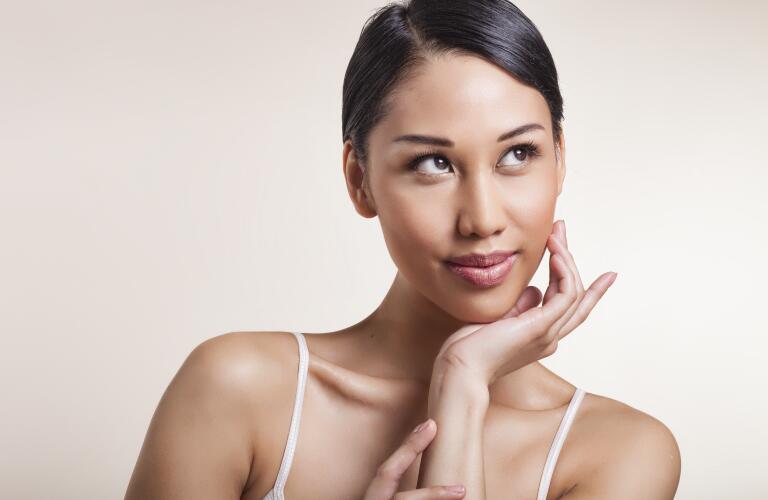 When you have facial psoriasis, a little cosmetic sleight of hand can make some of the redness disappear. But remember: When it comes to makeup, less is more. Lay it on too thick, and you might end up drawing more attention to a patch of psoriasis that you're trying to hide.
For covering up psoriasis, choose liquid-based cosmetics rather than powder-based ones, which can be drying and accentuate skin flaking. Also, look for fragrance-free products, which are less likely to irritate your skin.
Avoid makeup with a pink undertone. Instead, choose products with a yellow or green undertone, which neutralizes redness. Look for those labeled "warm" or "redness concealer."
First, smooth on a thin layer of sheer foundation. Use a synthetic brush to apply makeup to areas affected by psoriasis—it's gentler on sensitive skin than fingertips or a sponge. Any application method you prefer is fine elsewhere. Choose a color that blends in well with the skin on both your face and neck, so you don't wind up with the dreaded makeup line at your jaw line.
Second, apply concealer—a thicker, less translucent product intended for cover-ups—to any areas that still need it. Concealer can tone down redness, but it won't make raised areas of skin disappear. Thick makeup only makes such areas more prominent, so apply it with a light hand.
Third, play up your eyes and lips. If there's no psoriasis in your eye area, mascara, eyeliner, and eye shadow are usually fine to use. Stick to a red-neutralizing palette of gold, brown, and green. For your lips, a bright shade or shiny gloss can draw attention to your friendly smile—and away from your psoriasis.
A few words of caution:
If you have any open lesions, wait for them to heal before applying makeup there.

If a product causes burning, stinging, itching, or irritation, stop using it right away.

Pustular psoriasis (characterized by white blisters) and erythrodermic psoriasis (characterized by fiery redness and scaling of the skin) are especially prone to irritation by cosmetics. It's often best to skip makeup altogether if you have these conditions.
For many people with psoriasis, makeup is a quick and easy way to look more polished and feel more confident. True, you're covering up psoriasis. But what you're really doing is bringing out the best in you.

Was this helpful?