How to Wear Makeup If You Have Psoriasis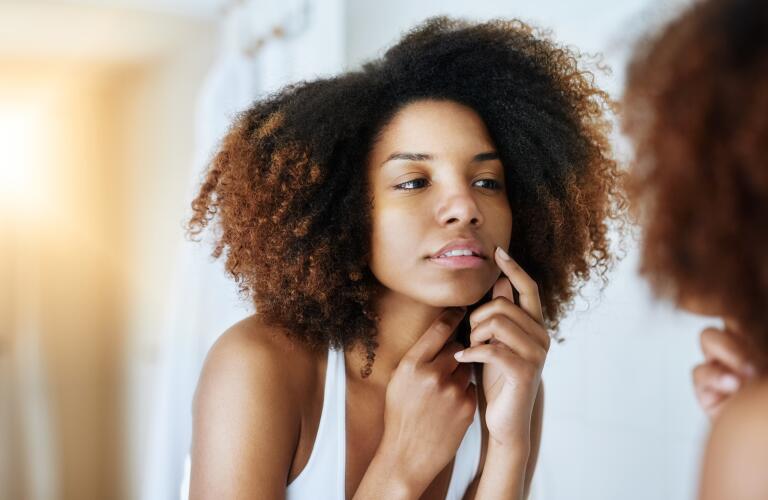 Your face is usually the first thing people notice about you. Having psoriasis anywhere on the body can affect your self-esteem. If you're a woman with redness and scaly plaques on your face, you may feel even more self-conscious. Fortunately, the right skin care and makeup can help you look your best and return your confidence.
Areas most often affected by facial psoriasis include your upper forehead and hairline, above your upper lip, and your eyebrows. Before taking any steps to camouflage your psoriasis with makeup, see your doctor to make sure the reddened areas really are psoriasis. Your doctor can recommend treatments to improve your psoriasis while protecting your delicate facial skin.
It's important to choose and use the right skin care products. Psoriasis on and around the face should be treated carefully because facial skin is especially sensitive. Occasional use of mild topical treatments, such as corticosteroids, can be effective and safe if a careful treatment plan is followed.
Other prescription topicals, including Dovonex and Tazorac and keratolytic products, help remove the buildup of scales, which tend to be harder to cover up with makeup than reddened skin.
Two topical drugs approved for the treatment of eczema, Protopic and Elidel, may also help with psoriasis. Phototherapy, which involves exposing skin to ultraviolet light under a doctor's supervision, may also reduce plaques.
Makeup, used sparingly, can help neutralize the redness of psoriasis lesions. Try these tips:
For a natural look, choose cosmetics that match the color of the skin at your jawline. Browse beauty boutiques and makeup counters where you can test shades before you buy. Consider treating yourself to a session with a makeup artist experienced with various skin types for advice on application techniques and products in the right shades for you.
Your dermatologist should be able to tell you what to avoid, such as drying alcohol or irritating fragrances, and what to look for, such as emollients. Cosmetics labeled water- and sweat-resistant may work better for you because they are not absorbed into the skin. Using moisturizers and foundations with built-in sun protection (SPF) means you'll have one less product to apply.
Before you apply any cosmetics, moisturizer is a must, followed by a makeup primer. A makeup primer helps makeup go on smoother.
Don't give in to the temptation to slather on a lot of product. Too much makeup tends to draw more attention to your face. You might need only a concealer finished with a matte powder. If you want more coverage, consider a sheer foundation applied before concealer and powder.
Foundation is meant to create a blank canvas against which your eyes and lips can be the stars. Experiment with the right eye shadows, mascara, and lip shades to bring out these features.
When selecting and using makeup removers and cleansers, think gentle cleansing and steer toward mild formulas made for sensitive skin. Creams work better than gels (which have a high alcohol content) and thin lotions (which do not lock in moisture). Avoid abrasives and scrubs that can further irritate the skin. Follow your doctor's orders for exfoliating scales.
Life looks better when you know you're looking your best. Don't let psoriasis keep you from finding a fresh, pretty new look.

Was this helpful?