How to Talk to Your Doctor When Psoriasis Leads to Psoriatic Arthritis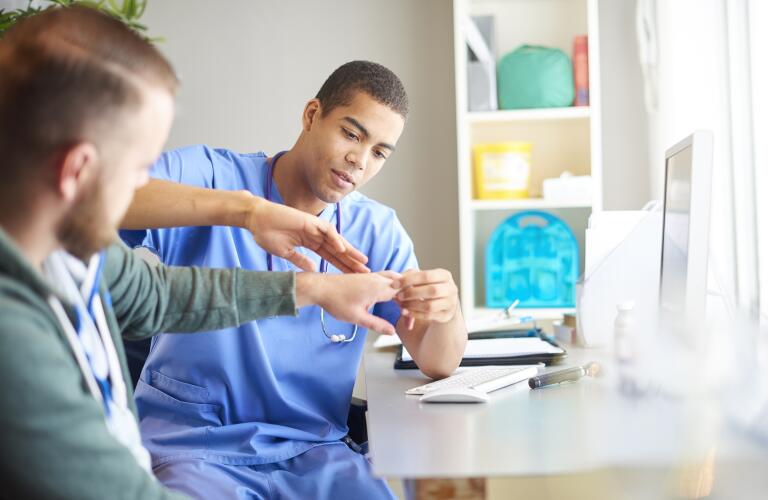 If you have psoriasis, it's good to understand the connection between psoriasis and psoriatic arthritis (PsA), especially if you're experiencing joint pain or stiffness. About 30% of people who have psoriasis go on to develop psoriatic arthritis. The sooner you get an accurate diagnosis of the disease, the sooner treatment can begin to help prevent joint damage.
Learning the basics of psoriasis and psoriatic arthritis will help improve communication between you and your doctor and ease the stress of your next appointment.
First, know that psoriasis and psoriatic arthritis are both chronic autoimmune disorders. They're caused by different misfires in the immune system that interfere with how healthy cells work. They can't be cured, but they can be managed successfully, especially if they're diagnosed early.
With psoriasis, the immune system accelerates the production of skin cells so they build up on the skin, forming flaky scales or plaques. They may itch or burn and appear and disappear over time. They may also be triggered by stress, harsh weather, insect bites, and other irritants. If you're taking any medication for psoriasis, be sure to let your doctor know.
With PsA, the exact breakdown in the immune system isn't known. As with psoriasis, symptoms may come and go, but PsA is a progressive disease that can cause joint damage over time, regardless of how persistent your symptoms are. Treatment not only aims to ease pain, but also to protect your joints.
Treating psoriatic arthritis early can make a big impact, so it's important to look out for symptoms. Take notice of your everyday aches and pains to help your doctor assess whether they're really signs of PsA. Write them down as they happen so you don't have to rely on your memory the next time you talk with your doctor. Common symptoms of PsA are:
Pain, stiffness, or throbbing in one or more joints
Limited movement
Swollen fingers or toes
Fingernail or toenail pitting
Heel pain
Fatigue
It will also help your doctor if you provide a medical history that includes other members of your family who have been diagnosed with psoriasis, psoriatic arthritis, or both. These diseases tend to run in families ̶ 40% of people diagnosed with PsA have a family member with psoriasis or arthritis.
In addition to discussing your symptoms and history, your doctor will likely order X-rays or other images to assess your joints for damage. Blood tests are usually performed to isolate PsA from other types of arthritis with shared symptoms. A rheumatologist may join your healthcare team as a specialist in how the immune system affects joints.
Continue to write down symptoms as you step through your treatment path. Add questions as you think of them, too. You're already well on your way to proactively partnering with your doctor to get an accurate diagnosis and effective treatment plan.
Was this helpful?