How Telehealth Can Help People With Psoriasis
Was this helpful?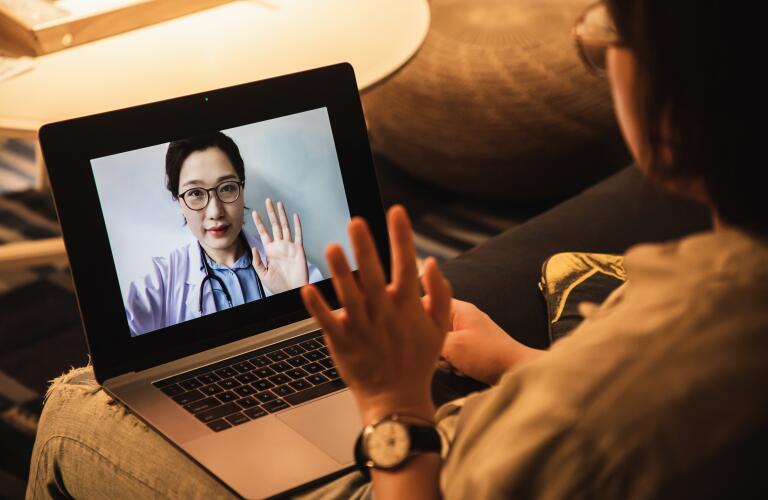 Telehealth enables you to connect with your physician or other healthcare provider using real time video and audio technology. While telehealth can cover audio calls, video calls, and even text messages, in most cases, a telehealth appointment is conducted over video. If you have psoriasis, telehealth can provide the chance for you to have a video chat with your doctor about your skin situation and any concerns you may have.
5 Tips For People With Psoriasis From People With Psoriasis
You don't have to leave home.
One key advantage of telehealth: location! The COVID-19 pandemic has increased the availability of telehealth services across the country, offering a safe way to receive medical care from your home. This can be especially critical if you're taking an immunosuppressive medication for moderate-to-severe psoriasis. Many people take systemic medications like methotrexate, cyclosporine, or apremilast, while others find relief from biologic agents like adalimumab (Humira), secukinumab (Cosentyx), or ustekinumab (Stelara). The downside of taking such medication, though, is that it suppresses your immune system and leaves you more vulnerable to viruses and other pathogens that could make you sick. So, the ability to consult with your doctor without leaving home can eliminate that worry for you.
Your doctor can see your psoriasis plaques.
It can be hard to accurately describe a rash or plaque over the phone. But a dermatology telehealth visit provides that extra visual information your doctor needs to make a full assessment of the status of your psoriasis. Plus, research suggests early treatment can slow the progression of the disease. Left untreated, psoriasis can lead to inflammation that affects your muscles and joints and even some organs, like your heart. So, your doctor can be on the lookout for any signs your disease is worsening that may require additional action or treatment.
Your doctor can also get a look at any new types of lesions that you may develop. While plaque psoriasis is the most common form of psoriasis, some people do go on to develop other types of psoriasis, too. If you notice some changes to your finger or toenail beds, you can show them to your doctor via your webcam. That way, your doctor can gain some valuable information that might determine if you've developed nail psoriasis, which may require some additional (or different) treatment.
Your doctor can also monitor your progress as your body adjusts to any new treatments or medications you may be using. If you experience any noticeable changes to your lesions as your medication takes effect, your doctor can see them, too.
Your doctor can keep an eye out for other medical conditions.
Many people with psoriasis are predisposed to developing other medical conditions, which are also called comorbidities. A good example: you may be more likely to develop psoriatic arthritis, which, if left untreated, can permanently damage your joints. In fact, doctors usually assess a patient's psoriasis from time to time to look for any signs that psoriatic arthritis may be developing. Rather than foregoing your usual check-ins with your dermatologist, you can maintain your regular visits via telehealth appointments, so your doctor can continue to assess you for early symptoms of psoriatic arthritis, like swelling or pain in the joints of your hands, wrists, or feet.
You may still have some reservations about the potential of telehealth to help you with your psoriasis. It might be reassuring to know that research shows you'll still be getting good care. In fact, a 2018 study showed that people who received care for their psoriasis online had very similar outcomes to people who visited their dermatologists' offices for care in person.
The bottom line is telehealth can help you stay connected with your dermatologist when you might not be able to see them in person, and you'll still be able to get the care you need to effectively manage your psoriasis.
Was this helpful?