How Psoriasis Affects the Tongue and Mouth
Was this helpful?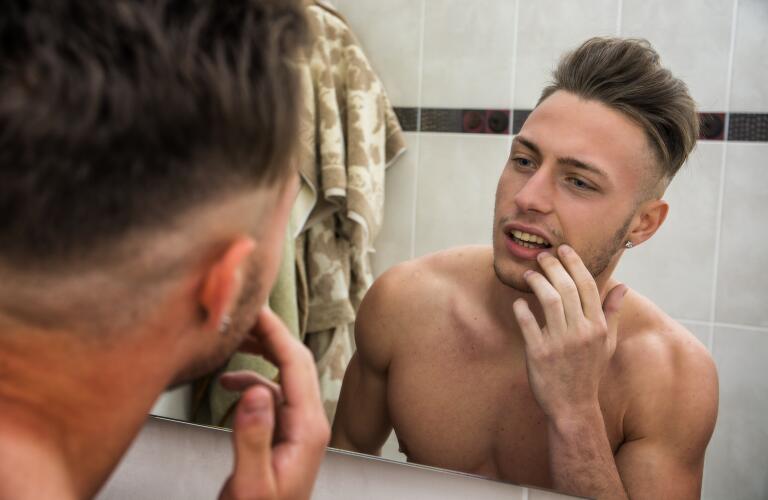 Psoriasis is an autoimmune disease affecting the skin, most commonly found in areas like your elbows and knees, but you may be surprised to learn it can also develop around your mouth and on your tongue. Since it may present differently in these areas, it's helpful to know how to recognize the symptoms and what can be done to treat it.

Psoriasis is caused by a problem with your immune system. It sets off your body's inflammatory response, triggering it to rapidly produce new skin cells. Most commonly, this can result in the raised, red, scaly patches of skin seen with plaque psoriasis. But in and around the mouth, it may also manifest itself in the following ways:
Redness or bleeding inside the mouth
Red, white, or grayish-yellow lesions, often inside the cheeks
Some people also report changes in the way things taste or find it uncomfortable to eat spicy foods. In some cases, eating or drinking anything can be painful.
Psoriasis is also linked with the development of certain tongue conditions. You may notice:
Red patches with yellow or white borders, also called geographic tongue
Smooth patches on the tongue
Cracks on the surface of the tongue
Symptoms of psoriasis in your mouth can come and go. If you have psoriasis on your face or other parts of your body, you may notice it flares up at a similar time to the sores in your mouth.

Psoriasis in or around the mouth can be tricky to diagnose. First, it's rare, so doctors don't see it very often. Also, it can look similar to other conditions, like thrush or eczema. But if you've been diagnosed and are experiencing troubling symptoms, there are treatments to help you feel better.

Your doctor may recommend rinsing your mouth frequently with alkaline solutions or those containing an anesthetic like lidocaine to ease your pain. Topical steroids, retinoids, or ointments used to treat eczema like tacrolimus (Protopic) may be prescribed. Systemic medications (pills or infusions) used to treat skin psoriasis, such as cyclosporine, etanercept (Enbrel), secukinumab (Cosentyx), or adalimumab (Humira) can work on oral psoriasis as well.
5 Tips For People With Psoriasis From People With Psoriasis
Keep in mind, there are things you can do to try and prevent your symptoms from acting up. Practicing good oral hygiene is always important. Learn how to avoid common triggers. Smoking, alcohol, spicy foods, and dentures or braces may cause irritation that leads to a psoriasis flare.
Thankfully, most cases of oral psoriasis are mild. But if you develop plaque psoriasis on your face or if it interferes with your ability to eat, it can be quite distressing. Talk to your doctor about what treatments might be right for you.
Was this helpful?