SOCIAL VOICES

How My Psoriasis Taught Me to Love My Real Self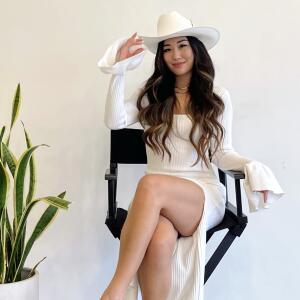 About 3 years ago, I was a 20-something model ready to jump onto a reality dating show. I was a confirmed finalist feeling on top of the world. I was feeling great about myself, the producers loved me, and nothing could stop me.
Then I got my first psoriasis flare. All of a sudden, my once-clear skin was covered by flakey and inflamed patches. They started on my legs and made their way up my entire body, eventually reaching my face and scalp. It felt like my skin was burning and itchy at the same time… a complete disaster.
I went to see a dermatologist immediately but was misdiagnosed three times. First, I was told that it was an allergic reaction and then I was told I had a skin disease called pityriasis. Finally, I got the correct answer: I had plaque psoriasis, which explained the flakey, itchy patches of skin, as well as guttate psoriasis, a type of psoriasis that causes small, red, scaly spots.
Ultimately, I was rejected by the show's producers. My new appearance may not have been the only reason, but everything had been going well until then, and it hurt. A lot.
I spiraled into a mess and became severely depressed. I was treating my psoriasis with steroid cream, but it wasn't working. For months, I stopped wearing clothes that showed my skin and I stayed in my dark room most of the time. Whenever I mustered up the courage to go to a workout class or a coffee shop, I always seemed to get intense stares. People would abruptly ask me if I was sick, if I had a "terrible burn," or even if I had herpes.
At that point, whatever courage I'd found completely disappeared. I'm sure most people weren't trying to be rude. They were genuinely curious. At that time, psoriasis was not a well shared condition. And to be fair, I understood why.
Who would want to show off their patchy skin?
I run a beauty, fashion, and wellness-focused Instagram account with thousands of followers, and during this time, I carefully photoshopped every photo I posted of myself to hide my psoriasis. I even created a private, secret psoriasis Instagram handle so I could follow other psoriasis warriors, but I couldn't imagine sharing any photos of myself.
Again, who would want to show off their patchy skin?
Over time, though, that question started to get me riled up. I'd found an online psoriasis community of people who knew what I was going through and who were incredibly supportive and empathetic. I was sick and tired of hating myself and hiding myself. It was either I pick myself up right now, or continue into despair.
I'd had enough. So I went on my public Instagram account and posted a photo of my real, unphotoshopped skin. In the caption, I shared how I'd been wrestling with my skin, feeling self-conscious and full of self-hate. I wanted to show solidarity with anyone who's struggled to love themselves because of how they look or feel. I wrote, "I recently got diagnosed with psoriasis… I was insecure about showing my skin… but I've decided to start embracing it, little by little, each day. Instead of questioning, "God, why me?" I'll start by taking better care of my body's needs, cure myself to the best of my ability, and help others along the way as well."
The amount of love I received in response was overwhelming. I'm tearing up while writing this just thinking about that moment.
Of course, some commenters asked me what happened to my skin, expressed pure shock, and even voiced their disgust. But the love I received from hundreds of others overpowered all of it. Because of their support, I decided to stop photoshopping my skin in photos. I posted another photo to Instagram a few weeks later, showing my real skin again. I wrote, "Decided to never edit out my psoriasis on my body, I wanna rock it."
It felt so empowering to embrace my real self and be vulnerable – especially on social media, where it's so easy to project a fake, perfect life. It was the power of being authentic with my truth and sharing a real journey that taught me to truly love myself.
This was the beginning of turning the bad into good.
Sharing my story and feeling the support of others didn't just give me the confidence to love myself; it also helped me take action. I told my doctor the steroid cream wasn't working, and I needed to try something new.
The cream did a lot more damage to my skin than good. My skin became thin and much more sensitive than it already was. My psoriasis never actually cleared but I got addicted to the itch relief it temporarily gave even though I was using the recommended amount.
So, I was put on a pill. After about 6 months of being on this medication, with no physical improvements and some intolerable side effects, I talked to my dermatologist about it. We decided it was time to try a biologic. Biologics are treatments that target specific areas of your immune system to treat disease. As psoriasis is an autoimmune disease, biologics are a direct way to treat the root cause.
After 2 months on the biologic, most of my psoriasis patches and other symptoms were gone from my body. I was completely shocked. Of course, I still had scars, but I was no longer itchy. The scars were frustrating, but I realized I had a choice: I could get upset over every little imperfection, or I could accept myself as I am. I chose to love myself, and I keep making that choice every day.
After 6 months of being on the biologic, my skin was almost completely clear, but I was feeling unwell from some of the side effects. I decided to get off of it, make some lifestyle changes, and see what happened. I significantly cut down on drinking alcohol, although I'll still have a glass of wine here or there. I stopped eating dairy and cut back on gluten as much as I could.
Fast forward 2.5 years and I am currently still psoriasis-free on my body, excluding my scalp and ears – these are stubborn areas. Every so often, I'll notice the first signs of a flare, and I'll start feeling those old emotions creep in. But, as I posted to Instagram once at the beginning of a small flare, "Terrified? Sure. Ready to take it on? Definitely. Unhappy? Yes! Devastated? Not anymore."
Sometimes I still scratch my skin thinking of the horrible flare that overtook my entire body. But then I remember to shower it in love and moisturizer to thank it for all it's gone through for me. I also remind myself of the incredible psoriasis community I am a part of. From the beginning, the psoriasis community has been the best support system that gets me through my hardest days.
I know at one point that another big flare will return. But whenever it happens, I will be ready and accepting of who I am. I feel more confident and more beautiful now than I ever have, thanks to this psoriasis journey. Now, when people ask me about my skin, I give this response: "I have psoriasis. It's an autoimmune disease that looks like rashes on my body. It's definitely tough to deal with it, but it's helping me learn to love myself even more." With that, the questions stop.
Self love and consistency really does conquer all.
Was this helpful?