Cognitive Behavioral Therapy Can Help Psoriatic Arthritis
Was this helpful?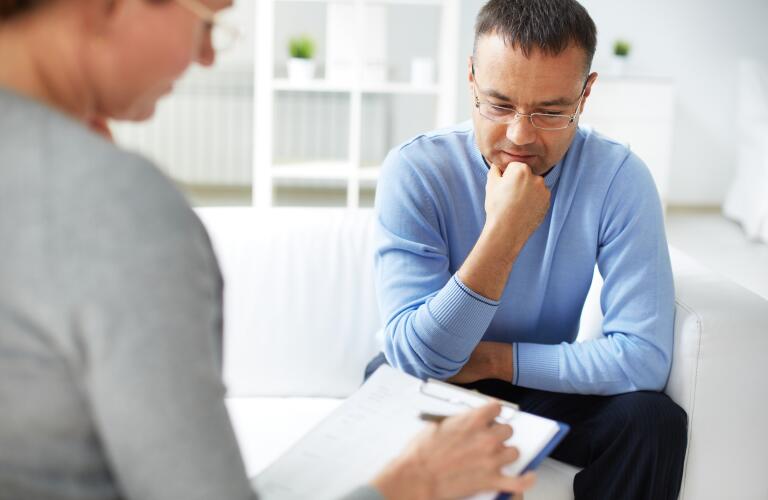 Psoriatic arthritis is a type of inflammatory arthritis that affects up to 30% of people with psoriasis, an autoimmune condition that targets the skin. As with other types of arthritis, psoriatic arthritis causes joint pain and can eventually cause damage to the joint. No one knows why some people with psoriasis develop this type of arthritis, and although there are some treatments that manage the disease, they may not be effective for everyone. It's for this reason that many people with psoriatic arthritis look to complementary therapies that may provide benefits alongside more mainstream treatments. One such complementary treatment is cognitive behavioral therapy (CBT).
5 Tips For People With Psoriatic Arthritis From People With Psoriatic Arthritis
Cognitive behavioral therapy is a type of psychotherapy that helps change behavior patterns. CBT is known for helping people who live with problems like anxiety or depression, but this form of therapy is also useful in helping people with chronic physical illnesses learn coping strategies. The therapy helps you identify negative thoughts or behaviors and practice ways to counteract them—while you can't control your pain, you can control how you react to it. Scientific studies have shown that people with chronic pain who undergo CBT have lower pain levels and many also have a lower level of IL-6 in their blood, a protein that increases with pain.
How CBT Can Help Manage Psoriatic Arthritis
Pain. CBT is considered the "gold standard" psychological treatment for many chronic pain problems. Pain associated with psoriatic arthritis can be hard to relieve, but CBT can help you change your response to the pain. By mindfully considering how you react to pain, you're better able to cope with it.
Stress. Although doctors don't know what causes psoriatic arthritis, they do know that stress can make it worse. Learning CBT techniques, including meditation and mindfulness, can help you identify your stressors and feel more comfortable managing accompanying emotions before they get out of hand. Both meditation and mindfulness take practice, so your therapist can help you learn what techniques are best for you and show you how to do them effectively.
Depression and anxiety. The chronic pain associated with psoriatic arthritis can cause depression or anxiety (or both), and as the feelings of depression or anxiety worsen, so may your pain. A therapist trained in CBT can help you identify negative thoughts and advise healthier ways to respond to these thoughts.
Avoidance. When you're in pain, it's easy to get discouraged and avoid activities you fear may bring on more pain. Unfortunately, this can lead to isolation and inactivity, two things that can contribute to depression, anxiety, high stress levels—and more pain. While it's true certain activities may be painful, things may not be as threatening as they seem. CBT can teach you how to change your thought patterns and encourage you to avoid thinking the worst, concentrate on the good, and anticipate good results. Keeping these concepts in mind can help you stay more positive and help you perceive potential threats more accurately. And by mindfully identifying negative thoughts and your automatic responses to them, you can reprogram or reframe your way of thinking.
Insomnia. Anyone who has found themselves awake in the middle of the night knows that any type of physical problem, from a stuffy nose to joint pain, is intensified during these late hours. And the more you worry about not sleeping, the more intense it gets. On top of that, the fatigue the next day adds to your discomfort, making you feel even worse. Fortunately, CBT has helped many people find ways to fall asleep and manage their fatigue. By using CBT techniques like progressive muscle relaxation, positive imagery, and breathing techniques, psoriatic arthritis patients can fall asleep and give their bodies the crucial rest they need.
If you are looking for a therapist who practices CBT, ask your rheumatologist or clinic staff for recommendations, or find the right mental health specialist for you by searching on Healthgrades.com. Look for a practitioner with experience treating clients with chronic illnesses and pain conditions like psoriatic arthritis. Some larger healthcare facilities have integrative medicine departments and they may have CBT therapists on staff. You can also ask friends and relatives for recommendations, or if there is a local support group, they may have resources for you as well.
Cognitive behavior therapy won't make the arthritis go away, but it can help you find ways to cope so your quality of life is as high as possible.
Was this helpful?