9 Tips for Hispanic People with Psoriasis
Was this helpful?
While the prevalence of psoriasis tends to be lower in Hispanic individuals than it is in Black or white people, this chronic skin condition is associated with poorer quality of life and more severe symptoms among the Hispanic and Latino community.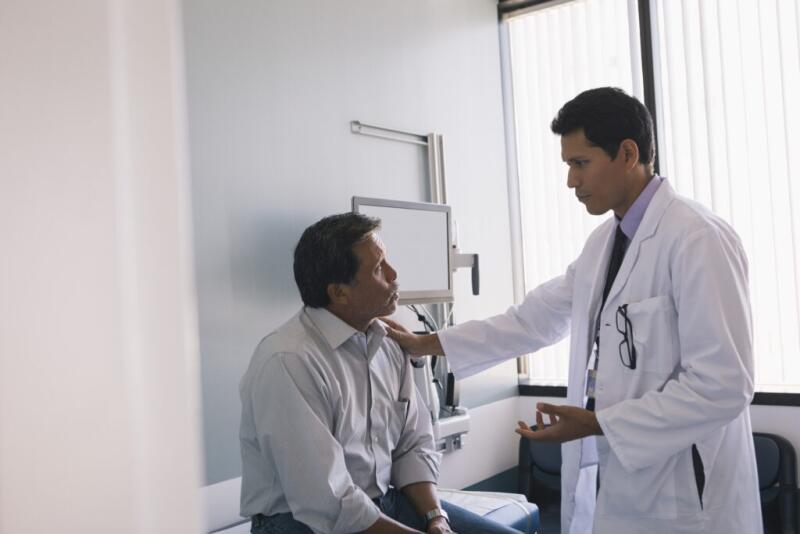 A 2019 study suggests that rates of depression, diabetes, and obesity were higher among Latino people with psoriasis than white people. Research suggests Hispanic people may have limited access to psoriasis information due to socioeconomic, educational, and cultural barriers. The following tips for psoriasis management may help you reduce symptom severity and the frequency of psoriasis flare-ups.
Psoriasis can present differently from one person to the next based on racial and ethnic differences, according to the National Psoriasis Foundation. Skin complexion can affect the color and thickness of psoriasis plaques. If you are of Latino or Hispanic origin and think you have psoriasis discuss your concerns with you dermatologist and what the best treatment for the psoriasis would be. Make sure to tell the doctor all your symptoms including joint pain or swelling as well as any possible family history of psoriasis. Your questions are important, so take a proactive approach and make sure you leave the doctor's office with all the information you need.
One way to find a Hispanic dermatologist is to search online for doctors who speak Spanish. Try using the language filtering feature on Healthgrades.com, which can be found on the search results page within "All Filters."
Cuts, scrapes, insect bites, and other skin irritations can trigger psoriasis flare-ups and prevent psoriatic plaques from healing. As much as possible, try to protect your skin from injury, including any type of scratching, rubbing, tattoos, or sunburns as these can cause Koebner phenomenon. A 2019 study of sun protection behaviors suggests that People of Color are less likely to follow the recommended practices for sunscreen use. Wearing protective clothing and seeking shade can also make a big difference in lowering the risk of sun-damaged skin — particularly for people living in sunnier regions.
Unless otherwise directed by your dermatologist, moisturize your skin daily. The American Academy of Dermatology recommends applying a heavy cream or ointment during sleep time and alternating with a lotion during the day. When choosing a moisturizer, opt for a product free of fragrances and potential allergens. Some chemicals in cosmetics and skin care products can irritate the skin, leading to the problems you're trying to avoid.
Some common psoriasis triggers can be difficult to avoid. For example, cold, dry weather can trigger psoriasis symptoms and the same is true for infections, such as strep throat. However, other common triggers can often be avoided with lifestyle changes that include quitting smoking, avoiding exposure to secondhand smoke, and excessive alcohol consumption. If you are predisposed to experiencing psoriasis flare-ups, ask your doctor about the risks associated with taking certain medications, including antihypertensive drugs, and whether alternative medications may be an option.
High stress levels are another common psoriasis trigger, so relaxation techniques such as meditation and deep breathing exercises may help reduce the frequency or severity of psoriasis flare-ups. Also consider taking inventory of situations that may be causing you to feel stressed and avoid those scenarios. Some daily stressors can include watching the news, spending excessive time on social media, or not getting enough sleep. Adjust your schedule and social interactions to allow time to decompress.
Common psoriasis comorbidities that can lead to major health complications include diabetes and obesity. A 2020 study suggests that not only is the prevalence of type 2 diabetes higher in the Hispanic population than in the general public, but that there is a significant need for more diabetes education that takes cultural factors into consideration. A person who is overweight has a higher chance of developing type 2 diabetes, psoriasis, and other health conditions. Talk with your doctor about maintaining a moderate weight according to your specific health goals. Other recommendations for a healthy lifestyle include following a nutritional diet plan, doing at least 30 minutes of daily exercise, and monitoring high blood pressure levels.
As difficult as it may be to not scratch the itchy plaques of psoriasis, the healing and easing of symptoms will take much less time if you can leave affected skin alone. Keeping your skin moisturized or applying a cold compress may help ease the itch. Using an itch-relieving product, such as hydrocortisone cream (either over the counter or prescription) or an antihistamine medication may also help. Taking shorter showers and avoiding very hot water when bathing or washing hands may also ease that itch.
People living with psoriasis may be prone to developing depression, and the Hispanic community may be even more affected. Due to racial disparities in healthcare, socioeconomic factors, lack of access to mental health services, or cultural stigma, Hispanic and Latino people tend to receive less treatment for psychological distress than the general public. Depression is a treatable condition, and there are resources available for Communities of Color. When managing psoriasis, it's important to consider your mental health as part of your overall treatment plan. Common signs of depression include feelings of sadness or hopelessness, withdrawal from friends and activities you once enjoyed, and noticeable changes in your sleeping and eating habits.
Aside from being uncomfortable, psoriasis can make you feel insecure about social interactions, especially when flare-ups last for an extended time. However, keep in mind other people are also having the same experience. Connecting with other people managing psoriasis can be a great way to learn more about lifestyle tips, find culturally competent doctors, and gain additional resources. Ask your doctor, insurance company, or local health clinic for recommendations according to your language and location preferences.
Was this helpful?