SOCIAL VOICES

5 Ways to Keep Your Sanity With Psoriasis

Was this helpful?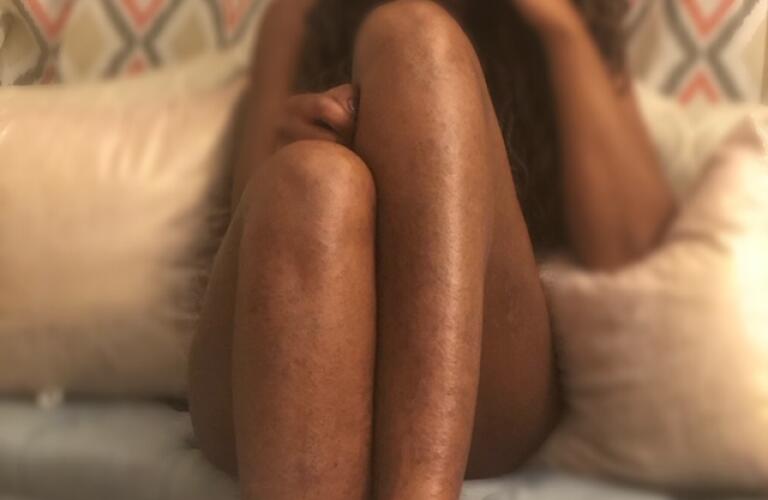 When you live with a visible disease like psoriasis, sometimes you may find fear and desperation are unwelcome guests that never seem to leave. Due to the sporadic interjection of rude comments and stares from strangers throughout my life, I always feared what others would think when I revealed my dark brown spots of itchy, flaky plaques. Growing up, I struggled with feeling beautiful and accepted, and psoriasis often suffocated my confidence. As a result, I went to great lengths to hide my psoriasis plaques from the world. When I was 13, I even wore a black long-sleeve top and long skirt to a water park, just to avoid peoples' reactions to my psoriasis. But over time, I learned how to seek support and boost my own confidence. Today, psoriasis might be on my skin, but it's no longer in my head.
Staying Sane With Psoriasis

Living with a visible disease has unique challenges. Society's standard of beauty bombards us with the idea that flawless skin is beautiful and skin that doesn't fit the narrative is not good enough. Additionally, people often misjudge what they don't understand, which leads to comments or stares at psoriasis plaques. On top of that, it can be stressful to find a treatment that works for you that's also covered by your insurance, and all these challenges increase the risk of struggling with depression and anxiety.
Although having psoriasis can be stressful, there are some great ways to cope. A lot of my favorite coping techniques are related to finding and embracing support from others so you don't feel so alone. Knowing you're supported can make all the difference–and get you out of your head.
1. Get involved with the National Psoriasis Foundation (NPF).
This foundation offers numerous programs to help support those of us living with the disease. You can also find a psoriasis mentor through the NPF. A mentor is a person with psoriasis who is thriving and can help you through difficult times. There's nothing quite like the connection between two people with the same chronic disease and the same experiences.
2. Join an online support group.
Finding support online can connect you with thousands of people living with psoriasis who can relate to your struggles. These groups in particular have been helpful for me and many other people I know:
You can also search for hashtags on Instagram and Twitter to find others in the community discussing psoriasis. Start with hashtags like #psoriasis, #psoriasiswarriors, #psoriaticdisease, #psoriaticarthritis, and #NPFAdvocacy. Many people around the world share their stories of life with psoriasis on social media, and I've personally learned a lot from their experiences.
3. Offer support to those who need it.
You know more about living with psoriasis than you think, and sharing that knowledge with others has a lot of benefits. It just plain feels good to be there for someone and share what you've learned so another person doesn't need to discover it the hard way.
4. Take care of your body, not just your skin.
You've probably tried every skin scrub, every lotion, and every DIY mask in existence. But it matters what you put inside your body, too. Eat a balanced diet heavy in fruits and vegetables and light in red meats and processed foods. Exercise if your psoriasis isn't irritated or chafing. And see your doctor regularly to make sure you're treating your psoriasis as effectively as possible.
Meditation has been proven to improve psoriasis severity and help clear up psoriasis patches. Reducing your stress this way can bring you more in touch with yourself and help you become better able to handle the ups and downs of life with a chronic condition.
Living a healthy life, embracing support, and providing help to others can help you feel less alone (and less crazy) in your struggle with this unique condition. And taking care of your mental health has other benefits beyond feeling better. Stress is a known trigger for psoriasis flare-ups, so anything you can do to lighten the load on your shoulders will benefit not only your mind, but also your skin.
Was this helpful?