5 Misconceptions About Virtual Doctor Visits for Psoriasis
Was this helpful?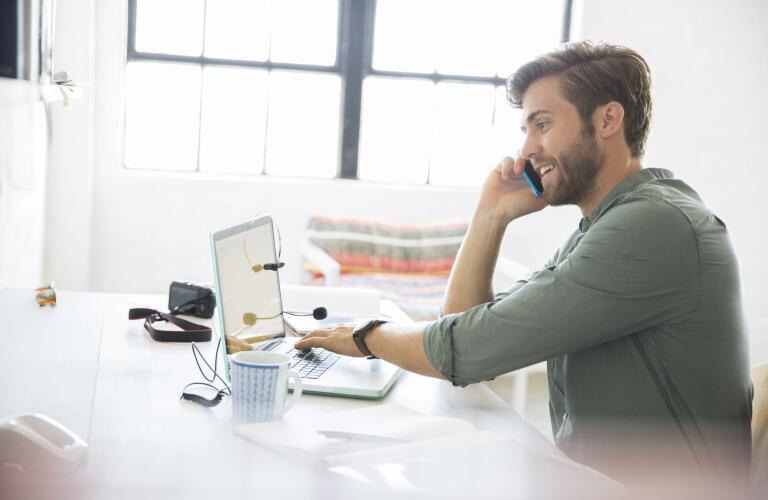 Since the 1990s, dermatologists have used telemedicine for psoriasis to help patients manage their symptoms and achieve a better quality of life. Now, telehealth is more mainstream than ever. Many people who live with psoriasis use telehealth for psoriasis management, but you may still have misconceptions about this approach to patient care. Debunking these myths is the best way to help you determine whether telemedicine for psoriasis could be right for you.
One of the most common misconceptions about psoriasis and telehealth is that you won't receive the same high-quality care that you would if you saw your doctor in person. It's true some aspects of patient care can't be conducted virtually—for example, you still have to go into your doctor's office to have blood drawn if laboratory work is needed. However, modern technology allows doctors to evaluate, diagnose, and manage a variety of conditions without seeing patients face-to-face.
During your online psoriasis appointment, your doctor may examine your skin, give you new prescriptions, refill your existing medications, or answer any questions you may have about your condition. And since the interaction is one-on-one, you may actually find your relationship with your doctor grows stronger, since you can discuss your particular concerns in greater privacy and with less distraction compared to your doctor's office.
It's essential to keep your personal health information protected, whether you see an in-person or online dermatologist. The Health Insurance Portability and Accountability Act of 1996 (HIPAA) mandates that certain actions be taken to keep all patient information secure, including the use of unique personal identification numbers, emergency access procedures, encryption and decryption, and automatic log-off if the system isn't used for a certain period of time. These measures are constantly being updated to better manage and defend health information as technology improves, and your telehealth appointment will follow all these rules so you don't need to worry about security.
One of the main telehealth benefits for psoriasis is that it's usually cheaper than visiting your doctor in-person. The average cost of a telehealth appointment is around $80, while you'll generally pay about $146 for an in-office visit. There are no hidden fees or other expenses—you simply pay for the time you spend speaking with your doctor. Plus, you save extra money by avoiding transportation costs and parking fees, and there's usually no need to take time off work for your appointment. Fortunately, most insurance companies cover at least a portion of your telehealth appointment, helping you save even more. Be sure to verify your eligibility and insurance coverage prior to your telehealth visit.
It's true telehealth can help you avoid urgent care centers or the emergency department by connecting you with your doctor remotely, but it's not just used for sudden injuries or illnesses. In fact, many people manage chronic medical conditions, such as psoriasis, with virtual doctor visits. Telemedicine for psoriasis can bridge the gap between in-person doctor visits and keep your entire healthcare team up-to-date on your condition and changing medical needs.
You may think telehealth can't possibly help your skin heal, but research suggests this simply isn't the case. A recent study, which tracked 300 people living with psoriasis over one year, suggests online appointments for psoriasis were just as effective as in-person appointments at reducing symptom severity. Other studies show telemedicine helps improve quality of life by better managing some of the other common conditions associated with psoriasis, such as anxiety and depression.
Even though telemedicine for psoriasis has been used for decades, continuing technological advances mean your doctor can provide more services remotely than ever before. A telehealth appointment can help you stay connected with your care team while receiving the same high-quality care—and in many cases, a virtual visit can also help you save money. If you're interested in an online psoriasis appointment, ask your doctor about scheduling a telehealth visit.
Was this helpful?