4 Ways Telehealth Appointments for Psoriasis Will Simplify Your Life
Was this helpful?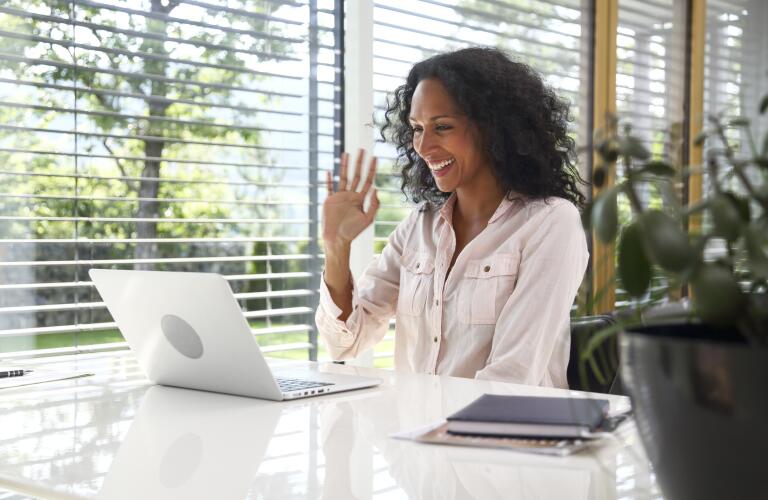 How many doctor's office visits for your psoriasis do you log in a typical year? Have you ever considered the possibility that using telehealth for psoriasis could eliminate some of those in-person visits? Here's some good news: telemedicine for psoriasis management, which is sometimes also called teledermatology, can ensure you get the care you need without having to venture into your doctor's office.
Perhaps the most compelling reason for many people with psoriasis to take advantage of telehealth is the combination of quality care and convenience. Research suggests telehealth lends itself well to psoriasis care.
Plus, many telehealth platforms and apps enable you to send high-resolution photos to your dermatologist so they can get a good, close-up look at your psoriasis plaques and note any changes. This way, if your doctor detects something during your telehealth chat that they'd like to see in greater detail, you can submit photos for review. You won't have to pack up and head down to your dermatologist's office for that close-up unless your doctor determines it's really necessary for follow-up care.
Speaking of convenience: the time savings of telehealth is a very real benefit for many people with psoriasis. To see your dermatologist in person, you might have to take some time off from work, find childcare for your children, or make other adjustments to your usual schedule. You have to travel to your doctor's office, find parking, check in, wait in the waiting room, and then perhaps wait again in the exam room. And then afterward, you have to travel home or back to work. If you live in a rural area, the trip to see a doctor for your psoriasis may be even more extensive–and possibly expensive.
If you use telehealth, you don't have to travel at all. You can close your office door or your bedroom door and log into a secure portal or app, or speak to your doctor via Zoom, Microsoft Teams, or another platform. When your telehealth visit is over, you can simply return to whatever you were doing before.
Let's say your doctor recommends a new treatment for your psoriasis. Perhaps you've been using a mild topical corticosteroid on your psoriasis plaques, but your doctor would like to increase the strength. Or maybe your doctor just wants to see the effect of a recent topical treatment change. Telehealth is a good venue for that purpose. Your doctor can ask you about your reaction to the treatment change, plus they can actually see your skin and make a professional assessment. If your doctor determines a change is necessary, they can proceed and prescribe a new medication for you. And you don't have to take time off from work to get a new prescription.
It's possible our doctor may still want to see you in person at some point. You might have an infection that your doctor wants to examine up close. Or your psoriasis may progress to a point where your doctor wants to try a different therapy, one that might require in-office care. For example, many of the biologic drugs that target the disease process require injections, so you'd have to make an appearance in your doctor's office to receive them. Steroid injections might also require an office visit.
But even so, your doctor may be able to monitor you via telehealth in between in-person visits. Rather than traveling to the clinic every time your doctor needs an update on your condition, you may be able to schedule a telehealth visit for some of them.
It can be intimidating to try a new way of receiving healthcare, but telehealth can ultimately make your life easier and improve your psoriasis management.
Was this helpful?