Beyond Hormone Therapy: What's Next for Advanced Prostate Cancer
Was this helpful?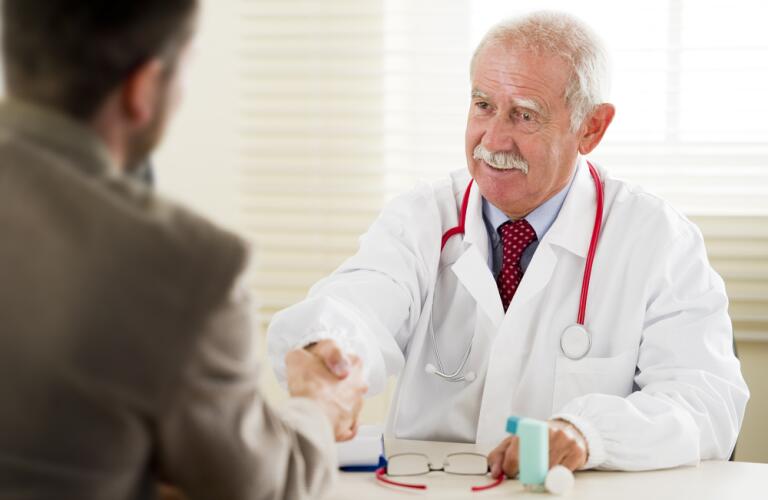 For many men, treatment with surgery, chemotherapy, or radiation stops or slows down prostate cancer. Up to 40 percent of the time, however, prostate cancer progresses despite treatment. And some men are unable to have these treatments because of other medical conditions, are diagnosed with prostate cancer at an advanced stage, or have cancer that comes back after treatment.
Doctors have found treating these cases of cancer difficult. However, new treatments are emerging for men with a form of the disease known as castration-resistant prostate cancer. Research has revealed more about how this condition develops, leading to breakthroughs that are helping treat it.
Targeting Hormones to Slow Cancer
If you can't have surgery, chemotherapy, or radiation treatments—or if these treatments don't work for you—your doctor will probably recommend hormone therapy. Hormone therapy prevents testosterone and other hormones called androgens from reaching prostate cancer cells and fueling their growth.
There are two types of hormone therapy: surgical and chemical. Both are effective in reducing hormone levels. Surgical castration involves removal of the testicles. If you choose chemical castration, you'll take medications called luteinizing hormone-releasing hormone (LHRH) analogs. LHRH analogs are either injected or implanted under the skin.
Hormone therapy will likely shrink your tumors, ease your symptoms, and help you live longer. However, these treatments do not cure prostate cancer.
After a while—typically one to three years after beginning hormone therapy—your cancer will become resistant to this treatment. Although your androgen levels remain low, your doctor will detect an increase in your levels of prostate-specific antigen (PSA), a chemical in your blood that identifies prostate cancer. Or, he or she may see new tumors on an imaging test.
Doctors aren't sure why the cancer becomes resistant to hormone therapy. They believe cancer cells mutate so they no longer require androgens to grow. When that happens, you're said to have castration-resistant prostate cancer.
Treatment for this type of cancer is rapidly changing. Now, men have many more options than ever before. Your doctor may recommend:
Docetaxel (Docefrez, Taxetere) and Cabazitaxel (Jevtana). In many cases, prostate cancer cells pump out anticancer drugs before they can be effective. These taxane chemotherapy agents seem to sneak past these defenses. They are given as an infusion, which means a doctor or nurse injects this medication into your vein, usually for an hour every three weeks. You'll take a steroid called prednisone at the same time. Prednisone helps treat your cancer symptoms by replacing other hormones your body normally produces naturally.

Abiraterone acetate (Zytiga) and Enzalutamide (Xtandi). Most hormone therapy stops your testicles from producing androgens. However, other tissues—including prostate cancer cells themselves—can also make small amounts of testosterone. These drugs, which come as a tablet and is also taken with prednisone, stops other cells from producing cancer-fueling hormones by blocking an enzyme called CYP17.

Sipuleucel-T (Provenge). This injection is actually a vaccine. Unlike other vaccines, which prevent a disease, it treats prostate cancer. Sipuleucel-T works by stimulating your immune system to attack and kill cancer cells.
In clinical trials, all these treatments helped men with castration-resistant prostate cancer live longer, better lives. Several other new therapies are showing promise and will likely be available soon.
Over time, doctors hope new research will help them determine which treatment will work best for which patient. Cancer therapy can then be more effective for each individual.
Hormone therapy is often recommended for prostate cancer patients who can't have other treatments, such as chemotherapy, or if those other treatments don't work for them.

Sometimes prostate cancer becomes resistant to hormone therapy. It's then called castration-resistant prostate cancer.

More treatments for castration-resistant prostate cancer are becoming available, including docetaxel, cabazitaxel, abiraterone acetate, enzalutamide, and sipuleucel-T.
Was this helpful?