What to Expect With Major Surgery
Was this helpful?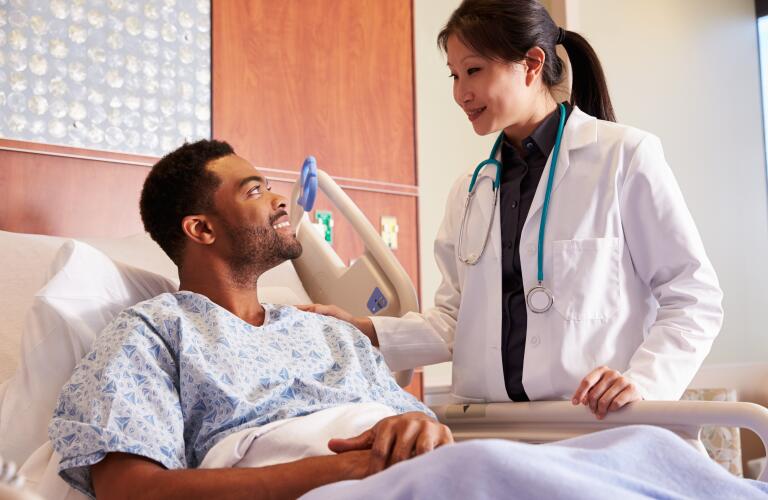 Checking into a hospital for major surgery can create a lot of anxiety, but being prepared for what happens can help ease your nerves. Though the process will vary across operations, doctors and hospitals, there are some steps that are common to most procedures. If your doctor has recommended surgery or you are scheduled for an operation, here's some information about what will happen and when.
You will meet with your surgeon in an office to review what the operation is, why you are having it, and what to expect. This is the time to ask any questions about the procedure. You may also be asked to take some tests, such as blood and urine tests, or to have imaging done, like a chest x-ray or magnetic resonance imaging (MRI) or computed tomography (CT), so the doctor can closely review the area of your body that needs surgery.
The staff will give you a medical history form to fill out, which you should do thoroughly, including any current health concerns, allergies, and prior surgeries. You will also get instructions about medications, not eating and drinking the day before surgery (usually after midnight), and what to bring with you to the hospital. If there is anything you don't understand, call your doctor's office and ask for clarification.
When you arrive at the main desk, you will be sent to admissions, where you will check in. The admissions coordinator will need your ID and insurance information, will discuss costs and insurance coverage, and may give you consent forms to sign if you haven't done so already. These include documents that ask you to acknowledge financial responsibility, risks involved in the operation, and your agreement to have the procedure. Once you're admitted, you'll be taken to a holding room or area where you'll be asked to change into a hospital gown and remove dentures, hearing aids and glasses. Your street clothing and personal items will be safely stowed for you.
A pre-op nurse will come talk to you, as well as the anesthesiologist. Expect them to ask you questions again about your history and current health. As a safeguard, they'll also confirm your identity by asking for your name and birth date. The anesthesiologist will talk to you about sedation and explain the process. A nurse will start an intravenous line (IV), inserting a small catheter into your arm.
Your family can join you here while you wait to go into the operating room. Before the staff gives you any medication, be sure to ask any remaining questions you have about your operation and recovery, even if they seem silly. The nurse may give you a sedative to help you relax and you may or may not remember being wheeled into the operating room.
After the surgery is complete, you will be moved to a recovery area or intensive care unit (ICU), depending on your condition and how complex the surgery was. When you wake up, you will feel very groggy and perhaps nauseated. You may be getting oxygen though a plastic mask or small tube under your nose, and you may have drainage tubes attached to your body, depending on the procedure. You may be wearing compression socks or be hooked up to a compression device, which helps your circulation. Your vital signs will be closely monitored and the staff will check the dressing on your incision.
Once you're fully awake, the staff will ask you to sit up and take deep breaths or cough, which clears congestion from your lungs. You will be asked about your pain level and may receive pain medication in addition to any your surgeon has already administered. You'll be in the recovery area for an hour or more, until the staff feels you are ready to be moved.
After you've been moved to a hospital room, a nurse will check your vital signs again. The doctors usually want you to get up as soon as possible and someone will help you do this—don't try it alone. Over the first few days, your activity should slowly increase. You may have a pump that delivers pain medication through your IV when you push the button. After your IV is removed, you will not be given pain medication unless you request it. Don't tough it out: If you wait until the pain is severe, it is more difficult to control. Talk to your doctor or nurse if you have any concerns about becoming dependent on painkillers. Before you are discharged, your doctor and nurses will give you specific instructions related to your procedure, including caring for the incision, any limitations on physical activity, and necessary follow-up appointments.
Recovery from major surgery will take some effort and patience, but remember why you had the operation: to recover your health and well-being. While it is not an experience most people choose to have, the results of major surgery can make it all worthwhile. Never hesitate to ask your doctor or surgeon any questions you may have, because knowing what to expect can help you better prepare for a successful stay in the hospital and smooth recovery at home.
Was this helpful?