Elective Surgeries During COVID-19 Pandemic: What to Expect
Was this helpful?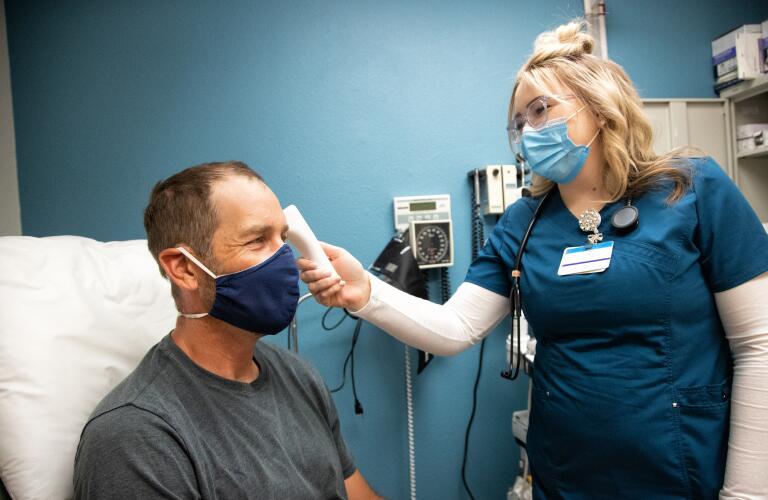 During the early stages of the COVID-19 epidemic, the Centers for Medicare and Medicaid Services (CMS) issued an official recommendation postponing all non-essential surgeries. Many states issued emergency public health orders prohibiting elective surgery during the COVID pandemic in order to preserve personal protective equipment (PPE) and hospital bed space needed to address the epidemic. Elective surgeries resumed in some areas in the summer of 2020, but as COVID cases continue to wax and wane, the likelihood of permitting elective surgeries in a given area will depend on case rates and hospitalizations.
If your geographic area allows elective surgery in COVID times, how safe is it? What guidelines for elective surgery during COVID is your hospital or surgical center following? While there is no single protocol regarding how to safely approach elective surgery during COVID, many medical associations and other organizations have issued their own guidelines that have been adopted by hospitals and surgical centers. Here's what to know and expect.
Common Types of Elective Surgeries During COVID
Some organizations define "elective surgery" as any procedure that can be delayed for at least three months without negatively impacting the person's health or affecting the outcome of the eventual procedure. Common types of non-emergency procedures that fall into this category include:
These types of surgery often can be safely postponed for at least three months. If your procedure has been postponed, you may need to wait until COVID is better controlled for your elective surgery.
COVID Testing for Elective Surgery
If elective surgery is allowed in your area, expect to undergo screening and/or testing for COVID-19 (possibly more than once) prior to your procedure. Screening refers to evaluating your health and potential symptoms of COVID-19 by asking you questions about your current health and possible exposure to a confirmed case of COVID-19, and taking your temperature. COVID-19 testing refers to receiving a nasal swab test to determine if you have an active COVID infection.
Some facilities also require all surgical and administrative personnel to undergo daily COVID screening, with testing of individuals who exhibit symptoms of the virus.
Surgery Visiting Policies During COVID-19
Many hospitals, ambulatory surgical centers, and other facilities limit the number of people who can enter the building. While you may need someone to drive you to and from your surgical appointment, your visitor might be barred from going inside the building with you. Instead, many facilities have created virtual waiting rooms that your family members can access by video. Members of the surgical team may consult with you during or after the surgery by phone or videoconference instead of face-to-face.
If your elective surgery requires an in-patient stay, you can expect the facility to limit or prohibit visitors during your stay. Where visitors are allowed, they will be required to wear a mask or even put on a fresh mask provided by the hospital when entering. If visiting is not allowed, your loved ones can virtually check in with the nursing and medical staff for updates regarding your condition. Limiting or barring visitors from the hospital reduces the risk of spreading COVID-19.
COVID Units vs. Non-COVID Units
Hospitals often physically separate COVID-19 patients from uninfected patients by housing them on separate floors or wings. As well, non-COVID patients often are cared for by nurses and other personnel who do not care for COVID-19 patients. Expect to recover from surgery in a non-COVID unit; it's also likely you will be alone in your room, even if the room is configured for more than one patient. This type of physical separation between patients helps prevent the spread of the virus within the hospital.
(Even though patients and staff are tested for an active infection, the novel coronavirus has a 2- to 14-day incubation period; so, it's possible for a person to test negative after exposure but before there is enough virus to be detected in the sample. The goal of repeat, often daily testing is to "catch" the infection—and instruct the person to self-isolate—before transmission to anyone else can occur.)
Longer Wait Times Due to Sanitation
All facilities performing surgery (including elective procedures) must use rigorous disinfection protocols—above and beyond how they are normally disinfected—in every operating room between patients. These processes take longer to complete than standard operating room cleanings, so you may find yourself waiting longer than usual to be escorted to the operating room from the holding area.
Your Surgery Might Be Postponed Again
Because the situation with COVID-19 is evolving rapidly and is wholly specific to individual geographic regions, there are a number of circumstances that could cause your elective surgery to be postponed a second time—even if you've completed the pre-op process. Criteria facilities and government officials use to determine whether to proceed with elective surgeries include:
Availability of PPE for healthcare workers
Current ICU and non-ICU capacity of the facility
Testing availability for patients and facility workers
Of course, if you exhibit symptoms of COVID-19 or test positive for the virus, your elective surgery will be postponed until you are well and no longer infected.
Your surgical team will take every precaution to keep you, themselves, and other patients safe from COVID-19 during an elective procedure. But, if you develop any symptoms of illness after you go home to recover, be sure to notify your surgeon's office immediately for instructions on what to do next.

Was this helpful?