Common Procedures General Surgeons Perform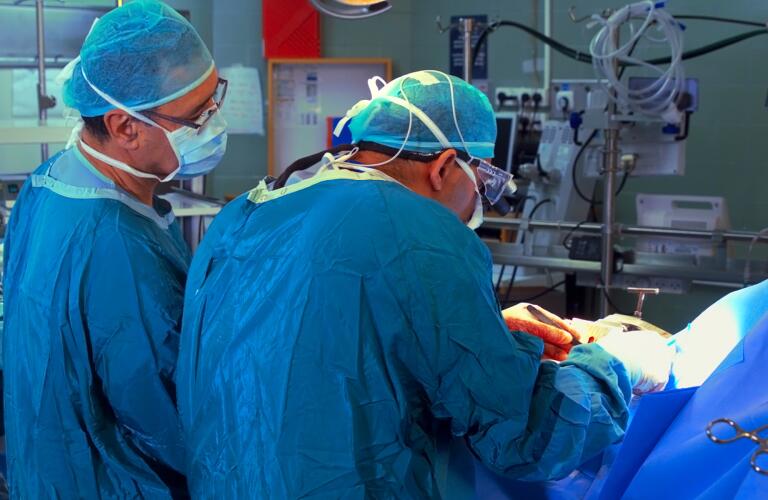 With a name like "general" surgeon you have to wonder: What does a general surgeon do? General surgeons use surgical procedures to remove disease, repair injuries, and promote health and healing. They also perform diagnostic tests and provide guidance on the need for surgery. These doctors might be called on to perform surgery on almost any part of the body. But they typically focus on treating diseases and injuries of the abdomen, breasts, endocrine system glands, and digestive system organs.
In rural areas, where surgery specialists may not be available, general surgeons perform an even wider range of procedures. For example, not all hospitals have a surgical oncologist—a surgeon who specializes in cancer. When that's the case, general surgeons perform many cancer surgeries, too.
Here is a look at some common surgeries general surgeons perform.
An appendectomy is surgery to remove the appendix. Your appendix is a small pouch connected to your large intestine. An appendectomy cures appendicitis, which is an infection or inflammation of the appendix. Doctors also perform this surgery for tumors of the appendix.
If doctors suspect breast cancer, breast surgery may be necessary. Breast surgery can also treat non-cancerous tumors that are distorting or causing problems in the breast. Some of the most common breast surgeries include:
Doctors perform surgery on the colon and rectum to treat a wide variety of conditions, including bowel obstruction, cancer, Crohn's disease, diverticulitis, injury, and hemorrhoids. Common colon and rectal surgeries include:
Your esophagus is the hollow tube that runs from your mouth to your stomach. Because the esophagus plays a crucial role in the digestive process, esophageal problems can affect nutritional intake and overall quality of life. Many esophageal diseases can be treated with medication, but some require surgical treatment. Common esophageal surgeries include:
General surgeons perform a variety of procedures to diagnose and treat gastrointestinal (GI) disorders. They can perform:
Gallbladder removal—cholecystectomy—is surgery to remove the gallbladder. The gallbladder is an organ involved in digestion. It holds the fluid (bile) that your liver makes to help break down fat. Cholecystectomy treats gallstones, gallbladder inflammation or infection, and gallbladder cancer.
Hernia repair is the surgical correction of a hernia. A hernia occurs when an organ or other structure protrudes through a weak area in tissue or muscle. Hernias can bulge into the chest, thigh, groin, or belly button and cause a visible lump. During a hernia repair, surgeons put the protruding organ back in place, then fix the weakened area of muscle or tissue.
A general surgeon can remove thick, twisted varicose veins that bulge through the skin. This common condition usually affects the feet and legs. Varicose veins can be painful and can sometimes increase the risk for blood clots and skin sores. Today, doctors often use a procedure that removes the swollen veins through one or more small incisions.
Your thyroid gland is located at the bottom of the front of your neck. This gland makes hormones that are important for metabolism. Certain diseases can affect the thyroid gland. It could become enlarged, making it hard to breathe or swallow. It could also be overactive and make too much of a certain hormone. Cancer is the most common reason for thyroid gland surgery.
Depending on your condition, a general surgeon may remove all or part of your thyroid. If the entire thyroid is removed, you'll need to take synthetic hormones to replace the ones made by the gland.
Your spleen is an organ located next to your stomach on the left side of your body. It has several important jobs. It destroys damaged blood cells. It helps prevent infection. It also plays a role in helping your blood clot properly. An enlarged spleen can't perform these functions like it should. This increases your risk for infection. And an enlarged spleen could burst and cause dangerous internal bleeding. A general surgeon has the training to remove the spleen when necessary.
Many wounds heal with time or with medical treatment. More serious wounds may require the attention of a surgeon. The goal of wound repair is to help with healing and improve the appearance of the wound after it heals. Stitches are a form of wound repair. The use of skin grafts to cover wounds and aid in healing is another form. Some wounds, especially deep wounds and dirty wounds, require debridement, or the removal of dead tissue and foreign substances. Surgical debridement cuts out the damaged tissue, leaving behind healthy tissue that can heal.
Was this helpful?