7 Questions to Ask When Your Doctor Refers You for Surgery
Was this helpful?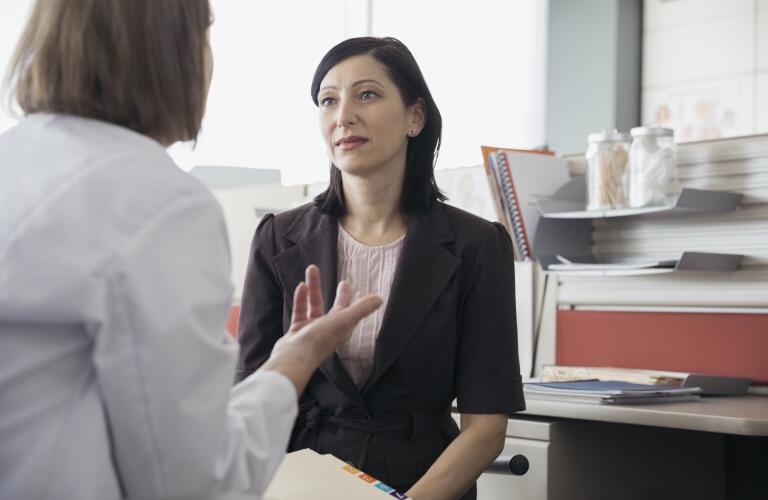 If your doctor has recommended you undergo a surgical procedure, you may be overwhelmed with questions about what the operation itself will entail. But it's important—possibly even life-saving—to ask about a few other key factors related to your surgery. For example, which hospital do you trust with your care? In many cases, we give it less thought than buying a car, choosing based only on a doctor's referral, a friend's anecdote, or advertising. Yet surgery is a major undertaking with serious risks. Here are a few questions to ask your physician during your surgical consult appointment to make sure you get the safe, quality care you deserve and improve your likelihood of a successful outcome.
1. "Why do you recommend this surgery?"
It's the most basic question, but it's an important one. You should leave your doctor's office with such a clear understanding of the benefits of the surgery that you could easily explain it to someone else. The benefits should be compelling: better quality of life, less pain, resolution of a life-threatening condition. Find out if there are other effective options you could explore first, like non-surgical treatments. And if you think you need a second opinion, get one.
2. "What are the risks of this surgery?"
Some surgeries are risky in and of themselves, like open heart surgery, transplants, and brain surgery, due to the complexity of the operation or the sensitivity of the organs involved. Others are risky because of characteristics of the patient, like advanced age or other health issues. Some risks may outweigh the benefits for you. But in all cases, the better the quality of information you have, the more you're empowered to make well-considered decisions about your healthcare.
3. "What is your experience with this specific procedure?"
Research shows a high volume of surgeries by a physician is associated with better patient outcomes. The more experienced the surgeon, the better the results. Ask your physician how many of these procedures he or she has performed and judge accordingly. You can also inquire about fellowship training and training utilizing new surgical technology.
4. "What is the hospital volume of this procedure?"
Just like with physician experience, a high volume of procedures at a hospital is correlated with better outcomes. High-volume hospitals have lower mortality rates, fewer post-operative complications, and shorter stays. The reasons why are still in the speculation stage; it's possible that high-volume hospitals have greater resources, better processes in place, or more specialized surgeons. Hospital volume is certainly not the only variable; an experienced surgeon in a low-volume hospital can still do great work. But it's a factor worth considering, especially with cancer surgeries.
5. "What are the hospital's patient safety ratings?"
Every surgery carries risks. Some hospitals are better at mitigating them than others. And much of that information is available to you on sites like Healthgrades and Medicare.gov's Hospital Compare, so do your research. What is the hospital's rate of hospital-acquired conditions (HACs), such as pressure ulcers? What are the post-surgery rates for complications like blood clots, respiratory failure, and sepsis? And perhaps most importantly, what are their death rates—and death rates for procedures where the mortality rate is usually low? Also, look for accolades and awards from trustworthy sources. Earning accreditation or certification from The Joint Commission, for example, a not-for-profit organization with rigorous standards for patient safety, is a symbol of hospital quality.
Many physicians' offices have billing coordinators who can help you work through what your insurance will cover. Some hospitals have financial counselors who are trained in dealing with insurance companies and hospital billing procedures and can help you navigate the process without breaking the bank—or being surprised with a bill you didn't expect. If you're facing a costly surgery, it's their job to help you find financial assistance programs or set up a payment plan.
7. "How should I prepare for surgery, and what can I expect?"
Knowledge can reduce anxiety. Your physician will likely give you a handout or fact sheet of important facts to know, but it's also good to discuss in person so you can ask questions as they arise. He or she will discuss the surgery itself as well as how to prep; fasting, for example, is usually required, and you'll need guidance on any prescription medications you may be taking. You'll find out whether your surgery is inpatient or outpatient and who will be present besides your surgeon, like an anesthesiologist.
Preparing for What's Next
Surgery can be a significant source of stress; up to a quarter of cardiac surgery patients, for example, experience depression afterward. Sometimes the emotional recovery is just as difficult as the physical recovery. Other times, patients feel almost immediately better after a procedure and can't wait to get back to life even better than it was.
Each patient is different and will have different experiences, from amount of pain to length of recovery. Arrange for follow-up care with your physician ahead of time, learn what problems to look for, and prepare for all possibilities. Once you've shopped around pre-procedure and developed a post-surgical care plan with your doctor, you can feel confident in your decision to have surgery and make it easier to achieve a successful result.
Was this helpful?